News: Saints sink to losing bonus point against Castres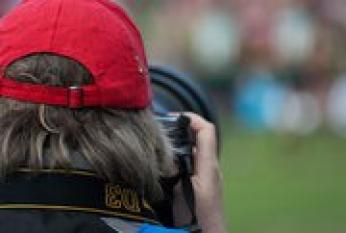 By Claire Jones
October 21 2012
Firstly let me set my stall out with this match report. It's written dear reader as I saw it down a lens. Not for me, copious notes or re-winding the TV recording. As I start to write this match report, I am sat on the big lens' box, in the waiting hall of the Gare de Toulouse Matabiau. Safe to say, I've seen a lone match report – well I witnessed Mr Wearmouth typing his but this dear reader is I promise you a match report unsullied by the opinions of others and therefore, I am entirely to blame for its contents.
Heineken Cup Pool 4 Round 2
Castres Olympique v Northampton Saints
Friday Oct 19th, KO 9pm
Stade Ernest Wallon Toulouse
Castres 21 Saints 16
Let me start by saying, Saints should have won this match – the team know it, Jim knows it and I believe it.
My match began in the tunnel – positively cavernous in comparison to that at FG. I witnessed the ERC representatives fluttering about, fretting that signs had not been erected, advertising protocol was being flouted and something about a rugby match must have been mentioned but I cannot remember. Or maybe not;) I had a great chat with the security team who were very excited by the prospect of the game. One explained that there had been heavy rain but it would be alright now – he is clearly a good friend of Michael Fish.
I have a routine that I try to stick to – get to the ground, take a peek at the pitch, sort out my gear, go outside and get a few meter readings. I managed all of that with ease and managed to grab a few pics of the Saints arriving, complete with police escort. The last bit of the routine is to find out which way the teams are playing – one of my two trusty methods worked a treat and I sat down. Just as I did, the rain went from drizzle to exceptionally heavy – 5 minutes later, I was back in my seat with cameras and me adorned in wet gear. In my case, I was doing a great impression of a boiled frog.
The match started brightly enough – Saints gained a scrum and I picked up my short lens for the first time in the match. But nowt happened and the scrum misfired. And up field we went. Castres went on the attack and I became a spectator – I rarely take photos in Saint's half of the field.
Eventually, Castres scored from a cross field kick from Tales as Bonnefond took the pop pass from Martial and broke through Saints defence to score. Then the first of the night's kickers appeared as full-back Teulet popped over the conversion. I thought Castres were cruel constantly swapping kickers – my lack of note taking might take its toll here!
Castres continued to attack and I continued to be a spectator, gradually getting wetter and wetter. I'm not sure if the conditions came across the pictures on TV but it was stair-rodding down. Castres weren't actually that good at controlling the ball in the ruck – several times it squirted out but frustratingly it was usually straight at a Castres player. Anyway, Saints offended and Alain Rolland gave a penalty which Teulet popped over. By now, I had taken to photographing the scoreboard to get the scores. 14 minutes had gone and Saints were 10-0 down.
However, things perked up after a marvelous chase down by Tom Wood on Castres' no 8, Claassen. I did something I rarely do – I moved to make sure I could see Stephen Myler take the kick – if I did that in front of the Burrda Stand, I would have much derision heaped on me by the spectators. Not a problem at the Stade Ernest Wallon, where the crowd were above me.
10-3 and the match moved up and down the field. The two teams were battering each other in midfield and I tried to capture something but there was sadly a collection of rainy dross when I looked at my pictures the following morning. What I did glean was both George Pisi and Samu Manoa were those that were successful in gathering yards. But all that resulted from their efforts was another Myler penalty. 24 minutes gone and Saints were gradually coming back into it 10-6. The Saintly crowd sang at the tops of their collective voices – well done all!
But then the match went into a really dull patch – at some point Rolland pinged Saints again and Teulet missed. Time for the first kicking change – when Saints infringed again Kockott stepped up and scored the points. I can make no comment about the performance of the referee, it's a bit difficult to judge from 60 metres away.
Half-time came and Saints were 13-6 down – but I was hopeful, although Castres had scored, there really wasn't anything between the two teams. Neither were coping with the weather and both had shown they could breakthrough the other's defence.
Photography wise, it was a disaster – I had a collection of boring landscapes and the odd interesting one. Most of the play had been between the 22's and it meant I gathered next to nothing. To counter that I sat on the sidelines in the second half.
Second half comes, it's still raining and Saints lose the Mooj to a yellow card for – well at the time, I had no idea why because I found that the traffic on the sidelines was appalling. In France, it takes three grown men to manage one mobile camera, all the Castres coaching staff were stood in the technical area, the ball boys languidly lolled about and the Castres ground staff walked up and down the touchline for most of the game. Hopeless – the big screen came to my rescue though it stopped the film before the offence, I worked out Brian must have pulled down the maul. The penalty was missed by Kockott.
Castres saw this as the opportunity to run hard at the Saints and as a result ended up camped on Saints 5m line with a series of scrums. Eventually, Claassen darted over to score and I grabbed some pics of him doing so – but they were miles away from me so you dear reader will never see them. The conversion was missed and at 51 minutes Saints were 18-6 down.
Ironically, it was at this point Saints started to control the ball better save some really odd kicking by Stephen Myler. Stephen clearly isn't comfortable running from deep with the ball. But the attacks started to come and bless him when Stephen did run with the ball, making a delightful pass, he was smashed for his troubles. Ken Pisi continues to look the real deal in attack – it took a great tap tackle to get him down.
Ryan Lamb was at his inventive best in horrible conditions, his chip was completely missed by Kockott (who was having a terrible patch at this point in the game) and up springs George Pisi who took the bouncing ball and dashed through to score. Stephen Myler grabbed the conversion. 18-13 and I was feeling much happier. But Saints handling let them down and the ball was dropped at the restart and some smart work by Tales resulted in a drop goal. 21-13.
But still the men in GB&G wouldn't give in – and despite a rather odd drop goal attempt by Lamb, Saints put a by now much changed Castres under pressure. A penalty came and Stephen Myler slotted over the kick for 21-16 and 70 odd minutes gone.
Still Saints attacked including the last attack of the game and no I couldn't see whether the pass was forward or not – too many bodies in my way. And so the game ended and my trek back the hotel began via the Press Box where much debate about the game was taking place.
I loved every aspect of this trip, the journey (all done backwards on my 4 train journeys!), the stadium, the French crowd, the match experience and yes, it's a losing bonus point. Castres have beaten the best in the Top 14 this season so as I as I am concerned there is all to play for. I know I would rather be going to Scotland that south west France come January.
So it's all down to Ulster – starting with the match at the Gardens and I for one can't wait!
Dylan Says