News: Saints knocked off top league spot by Saracens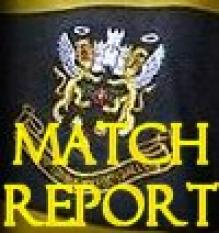 By Jonathan Stockham
October 28 2012
The cracks that became obvious in Saints first league defeat at London Irish 3 weeks ago proved impossible to paper over yesterday at Franklins Gardens as an efficient yet limited Saracens performance did enough to deny the home side anything from the encounter.




Aviva Premiership – Round 7
Saturday 27 October 2012,
Franklin's Gardens
Northampton Saints 6, Saracens 16
Attendance: 13,475
By Jonathan Stockham
Hmmm.
Saints put in a fantastic performance in taking on local rivals Saracens at FG in the league!
Eh?
Well, they did at the set scrum where it didn't seem to matter who was in the front row for the home team, Saints were dominant. A rather portly Matt Stevens, clearly nowhere near a "Nil by Mouth" regime for several weeks, seemed unable to stand up to Tiny Tonga'uiha and England tyro Mako Vunipola had his work cut out against a very determined Paul Doran Jones, an ex-England cap with much to prove. Later in the game, replacements Alex Waller, Mikey Haywood and Brian "The Mooj" Mujati were just as capable of dominating the opposition front row. Even the least jingoistic of Saints fans would have been stirred by the strength of the home team in this area of the game.
So how the hell did we end up losing!!??
A distant second in virtually every other area of the game was how. Some bits went reasonably well, such as the line out and there were decent individual performances from the likes of Phil Dowson, G J van Velze, The Pisi brothers, Dom Waldouck and Tom May. Unfortunately, it was as individuals rather than as members of a team effort that they stood out.
At no side, I made a list which went like this:
Too many missed tackles

Wrong options in attack
Lack of support runners
Zero off load game
As usual, very poor at restarts
Lack of commitment over the ball
Careless pop passing
Oh dear Vas, not a good day at the office
Indecision at fly half
What is our plan of attack?
Fly half. What on earth do we do? Yesterday, Ryan Lamb was the man handed the starting 10 shirt and at times he was exceptional. Some of his tactical kicking for territory was first rate and missed passes to the wide men were inch perfect. But at times it was like watching a rusty cog at the heart of a clattering machine. The lack of close support didn't help but with the Saracens offensive defence charging at him, poor outcomes resulted.
Ryan did his best I'm sure but the way the whole back division, a group of undoubtedly talented individuals functioned suggests to me that the drawing board needs to be dug out from behind the lawn mower in Piggy's shed and a fresh piece of draughtsman's paper applied.
What did Saracens have to do to win?
Enough is what they did.
Just enough. Play for territory, take any chances offered in Saints' half, operate a very effective rush defence that became progressively more and more offside as the game went on with the tacit approval of the officials, keep the mistakes to a minimum whilst feeding off ours.
And they bagged the only try of the game from a long range counter attack after Saints lost the ball in contact. Strong running and perfectly timed passes by Brits and Tomkins put Alex Goode away for the try, converted by Farrell. The Saracens 10 looked composed all game and was replaced late in the match by Charlie Hodgson who has been given a new lease of life since his move south from Sale. Oh to have such riches in a key position!
Saints have slipped to third in the Aviva Premiership and are only 2 games ahead of Quins who have a game in hand as at Saturday night.
As well as a very frustrating defeat, Saints suffered injuries to Myler, Lawes and Hartley, the last two being knee injuries. Not good news ahead of the trip to Leicester next week.
Jim said after the game that he was disappointed at the result. I should think that his pack aren't too happy either after creating such dominance in the scrum and gleaning penalties aplenty. However, Saracens were street wise enough to give away very little within kicking range.
A long hard look at our open field strategy is needed as, no matter how hard the front 5 work, it will be to no avail if such possession is wasted.
Teams:
Northampton Saints: S Myler (T May 27); K Pisi, G Pisi, D Waldouck (L Burrell 69), V Artemyev; R Lamb, L Dickson (M Roberts 69); S Tonga'uiha (A Waller 63), D Hartley, capt (M Haywood 40), P Doran Jones (B Mujati 51), C Lawes (S Manoa 27), M Sorenson, P Dowson, T Wood, GJ Van Velze (R Oakley 74).

Saracens: A Goode; C Ashton, J Tomkins, B Barritt, D Strettle; O Farrell (C Hodgson 69), N de Kock (R Wigglesworth 52); M Vunipola, S Brits (J Smit 61), M Stevens (C Nieto 56), S Borthwick (capt), A Hargreaves (M Botha 24-32 and 60), K Brown, W Fraser, J Wray (E Joubert 52).

Man of the Match: Brad Barritt

Referee: A Small (RFU)
Comment