News: RedHatPhoto.com Announcement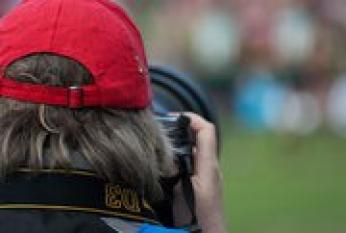 By Claire Jones
October 4 2016
Week in, week out, home and away, Claire Jones can be seen at Saints games taking photographs. Here Claire announces the charity of choice which will benefit from the sales of those photographs throughout the coming season.
This year is my tenth year behind the lens at Northampton Saints.
I have been a Saints supporter for many, many years. For the last 9 years, I have been having great fun combining my two passions of rugby and photography. You may or may not know that all the work I do, I sell. Every penny of what I make goes to charity. My usual routine at the start of each season has been to choose a charity – Shelter, Medecins sans Frontiers, the RPA and latterly, the Leon Barwell Foundation have all benefitted from the money I have raised thanks to you buying my photos in one form or other.
This year I decided as it was my tenth season, I would do something slightly different. I asked the players to help me. Ethan Waller facilitated the process and it was James Craig's choice that the players went with. I therefore, am delighted to announce that for the 2016-2017 season it is Emma's Aim.
Emma was diagnosed with Chronic Myeloid Leukaemia at 16. So far her treatment has included an unrelated bone marrow transplant, chemotherapy, radiotherapy and donor lymphocyte infusions. Despite all the treatment she is still fighting leukaemia. This year will be 10 years since she was diagnosed so to recognize the support she has received, Emma is doing ten challenges to raise awareness and raise money for her five charities:
CLIC Sergent
Teenage Cancer Trust
Anthony Nolan Trust
Willow Foundation
Bloodwise
All of these charities have provided support to Emma. If you want to make a donation directly to Emma, her fund raising page is: http://uk.virginmoneygiving.com/emmasaim10
So if you buy photos from RedHatPhoto.com, all profits go to this great cause - the only bits that don't are the costs of the photo lab. Apologies for the hard sell but every penny counts. Examples of what you can buy:
Full size digital image - personal use - £5.00
6"x4" print £2.75 plus delivery
7"x5" print £3.75 plus delivery
All you have to do is select the photo you want, click on the Buy button in the gallery and follow the instructions.
Alternatively, please contact me at claire@redhatphoto.com and I'll provide you details on how to make a donation and receive your photo.