NEWS: Preview London Irish vs Northampton Saints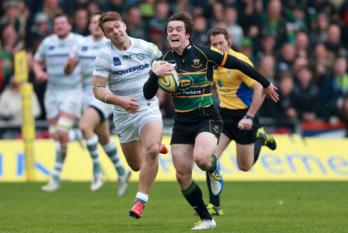 Jamie Elliot Breaks away
By HRsaints Fan
September 20 2017
HRsaints Fan has kindly put together a preview for Sundays trip to the Madejski Stadium. Tickets for the game are available from London Irish O'ffy. This Match is not on the telly box
Three games in and Saints are in a far better state than any of us thought possible after Round One's drubbing at the hands of Saracens. Currently sitting in 6th place but only due to points difference from the team in 3rd; 10 tries scored (compared to 6 the same time last season); current bragging rights over Tigers……I mean who wouldn't have taken this before the season had started (excluding the aforementioned drubbing of course).
It may well be that in the fullness of time we will look back at that first game and be thankful that Saints got a well-deserved kick up the backside for that performance, because what they have produced since is something that completely alluded the team for most, if not all, of last season (and to a certain extent much of the season before as well). Gone - and long may they stay gone - are the days of poor handling, dropped balls, lack of bite at the breakdown, indecision, and lack of confidence. These woeful attributes have been replaced by a team that plays like a Saints team should – with pace, aggression, skill and confidence. That is not to say that the last two games have been perfect – far from it. There are still concerns at scrum time, and we need to field our specialist fly halves to see the back line really get going (and that is not to take anything away from young Harry Mallinder who has done an excellent job stepping into a role that is not really his best position).
Encouragingly, last Friday night's performance against a very in-form Bath team was a step up again from the game against Tigers. Saints had a commanding 68% of possession, made 11 clean breaks and offloads (compared to 2 from Bath), beat 16 defenders and made 446 metres. Additionally, It would not be far off the mark to say that Bath didn't look like they were going to score a try at any time throughout the game. It needs to be noted that Bath were missing a number of first choice players but that should not detract from Saint's performance.
Another vital factor that has been rediscovered is a really mean defence. What a contrast to that first game! Indeed, if we simply look at the last two games, Saints points for and against is 48 - 17, whilst the sides that currently share 3rd to 5th place above us are 52-38 (Harlequins), 20-41 (Newcastle) and 50-38 (Saracens).
For further evidence of Saints continued improvement, a peek at some statistics that are available on the Premiership Rugby website show that Saints currently top the table for carries (469) and are second in metres gained (1587) and clean breaks (41), but are lagging a bit behind in turnovers (14). Again, this demonstrates improvement and comparability with the present top six teams in the league.
So far this is turning out to be a topsy-turvey season. Every team has now been beaten at least once. Teams beat teams that have beaten other teams that beat the first team – okay – that sentence is a mess – best let a proper journalist describe it:
"Saracens have thrashed Northampton who have subsequently beaten Leicester and Bath who beat Saracens who beat Newcastle who beat Sale who beat London Irish who beat Quins who have beaten Wasps as well as Gloucester who beat Exeter who beat Worcester"
The potential results of the Round Four fixtures however seem to favour the home sides with Gloucester at home to Worcester, Bath at home to Newcastle, and Saracens at home to Sale. However, Harlequins at home to Leicester and Exeter at home to Wasps (the tie of the weekend) might be harder to call (I still fancy home victories in all of these games).
For Saints, there is an away fixture against the Premiership newbies London Irish. Well, not really newbies but after a season away in the Championship, Irish were back with considerable intent as they beat Harlequins 39 - 29 in Round One of this season's Premiership. Since that excellent start however, there have been two disappointing performances firstly away at Exeter (where getting beaten at Sandy Park is nothing new to any of the Premiership teams) and then last Friday night away to Sale (again, a difficult place to go and play). But probably it is the manner of both defeats that is causing concern to the coaches, players and fans alike. Irish shipped a total of 73 points – and nine tries - across these two games, scoring only 14 points themselves. There is considerable work to do to shore up a porous defence before the Saints visit on Sunday.
The fact that Irish currently sit in 11th place in the league should not mean that Saints take this fixture lightly – far from it. This will be London Irish's first 'home' game since their return to the Premiership, and they will want to give their fans something to cheer about. Nick Kennedy, their Director of Rugby, mentioned that for that first game against Harlequins, Irish came out of the blocks at Bolt-esq like speed, but that the following two games they were very slow starters. Indeed, the half-time scores of these last two games does prove his point (24-0 against Sale, and 20-0 against Exeter). Kennedy said that this was something they were going to have to work on before Sunday's game so Saints will need to be on their guard for a possible fast and furious start to this game.
In terms of selection, there is some encouraging news coming out from the Saints camp about Dylan Hartley and Tom Wood. If Dylan's hand has recovered, then you would expect him to start with Mikey Haywood dropping back to the bench. If Tom is available for selection, then I think it is likely that he would start from the bench. Hopefully Teimana Harrison's bang to the shoulder during the Bath game will not stop him being available for selection and with Mitch Eadie still side-lined, I would expect Harrison to start again at 8. Other than for rotational purposes (and this will have to be factored in at some point) the engine room of Paterson, Lawes, Ribbans and Gibson pick themselves and it is a major part of Saints recovery this season that all four are playing extremely well.
I would be surprised if either Stephen Myler or Piers Francis are available although it does seem that both are starting some form of training again. So, young Harry to take the reins at 10. The pairing of Rob Horne and Luther Burrell has been excellent for Saints, and I have been particularly impressed by Horne who goes about his work with the minimum of fuss. Indeed, it seems that this mid-field combination is one of the primary reasons for a very welcome return to the form of the Luther Burrell of two seasons ago. Added to this is the fact that George North had his best game in a Saints shirt for some time, and that we have, according to most pundits, the in-form winger in the Premiership in Tom Collins.
So, some happy problems for the coaches but I don't think we will see many changes as Jim and his team will want to see continued improvement match-on-match. Of course, part of such improvement is to ensure that players are fighting for the starting shirt, and in this respect, we do seem to have players that are holding their hands up for selection. Tighthead Jamal Ford-Robinson has scored three tries in two games for the Wanderers, and the recent welcome return of Tom Stephenson to full fitness (including a try himself against the Tigers second-string team) will see further competition amongst the backs.
In terms of the result Saints need to continue this upward momentum not just for this game but also for the next set of three games in Rounds 4, 5 and 6 against Irish (a), Harlequins (h) and Gloucester (a) before the start of the European Rugby Champions Cup in October.
Safe journeys to everyone making the relatively short trip to the Madejski Stadium. Yours truly will be sunning himself in Seville (well someone has to do it……) and will wait with baited breath for my text message from the Beeb with the result. As this season has already shown, it seems that everyone can beat everyone, but as long as Saints continue to play in the manner we have seen in the last two games, I think they should win a narrow game against the Irish on Sunday.