Whats new at Brickfields week 5 - 1st. Oct 2016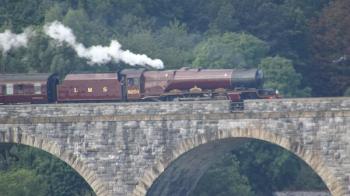 By noibla
October 8 2016
Not so much as what's new at Brickfields this time rather a page filler to keep the site open as we progress through the season, much better news for the home game next week regarding ground improvements soon. The photo here is for those Albion supporters who remember the steam trains that came through Plymouth on their way to Penzance and back some years ago and who didn't make it to watch the Princess Elizabeth this time around.
As for the next photo you will remember Shanners one time hero and one time villian who came back to Plymouth with his new club.
Having got them promotion after going down the previous season and he is still playing for them.
He can still produce some good passes for his fellow players.
Unfortunately the guy on the right who seemed to be his head assistant was not a good ambassador for the game of rugby, his main contribution to the day was his constant abuse of the english language to anything and everthing as well as the ref, with a continous feffing this and effing that, to the extent that an Albion supporter asked the main security guy at the Eric to ask him to refrain as his wife was pretty upset with his disgusting behaviour, more often heard elsewhere rather than during a game of rugby. I wonder who at Old Albanians is happy for this to go on?
It was good to see the sections of the Bath terrace at the North end being used, this time by a large number of youngsters who were adding to the vocal support which by the way was heard in the Eric with far more gusto that for a long time, I hope they continue to support us this season.
And one more photo of the age of steam.
View a Printer Friendly version of this Story.
Whats new at Brickfields week 5 - 1st. Oct 2016
Unofficial Plymouth Albion (IP Logged)
08/10/2016 21:04
What do you think? You can have your say by posting below.
If you do not already have an account
Click here to Register
.
Re: Whats new at Brickfields week 5 - 1st. Oct 2016
10/10/2016 20:16
Only one thing you missed, you failed to show the way Shanners was knocked over, or should I say floored!!
Re: Whats new at Brickfields week 5 - 1st. Oct 2016
10/10/2016 20:21
Yes I missed a great action shot there.

Semper Sersum.