Whats new at Brickfields week 6 - 7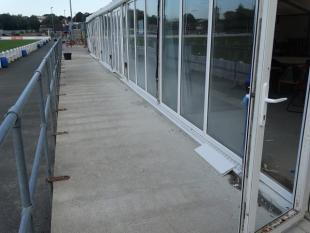 The supporters marquee
By noibla
October 13 2016
Work has begun on making the supporters marquee waterproof at last and the photo shows some sills being added to the windows on the western elevation where the weather is predominate, bringing the majority of the rain with it and of course flooding the marquee on occasions.
The windows were removed during the work and here we see them being refitted.
And there has also been some welding work done.
A view of the outside from the North showing the sills.
On the other side of the East stand the Bath terracing is being given another coat of paint for the coming winter.
A canopy to the external bar to the supporters marquee has been added to provide some cover, not sure hwhen this was done!
The current work being done to the supporters marquee is being organized by our new owners it seems, an excellent job which will be of much greater comfort to all especially during the coming winter months.
The finishing touches making it watertight.
The marquee gets a brush up afterwards.
Looking good for Saturday with drapes being added to the ceiling having been recycled from the Bidvest marquee which is also having a bit of a facelift soon.
A light trim has been given to the pitch which is looking brilliant as usual.
Not sure when the additions wee added to the YGS marquee but they caught my attention, adding a nice touch to the Y.G.S marquee.