Our visitors this week - Hull Ionians r.f.c.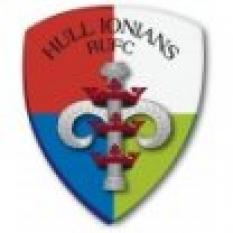 By noibla
February 27 2017
Hull Ionians r.f.c. were founded in 1989 some 28 years ago, when Hull and East Riding merged with Ionians, the club were promoted to Natonal Division One in 2013 - 2014, relegated the following season then winning promotion back to National One the following season again. They currently have a squad of thirty two this season playing out of Brantingham Park. This season is another hard slog for them and currently they have seven more games in which to make up a seven point deficit to climb out of the relegation zone.
As I'm sure your aware our chair, Ali Hannaford has organized a collection for Saturday in aid of the old "Fishermans Mission" or the R.N.M. D. S. F. as it now known, something in which both Hull and Plymouth fishermen were heavily involved in over the last 200 or so years as a principle fishing area with many boats from both Brixham and Plymouth using the facilities at Hull as their base, losing many crew members in that dangerous occupation, hence the forming of the Mission to support their families.
Don't forget to support the collection in the memory of all those who caught your fish and chip suppers over the years will you.