Our opponents for Saturday 23rd. September - Fylde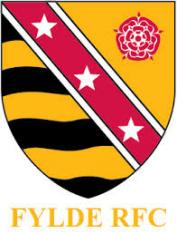 By noibla
September 21 2017
This week we welcome Fylde r.f.c. to Brickfields again when the weather looks to be dry and good for running rugby. The club was decide by a toss of a coin, when it was to be either a rugby club or a football club, the coin came down on the right side. The name Fylde comes from a Saxon word meaning low lying ground between two Estuaries, the ground being flanked by Morecombe Bay to the north, the Ribble estuary to the south and the Irish Sea to the west. In Fyldes jubilee year, 1969 they fielded six or seven sides each week and today they have three other senior sides but unfortunatley don't run a colt's side anymore Perhaps the best known player from Fylde is Bill Beaumont who spent his entire rugby career with them and still can be seen at the home games. Like so many clubs Fylde have struggled in the professional era to maintain a balance between a traditional members club and a profesional outfit, and they weren't the first club to run into financial difficulties when they tried to compete in the National One league during the 1997 - 1999 seasons, a couple of seasons before Albion were promoted into National One themselves. During this period Fylde had to sell off some land to balance the books. And trying to keep up with the Jones's is something we at Brickfields are very familiar with I'm afraid. The club is subsequently reasserting it's self as a community orientated members club, sounds good. Fylde come looking for thier first win this campaign and we wish them luck for the rest of the season.
Those who used the supporters marquee last time will have noticed that the cooked food was by the " Big Pan Parties" company who were asked back to the club after having had a food tent a couple of seasons ago by the main entrance. They served three different types of curry based meals as well as a very generous beefburger which I can recomend. I trust they will have a succesful season with us.
The V.P's and Old players room as it is now known has been redecorated out for the season and very nice it looks too, even if your not a V.P. or an old player Have a quick peek in there as we now have back on view a number of old club photo's and trophies, well worth a gander folks, much more as things used to be a number of years ago at Beacon Park I believe.
And for those who prefer a tea or coffee perhaps? at the back of the V.P's room.
And whilst on the extra comfort being provided we now have a settee in the main bar, I hope you don't get too comfortable on this and miss the game though.
We have another proud Albion supporter on our books, not yet having been named but travels to all the home and away games shouting for the boys I'm told. Keep up the good work mien bear.
As you probably know we have the holiday makers again in town, this branch of the community having parked on the grass at the back of the Stonehouse Community building and unfortunately I'm told the DHSOB and DHSOB Sharks r.f.c. club hut has been broken into by someone.
View a Printer Friendly version of this Story.
Our opponents for Saturday 23rd. September - Fylde
Unofficial Plymouth Albion (IP Logged)
21/09/2017 15:23
What do you think? You can have your say by posting below.
If you do not already have an account
Click here to Register
.