Our opponents for Saturday - Bishops Stortford r.f.c.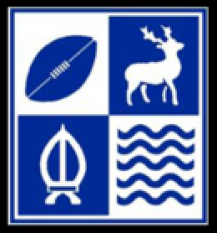 By noibla
January 3 2018
We welcome Bishops Stortford r.f.c. for the return match at Brickfields having met them for the first time, at their ground at Silver Leys last September after they were one of three clubs promoted to National One having finished season 2016 - 2017 as Champions of National 2 South, when they won their final game of the season with a record attendance of 1,664. I mention this as it must have been a great occasion for the club not least because the official ground capacity is given as 1,600, so a few extra found their way in to give support to the team, well done.
Interestingly all three promoted clubs from last season are making their presence felt this seaon with Bishops in 6th, O.E's in 7th and Caldy in 10th place. In fact Bishops are on 51 pts with a 10 - 1 - 5 win loss record and have the same points as Blackheath, who we lost to by the one point in the opening game of the season.
They recently drew 22 - 22 with D.M.P. after being 15 points adrift after some 50 minutes of play and only lost 30 - 27 at Butts Park Arena to Coventry, so I don't think they will roll over by any means.
As has been mentioned before, Bishops are one of several clubs in National One who have a large playing membership with some 29 teams on their books from under 6's to the 1 st XV of both sexes and have an impressive following on twitter with 752 following the 1st team for their last game !!
View a Printer Friendly version of this Story.
Our opponents for Saturday - Bishops Strotford r.f.c.
Unofficial Plymouth Albion (IP Logged)
03/01/2018 11:02
What do you think? You can have your say by posting below.
If you do not already have an account
Click here to Register
.
Re: Our opponents for Saturday - Bishops Strotford r.f.c.
03/01/2018 15:43
Looking forward to Saturdays game, should be a good one, a narrow win for us I think.
Re: Our opponents for Saturday - Bishops Strotford r.f.c.
04/01/2018 11:19
Definately not a team to take lightly!
However, I think a BP Albion win is on the cards!