BONUS FOR BRIS DESPITE DODGY DEFENCE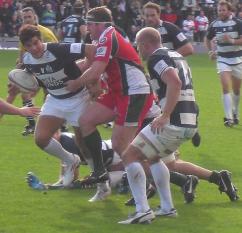 Bristol Attack
By Ian Todd
September 25 2011
Bristol brought up the bonus point win against Plymouth without ever looking totally convincing. Terrible defence in the second half allowed the visiting side to score 12 points. To be fair, Bristol responded well with a well worked try at the very end
An early penalty to Bristol was well taken by Mark Davies but a clumsy knock-on in the Bristol 22 from the restart gave Plymouth a great attacking opportunity, duly taken with a well struck drop goal. Matt Williams was forced into touch on the right wing, but Plymouth lineout was not straight to give Bristol good attacking scrum. A break from the base of the scrum was thwarted as Bristol gave away a soft penalty. One penalty kick later and Plymouth were on the edge of the Bristol 22. A short lineout set up Plymouth and their forwards pushed Bristol back before a penalty went to Bristol for holding on. The Bristol lineout was overthrown to let Plymouth get back on the front foot. But a shocking pass from the ruck allowed George Watkins to hack the ball upfield. He and Jack Tovey hared off in pursuit. The ball shot over line and Tovey was just prevented from touching down, but Watkins was on hand to finish off the move with a converted try to give 10-3.
Bristol looked determined to handover points to the visitors with some clumsy handling; swiftly followed by a penalty that Love failed to slot over. A brief kicking duel culminated in an excellent Bristol touch just inside the corner flag. Plymouth claimed the lineout and Bristol were penalised to let Plymouth off. However, the Plymouth lineout again misfired to give Bristol a scrum that sadly went round more than 90°. Plymouth plugged away but failed to take much ground and eventually gave away a penalty that Davies smashed to touch about 10 m out. The catch and drive went in, before the ball went a short distance into the back line. Junior Fatialofa slipped as he sought a way through. Bristol continued in possession and Josh Ovens had a dart, and Williams too went close. A scrum was awarded to Bristol. It failed to engage a couple of times and when the drive finally went in Plymouth splintered and the referee trotted beneath the posts to award a penalty try; converted to give a 17-3 lead.
A kick ahead from Tovey sent Plymouth well back into their half as Bristol continued to dominate. Unfortunately, Tovey became isolated out on the right and was turned over. Bristol were penalised as they tried to retrieve the situation. Love, though, was well short of the posts with his kick. Plymouth still had the chance to apply some pressure before half-time. A penalty was sent down to the Bristol 5 m line and the drive from the lineout went right up to the try line. The defence held firm, but another penalty went to the visitors, again sent to touch. The lineout looked far from straight, but Plymouth came away with nothing a tame knock-on ended play for the half.
Plymouth got the second half under way with an early penalty miss, with a shot well wide of the posts. They managed to keep up pressure on Bristol, going through several phases before being turned over. Bristol attacked rapidly, moving from inside their own half and into the Plymouth 22. Surprisingly play was then called back into the Bristol half for foul play and the Plymouth scrum-half Cushion was then yellow carded and sent for a nice sit down. Bristol attacked powerfully from the resulting lineout and Plymouth were penalised for offside. Davies made no mistake: 20-3.
Plymouth had the chance to wipe the points out virtually straightaway, but again the kick was off target, this time hitting the posts. Bristol cleared, but then Plymouth attack from clean lineout ball, and poor midfield defence from Bristol allowed the visitors to move right up to the line and finally the try was theirs as McGrath went over. The conversion took the score to 20-10.
The Bristol restart went straight to touch and handed Plymouth scrum on halfway. Bristol managed a turnover from poor Plymouth passing and Tovey and Watkins linked well out right to make excellent ground before poor handling halted the move. A great scrum from Bristol freed Sean Marsden who passed out of the tackle to Watkins pursuing at pace who crashed over in the corner. Davies made the conversion look easy for 27-10. The bonus point try soon came. A poor Davies kick was well claimed by Marsden, who offloaded to Williams who demonstrated searing pace to sprint over for an unconverted try and 32-10. The Plymouth restart this time was straight into touch and Bristol were swiftly back onto the attack, sadly once again poor handling let them down.
Plymouth managed to get down to the Bristol 5 m line with a hack forward that Marsden had to tap into touch. They drove the lineout and Bristol were penalised. Another lineout, another drive, this time good defence turned over the Plymouth possession. This good defence was then promptly negated by some miserable tackling that allowed Sprangle to waltz over from a quickly taken lineout. The conversion made it 32-17 with 5 min to go.
A great kick from Plymouth sent Bristol back to their 5 m line. Plymouth went through a few phases and yet more feebletackling saw Armitage into a huge space for an unconverted try and a score 32-22.
Stung, Bristol put together a lovely attack the death, with Ovens and Sambucetti to the fore. The referee, out of position, ruled the ball held up over the line. The Bristol scrum was absolutely solid and Marco Mama touched down for the try; with the conversion taking Bristol to 39-22 at the close of play.
View a Printer Friendly version of this Story.
BONUS FOR BRIS DESPITE DODGY DEFENCE
bristolrugby.net (IP Logged)
25/09/2011 18:44
What do you think? You can have your say by posting below.
If you do not already have an account
Click here to Register
.
Edited 1 time(s). Last edit at 2011:10:01:17:18:18 by SenorJuan.
Sorry, only registered users may post in this forum.