SHOCK! BRIS FAIL TO CONCEDE TRY IN FIRST 5 MINUTES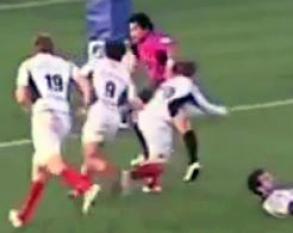 Otto Scores
By Di Manning
November 28 2011
A solid performance from Bristol saw them return to the top of the Championship, but without hitting the hights of excitement seen in some previous games.
Scottish kicked off the game and applied some pressure on the visitors before Tristan Roberts kicked well into the Scottish 22. A good lineout from Bristol got possession of the ball and Scottish were penalised for failing to roll away when Bristol tried to get the ball wide. Roberts calmly sent the ball between the posts for a 0 – 3 lead. Bristol continued to cause Scottish problems at the breakdown and Iain Grieve made a fine break following a turnover, but the supporting Jon Goodridge was well closed down by the defence.
Bristol maintained the upper hand; Sean Marsden going close and Rhys Lawrence even closer. In their desperation the Scottish defence went clearly offside and Roberts pushed Bristol three points further in front. The hosts' cause was not helped when lock Thomas was shown a yellow card. Ruthlessly, Bristol immediately scored from the penalty lineout when Lawrence was driven over for a converted try and a 0 – 13 lead.
Bristol attempted to make the most of their numerical advantage but the defence remained resolute. A succession of scrums down by the Scottish try-line saw Josh Ovens adjudged to have been held up over the line and then Roberts failed with a penalty when Scottish deliberately collapsed, to optimistic calls for a penalty try from the travelling supporters. Scottish had bravely made it to the close of the half without conceding further points.
London Scottish came out strongly in the second half and the winger, Howells, showed a fine turn of pace rounding a couple of wrong-footed defenders before being hauled down. Quick recycling forced Bristol to come offside as they attempted to close down the attack and replacement Mugford got Scottish on the scoreboard from in front of the posts.
A period of inconclusive play followed with neither side able to gain any real ascendancy. Bristol perhaps shaded things, with a nice break from Jack Tovey being the highlight. Moving into the last stages of the game Bristol appeared a bit tense, having failed to establish a decisive advantage and, sure enough, they were penalised when two scrums collapsed right in front of the posts. Once more Mugford had no difficulty in narrowing the gap to 6 – 13.
Bristol were stung into belated action in an exciting long-range move. A miss pass reached Matty James (that wasn't forward, despite complaints from some sections of the crowd!), and he created the space for Fautua Otto to smash over beneath the posts. Roberts duly converted to take Bristol into a 6 – 20 lead. There was still time for Scottish to get back into losing bonus point territory and it looked as if Howells had managed to get the ball down in the corner but the referee had called the move back for a forward pass.