BRISTOL CRUSH MOSELEY CHALLENGE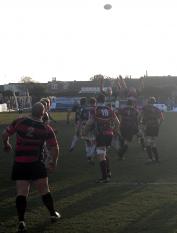 Feet in play I think
By Ian Todd
February 12 2012
Bristol comprehensively outplayed visitors Moseley; scoring six tries to one. It was a good all round performance but far from perfect. The opening quarter was a bit tentative and there was some poor handling at various times and I think Mr Otto may well get a talking to from his coaches (touch the ball down!). But this is a good thing. If we can notch up a good, comfortable, win without playing at our absolute best then this bodes well for the looming play-offs. I think the squad knows what it has to work on, but equally we now have considerable strength in depth, which can only be a good thing. Things to work on, yes. But things that are going well, too.
Moseley kicked off in surprisingly bright and warm conditions and make much of the initial running. They were awarded a penalty as Bristol went offside and it was well struck, taking them into a very early nil-three lead. Bristol attacked well from the restart and were awarded a penalty of their own. It was quickly tapped and Moseley failed retreat 10 metres. Matty James stepped up and equalised with a straightforward kick from in front of the posts.
A charge down by Ruki Tipuna put Moseley under pressure but the possession was kicked away to allow Moseley to romp forward. The visitors continued to look sharp and Bristol were again penalised: Hughes kicked the goal to move his team 3-6 in front. Matt Williams, who had an excellent game on returning to the side, made a fine take from the high kick, only for the move he set up to breakdown as the ball went wide. Bristol attempted to go through some phases and Dan Montagu, prominent throughout, gave his side some forward impetus. Moseley were penalised at the breakdown and James sent the ball over of the posts to equalise once again.
Sean Marsden claimed the restart but once more possession was kicked away to hand Moseley the initiative. Fortunately, the visiting team was penalised for holding on and James was able to clear to touch. An inexplicable penalty at the resulting lineout saw Bristol kicked well back into their own half. The Bristol lineout worked well however, and Bristol were able to come away with the ball. Glen Towson made good ground, hammering forward, and he was able to pop the ball up to Fautua Otto as he went to ground. Otto raced in from outside the 22, but failed to touch down immediately and, as he neared the dead ball line, was tackled and held up. He looked downhearted at this basic error, but Bristol were not to be denied for long. Bristol drove powerfully from the ensuing scrum and once again crossed the line, this time the referee failed to play advantage from a penalty and we were called back for the offence. No matter, the kick went to touch and the familiar catch and drive went in and drove over the try line. Hooker Ross Johnston claimed the try. James converted to take Bristol to a 13-6 lead.
Bristol seemed invigorated by the score and at last started to attack at pace and Moseley were promptly penalised. James' penalty struck the upright and all Moseley could do was scuff the ball into touch about 8 met=tres out. Once more the catch and drive went into operation and Moseley were only able to halt move illegally; the yellow card was brandished. Bristol decided to scrum and the Moseley pack crumbled. The referee was surprisingly quick in awarding a penalty try, but it was duly converted to hand Bristol 20-6 lead. Bristol maintained the tempo, only a knock-on just outside the 5 metre line following a lovely break stopped a try. Not for long however, as the pack won good possession from the scrum and quick hands allowed Otto to atone for his earlier error and he scored a converted try that took Bristol to 27-6 lead at the close of the half.
Moseley started the second half in positive style making good ground out left and then switching play back infield. The grubber kick ahead was probably the wrong option and it went well beyond the chasers to allow Bristol 22 dropout. Bristol though gave away a penalty that the visitors sent into touch just inside the Bristol 22. The initial drive was well defended and Moseley were penalised for holding on. Moseley though were able to get moving again as Bristol kicked away hard-won possession and the hosts were then penalised. Moseley went to touch again only to see Bristol claim the lineout. Once more Bristol kicked away the ball, which allowed Moseley to launch a dangerous, flowing move which was just halted out left by a powerful tackle that forced a knock-on. Tipuna's chip kick from the base of the scrum was half charged-down and quasi-debutant Luke Eves was unable halt the initial Moseley thrust and Carter was able to slide in out left for a well converted try that narrowed the gap to 27-13.
Williams made a nice run that forced a Bristol penalty. Quickly taken, Bristol tried to wipe out the Moseley score. Play switched from side to side, sadly ending up in the hands of the front row brethren in the right hand corner, oops. Loose kicking from Moseley allowed George Watkins and unopposed take of the ball and he was able to set Henry Vanderglas hurtling down the right wing. He was halted by a high tackle and the resulting penalty went to touch. Good work from the forwards allowed the ball to be worked out left and Marco Mama score the bonus point try as he surged into a hole in the defence and touched down to the left of the posts for a converted try and a score of 34-13.
Moseley bravely tried to hit back and surged downfield, only to be penalised at the scrum. Williams made yet another excellent catch of a hanging kick as Bristol edged back into the Moseley half. Good quick passing permitted Otto to dance into space, but he was quickly closed down and forced to kick ahead. Bristol won the ensuing lineout and moved back onto the attack. Eves darted forward and won his side a penalty. Replacement Matthew Jones kicked for touch as Bristol strove to finish off Moseley. The catch and drive was well executed but the ball was knocked on as it was shifted away from the pack. It was clear though that the Moseley forwards were running on empty and two Moseley scrums were completely disrupted by the Bristol pack before Will Helu sliced through the disorganised defence to score a converted try that moved Bristol to 41-13. There was still time for Williams to scythe into space before desperate tackling hauled him down. He was not long to be denied though, as he followed up a break from Vanderglas and Marsden. He showed the defence a clean pair of heels running in out wide on the right and cruising round behind the posts to make the conversion easier. The last kick of the game took Bristol to 48 points to 13.
View a Printer Friendly version of this Story.
BRISTOL CRUSH MOSELEY CHALLENGE
Posted by: bristolrugby.net (IP Logged)
Date: 12/02/2012 19:08
What do you think? You can have your say by posting below.
If you do not already have an account
Click here to Register
.
Edited 1 time(s). Last edit at 2012:02:20:12:02:19 by SenorJuan.