Pirates Sail to Final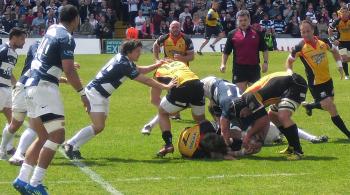 Holding On?
By Ian Todd
July 24 2012
A thoroughly entertaining four try victory for Bristol nevertheless left the home team and supporters feeling deflated and down. The points conceded in the defeat back in Cornwall meant that Bristol had tremendous task in the second leg. They gave it their all and right at the end were just seven points in arrears. But a miss, as they say, is as good as a mile and it is Pirates who cruise on into the Championship final.
Pirates kicked off the match in beautiful conditions. The kick was well taken by Will Helu and then cleared by Jon Goodridge. Bristol were penalised at the lineout and the ball was sent down into touch. Another penalty at the lineout and this time Pirates chose to go for the posts. Rob Cook's idiosyncratic kicking style did not let him down the visitors were three points up with fewer than 3 minutes gone. An excellent restart from Tristan Roberts was well backed up by a great chase from Helu. Pirates were penalised and Bristol went for the corner. The catch and drive was a good one and as the ball went out Roberts skilfully kicked ahead, rugby league style, and Goodridge latched onto the ball to score. Roberts converted and Bristol were 7-3 in front.
Pirates clearly weren't here to defend their lead and they continued to press the Bristol defence. Their attacking play looked good but Bristol were rather harshly penalised to allow Pirates to go for touch. The defence held firm however and Pirates failed to make much ground and eventually knocked on. It was Bristol's turn to shine in attack now and Fautua Otto made a marvellous break out wide, totally wrong footing the defence. He looked to be in the clear but his effort to make any conversion easier was his undoing as it just gave the defence time to catch him and bring him to ground.
Cook had the chance to narrow the gap but was surprisingly wide of the mark, only to be handed a gilt-edged opportunity when a loose kick from Roberts allowed him to launch a searing counter-attack from which he scored the try and then converted to take his team into a 7-10 lead. Bristol attempted to respond but Pirates defended well and the hosts struggled to make any real headway. For an instant it looked as if Ruki Tipuna had broken the deadlock with a neat tap and go but the startled defence just managed to haul him down. The support piled in but the ball was turned over, not for the first or last time, and Pirates escaped at the end of the half.
Bristol kicked off the second half and finally the referee spotted that Pirates were holding on. Unfortunately Roberts effort struck the upright. He was not long to be denied though and when a nice break from Josh Ovens set up the ruck and the visitors entered from the side, Roberts kick made it 10-all. Ovens looked eager for the fray and set up Otto for another threatening run. The defence just managed to hold him, and get a boot to the ball to get it into touch. The referee wrongly adjudged Otto to have knocked on and gave the scrum to Pirates. Bristol looked menacing now whenever they got the ball in their hands, and Roberts cut an incisive line only for his offload to be knocked on with the try line begging. Pirates finally succumbed when George Watkins came off his wing and created the space for Goodridge to scuttle over for a converted try.
Pirates tried to hit back straightaway with a superb move but the Bristol defence just managed to regroup in time. A forward pass from Bristol gave Pirates a good attacking position. Fortunately the visitors were penalised, but the kick failed to make it to touch and Pirates were back on the offensive. The enormously forward pass in the move was completely missed by the officials. Bristol continued to seek the points that would give an unlikely semi-final win but a defensive mix-up and great speed from number7 Burgess saw him slice through into space and he raced in from 70 metres out without a hand being laid on him. The conversion was missed the score stood at 17-15.
Bristol then showed what pace allied to turnover ball can do. Otto made yet another excellent break and this time he was backed up by the flying George Watkins who sprinted away from the despairing defence. Roberts' conversion effort was narrowly wide. Pirates looked unflustered and patiently made inroads into Bristol territory. Catching the Bristol turnover disease however, they handed possession back to Bristol. There was a tremendous amount to do, but Bristol set about it in fine style. Once more it was pace that proved key to unlocking the Pirates defence. Helu strolled through the open door and Roberts converted well. Suddenly Bristol were just seven points behind on aggregate and maybe, just maybe, but the dream was still on. Time was against Bristol however and the faint hopes were dashed when a Cook penalty at the death made the final score 29-18. Rarely can so entertaining a victory felt so much like a defeat.