PIRATES FAIL TO SEIZE THE LOOT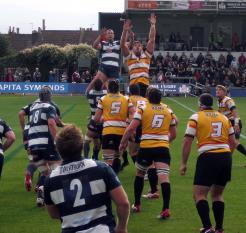 Hands up
By Sian Davies Todd
September 16 2012
Bristol dominated for much of the first half but failed to put the points on the board and paid the price when the visitors edged their way in front in the second period. Fortunately Bristol shook off the strange lethargy in the last quarter which culminated in a superb opportunistic try for Matt Williams who had looked eager throughout the game.
Pirates kicked off to start. After an exchange of knock-ons, Bristol succeeded in the scrum to set up an opportunity for Mike Tagicakibau, who made a good run. Play was called back for a high tackle, Matt Jones put over the long range. Another infringement by Pirates gave Bristol another go at goal to put 6 points on the board at 8 minutes.
Strong attacking play, against the run of things, from Pirates looked to have been rewarded with a try but fortunately for the hosts the final pass had been forward. A poor scrum from Bristol gave Pirates a penalty chance, well struck by Hallett to make the score 6 - 3.
Mitch Eadie produced a lovely run but lacked support and Pirates came back to threaten the Bristol line. Bristol survived this assault and tried to keep up pressure on the visitors, but Luke Eves was penalised for holding on when he came back inside off the right wing. Hallett was again and the score sttod at 6-all at the end of the first quarter.
Bristol attacked strongly from the restart and the Pirates were at last shown a yellow card after a series of penalties, Bristol academy product Darren Barry taking the rap for a team offence. Bristol tried to take advantage and drove the ball over the opposition try line but the TMO ruled the ball was held up over the line. Undeterred by this setback, the home side kept up the pressure and Luke Eves collected a looping pass to score a well converted try that took Bristol to a 13 – 6 lead.
Bristol were clearly on top but the lead failed to reflect their dominance. Jones had another penalty chance but his effort was well off target. Suddenly Pirates were down the Bristol end and a penalty in their favour resulted in another 3 points on the visitors' side of the board. 13 – 9 at half time.
Bristol straight away gave a penalty to Pirates for being on the wrong side of a ruck. Pirates pressed home the advantage, attacking hard to end up scoring from penalty and narrowing the gap to just one point. Further poor defence from Bristol lead to a lineout anxiously near their own try-line. Despite a strong showing from Matt Williams which took the ball up to the opposition end with hope for Bristol fans, the ball was taken into touch and Pirates successful line-out led to their return to the Bristol half and Evans crossed the line after some good work from his side. Pirates now lead with the score at 13 – 17 at 47 minutes.
A few minutes later though, Bristol attacked to gain a chance at goal from a long way out – and succeeded, bringing the score to 16 – 17. Pirates reciprocated however and play flowed back and forth ending up in the Bristol half with Bristol poor in defence. Luckily, the visitors knocked on. A hopeful phase of play was ended by the referee giving Pirates a penalty for something, as is often the case, I don't know what.
The sort of pointless kicking from both sides, up and down the field, that I have seen less of this season ended with a line out for Bristol. The referee deciding that there was infringement ("closing the gap") however, a scrum resulted, after which some hard attacking produced an attempted drop-goal – but the ball failed to make it between the posts. Good attacking from Bristol was ended by a Pirates' offside that you could see from space, 3 points on the board for Bristol from the resulting penalty and Bristol were back in front at 19 – 17. Further tense play gave Bristol another go at goal to give a healthier 22 – 17. But now a penalty to the visitors put the ball well into the Bristol half. Bristol forced a turnover and excellent play between Ruki Tipuna and Williams resulted in a Williams' try as he seared over the line. The try was superbly converted by replacement Tristan Roberts to make it 29 – 17 at full-time To Pirates fans, I look forward to the rematch at Penzance and can only apologise for the inferior pasties available at the Memorial Ground. Yours are so much bigger and much nicer.
View a Printer Friendly version of this Story.
PIRATES FAIL TO SEIZE THE LOOT
Posted by: bristolrugby.net (IP Logged)
Date: 16/09/2012 18:56
What do you think? You can have your say by posting below.
If you do not already have an account
Click here to Register
.
Edited 1 time(s). Last edit at 2012:09:23:17:43:32 by SenorJuan.
Re: PIRATES FAIL TO SEIZE THE LOOT
Posted by:
WilliamBlessing
(IP Logged)
Date: 17/09/2012 00:02
Brilliant report..thanks for a great day out!
[
www.youtube.com
]
Re: PIRATES FAIL TO SEIZE THE LOOT
Posted by:
Mrs Woll
(IP Logged)
Date: 17/09/2012 16:38
Thanks to Briss for a good day out, (result aside).
The only downer were the pasties (mentioned in the report above)...I had a cheese and onion one that tasted neither of cheese nor of onion and were compacted in the pastry.I had to wash my mouth out with a large glass of red wine, when we finally got home!
And the banter was great...
Cornwall needs a Stadium, for health, for wealth, for Cornish pride. Sportva Kernow now!
Facebook/Twitter event: [
www.facebook.com
]
Follow it on Twitter: [
twitter.com
]
Like it on Facebook: [
facebook.com
]
Re: PIRATES FAIL TO SEIZE THE LOOT
Posted by:
Gray_Lensman
(IP Logged)
Date: 19/09/2012 07:51
There is no such thing as a cheese and onion pasty. Any such object is an abomination unto the Lord.