BRIS BREEZE BY BLUES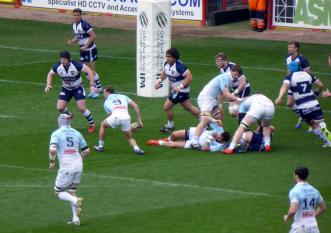 By Ian Todd
March 30 2015
Bristol emerged comfortable winners, but there was an awful lot of very sloppy play and a surprising lack of urgency at times. Bristol weren't helped by a side that seemed intent on spoiling rather than playing their natural game and the referee showed a degree of patience before finally snapping in an orgy of yellow cards before half-time. There were some good individual performances but as a team it lacked coherence and a lot needs tightening up before the pray-offs.
In windy conditions the match started with a succession of scrums. Not one was completed properly, all reset and all finally terminating in a penalty. The first three went to the visitors before the last went Bristol's way. No wonder people think something needs to be done about the scrum. There was one late in the game where neither side struck for the ball and Bristol were nearly shoved off their own ball. What on earth can the many former players attending their Association's dinner made of that? In any event it looked like Bristol were suffering in the set-piece and Bedford nearly made that pressure count only to be called back for accidental offside.
Bristol took the hint and finally managed to put some shape on the game and Matthew Morgan set up Mitch Eadie with a lovely flat pass that gave the No. 8 acres of space to lope in and behind the posts. Bristol continued to struggle at the scrum, but showed a cutting edge that Bedford completely lacked. Bristol attacked off a five metre scrum, the maul was well defended (or Bristol made a mess of it –several went badly wrong in the match, including one where the ball popped out on the Bedford side) but then came a long break for injury to a Bedford player. The visitors failed to get their heads back in the game and Dwayne Peel darted into space before a neat pass to Olly Robinson saw the flanker over in the corner.
Bedford attempted to hit back and were helped on their way when some careless passing allowed Hakalo to burst into space. The Bristol defence backtracked desperately and managed to bring down each player as the ball was offloaded and Peel, showing the all-action style that made him such an anticipated signing, showed impressive determination to haul his man down short of the line. Still Bedford kept up the pressure and their winger sent a nicely weighted grubber kick through the defence and old-stage James Pritchard latched on to the ball but was adjudged to have been held up over the line. Their five metre scrum was an utter failure, which was a little strange given their apparent supremacy earlier on.
With the half entering its last ten minutes Bedford's Fenton-Wells was shown a yellow card for coming in at the side, seconds later Wells was the recipient of the same, and then Pritchard took the walk of shame for a deliberate knock-on. All were fully justified and, frankly, there could have been one more. Paradoxically multiple sin-binning can sometimes disrupt the honest side, but Bristol stayed calm and the pack shoved their opponents back over the line to give Eadie his second try of the game leaving the half-time score at 19 – 0.
View from the Dolman
A single Bedford player walked out at the start of the second half but that wasn't a signal that further skulduggery had taken place in the interval, simply that he had got well ahead of his teammates. When the rest joined him on the pitch they managed to hang on for a while but finally someone went over. It was credited to Peel and then to Maule. I couldn't see.
Back to the correct number of men Bedford applied some pressure on what we now call the Bristol 'exit strategy' and Peel's kick was charged down by the miscreant Wells, Morgan scurried back to deal with the loose ball but elected to attempt to run the ball out instead of kicking. He would probably have had the dexterity to manage it if he hadn't slipped when right on the try-line. Tupai was onto him in a flash and with no support for the fly-half he was forced to release the ball or get pinged for holding on and then sent to the bin. Tupai didn't need to be asked twice and he touched the ball down. Tupai doubled his tally just minutes later when a scrum fell apart in disarray and Fenton-Wells came up with the ball and fed Tupai for the try.
This seemed to galvanise Bristol back into wakefulness and David Lemi showed strength, pace and wonderful balance to weave his way through the defence, skipping out of two attempted tackles, before crashing over. With the game drawing to a close it looked for a moment that Bedford were destined to score from some more careless Bristol play, but things were called back with all three officials conferring following an altercation on the far touchline. I didn't see what kicked the whole thing off because I was following the ball, but I did see a lot of punches being thrown and a Bristol player pinned to the ground and being struck several times on the head. The result was a single yellow card shown to Tupai which seems rather lenient for what I witnessed. Not that I believe the Bristol players were innocent, but there was serious foul play there and that's a red card. But no need to worry, Bedford are keen on citing.
Once again with a numerical advantage Bristol showed commendable ruthlessness and patience to shift the defence around before fashioning an overlap out on the right wing. Jack Wallace showed a clean pair of heels to sprint over for the try that made the full-time score 38 -14.
View a Printer Friendly version of this Story.
BRIS BREEZE BY BLUES
bristolrugby.net (IP Logged)
30/03/2015 08:23
What do you think? You can have your say by posting below.
If you do not already have an account
Click here to Register
.
Edited 1 time(s). Last edit at 2015:04:18:08:01:09 by SenorJuan.
Sorry, only registered users may post in this forum.