GALE BLOWS BRIS HOME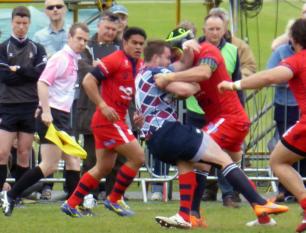 By Ian Todd
May 11 2015
Unbeaten at home, just one loss in the league all season - Bristol at last stagger into the two legged Pray-Off Final. Against the team the vast majority of observers thought would be there anyway. So, after an entire season we end up with the two teams everyone knew it would be anyway. Makes you wonder why we bothered with all that tedious messing about in the first place, doesn't it?
I was too nervous to take any notes and was just grateful the spray from the hockey pitch cooled my overtaxed nerves. Come on, the play-off semi-final in the second tier of professional rugby union and the spectators are being sprayed with water from a local game of hockey. And there was apparently a bit of an argument about the width of the pitch and you could see where the lines had been painted out. I really like visiting lots of the grounds we go to in this league but poor old Roth are turfed out of their own ground by a cricket club, only to have the cricket pitch on one side of the rugby pitch prevent there being any temporary stands over that side, and behind the other stand there's a game of hockey going on and no one thinks that spraying water with a gale blowing down the pitch is a bit of a silly idea. I know we are all supposed to think the Minimum Standards Criteria are a bad idea but seriously is that sort of thing acceptable at this level? The players have to walk out through a building site and across the access road before they even get on the pitch! Sky were trying to big the game up and all any casual viewers see is a team walking out between a coach and some Heras fencing and a pile of rubble. I'm not entirely sure that's the image we want the Championship to have.
I'm not getting at Roth, the majority of grounds in this league are pretty ropy, and many of the Premiership grounds are soulless concrete warrens or are a swamp that smells of faintly urine. Something like Castle Park seems like a reasonable standard to me for this level.
Anyway, we won 16 – 24. That's a 20 point aggregate margin. Yes, it was hard work and Roth got a little too close for comfort at one point but Bristol were just too strong up front and had depth on the bench to make a difference. Sky managed to get a mention of Rotherham's fitness yet again (I go all the way to Sheffield and then watch the game on the TV when I get back, how stupid is that? I recommend the Abbeydale Industrial Hamlet by the way; it made for an interesting couple of hours. If you like industrial museum-type things.). But as so many times this season we looked stronger in the last twenty minutes than the other side.
Cleared the last hurdle before the final and now it comes down to 160 minutes of rugby to see who will be promoted. We've all been here before and we'll just have to endure the whole thing again. Painful isn't it?