BRIS ONE POINT BEHIND AT HALF-TIME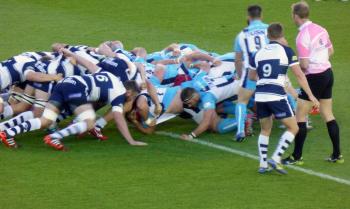 By Ian Todd
May 21 2015
Don't you just love the pray-offs? Top the league with a record number of points, beat your closest rivals home and away. Then fashion a narrow lead when under pressure only to concede a converted try at the very end. Oh and lose one of your most influential players to a horrible injury and a former lion and Wales captain as well. I am just fed up with this stupid system that turns a league competition into a cup competition for no good reason and subjects you to all the vagaries of weather and officiating and injury that one-off games entail.
No real notes and report, I was too busy shouting. Anyway, it was a lovely evening and something of a contrast with the weather for last season's first leg. Most of the crowd hoping for a contrasting result too. It was great to see the blue and white around the ground which does support those who think the colour of the seats irrelevant.
Bristol took the early lead with a Henson penalty but Worcester were right back with good driving forward play ending in a try. Bristol struck back quickly via an excellent Matthew Morgan break, good support from Charlie Amesbury who worked the ball back inside to send Mitch Eadie over for a converted try.
Bristol's defence out wide looked rather vulnerable and Worcester took advantage by taking play into the Bristol half and applying real pressure. Their pack looked strong and Gaston Cortes saw yellow for a pretty obvious offence. His loss was compounded almost immediately by the similar loss of his replacement Anthony Perenise. I haven't seen this on the TV but the talk afterwards was that it was a little harsh. Down to 13 it was completely unsurprising that Bristol had a big gap out wide and Vuna loped over.
Bumper crowd enjoy the evening sun in the new South Stand
Bristol remained under pressure but a lovely piece of determination and skill from Eadie took play back into the Worcester half as he powered and skipped through tackles. David Lemi was up in support and had the pace to race in for a well converted try. Unfortunately the Bristol defence still looked fragile and Biggs smashed his way over.
Bristol's restart for the second period sailed out on the full but generally the play was much tighter and the scrum far stronger, although the lineout remained rather shaky. An early penalty was coolly struck by Henson. Sadly he was shortly stretchered off with what looked a very serious injury. Creditably Bristol maintained their concentration and took the lead when a well judges crossfield kick was gathered by Lemi. From my angle it looked like there was a knock-on or something wrong with the touchdown but the TMO disagreed. Robinson missed the conversion but was spot on with a penalty that took Bristol six points ahead.
Worcester had other ideas and pressed hard as the game drew to its close. They were penalised though and it looked as if the penalty clearance to touch had relieved the danger. Unfortunately that was not the case and Worcester were right back at Bristol with Arnett burrowing over for a converted try and a final score of 28 – 29.