BRISTOL FALL AGONIZINGLY SHORT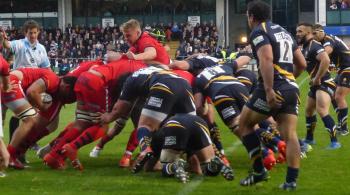 By Ian Todd
May 29 2015
Bristol's struggle to escape the clutches of the pray-off system will have to go to another season after losing by just a single point over the two legs against Worcester. What else can you say.
I was busy shouting and riding a rollercoaster of emotions as we once more took a trip on the Farcical Way to Decide Promotion fairground ride.
What did we see?
With one point in it there was all to play for and the start was frenetic stuff with Worcester taking the lead with a Lamb penalty. Bristol tried to hit back and rejected two eminently kickable penalties for what proved to be ineffective attacking lineouts. I said it was a strange decision at the time and I still think so. The strange thing was that from much longer range the decision was to go for the posts and Nick Robinson, in his last Bristol outing, did strike the upright. Robinson made no mistake with another kick soon afterwards to level the score on the night. Only to see the hosts move back in front with a penalty of their own. And then Robinson sent over another. You might think this was a tense, nervous, affair just from that information (well, it was for the supporters) but in fact it was two well-matched sides going at it hammer and tongs. However, Worcester edged more decisively in front when a chip ahead rebounded off a Bristol player to the grateful Pennell who touched down for a converted try. It was a slice of luck but then in the first leg we had seen a kick ahead bounce back over Biggs. Lamb struck another penalty and Worcester were, rather ominously, 16 – 6 up. I was pretty sure things were all up for Bristol. All Worcester had to do was tighten up the defence and wait for Bristol to cough up the ball as we pushed things. Just as Welsh did last season.
The only real hope was that Bristol really have been stronger in the second half throughout the season. And right on cue out they came in the second half looking calmer and more assured. Why do we play like that? The early pressure told and Robinson narrowed it to 16 – 9. Now, could be get a converted try to leave us just a point behind on aggregate? Yes we could! Vuna was shown yellow and Bristol capitalised with the excellent Jack Lam going over and Robinson equalising the score. And then Bristol icon David Lemi sliced the depleted defence apart, he couldn't quite make it but Jack Tovey was on hand to score in the corner. The incredible Bristol support went wild and then Robinson's conversion went over to make it 16 -23 on the night and Bristol in front on aggregate. Fantastic stuff. It was even more fantastic when Lemi again carved through the defence before feeding replacement Matthew Morgan who sprinted over and rounded behind the posts for another converted try. The dream really was on now. Bristol had completely turned things around and now it was Worcester's turn to overcome a big deficit. I dared to believe that at last Bristol were going to make it. Come on, three tries whilst a player was in the sin bin to make it 16 -30 had wrested victory for Bristol.
Both sets of supporters were roaring their teams on, but time was ticking away with both sides desperate to finish on a high note. Just five minute left and Worcester press hard on the Bristol line after gaining possession from a Bristol error. Bristol were utterly committed in defence and then a stunning blow with the referee stepping in to award a penalty try and a yellow card for Lam. Obviously it is sour grapes, but I was close by and Lam was definitely trying to get back to his feet and it was a very harsh decision. I've managed to summon the courage to look at the recording of the game and I must say I agree with those who think Worcester might well have suffered a similar fate earlier. Instead it was just a penalty. That's the problem, two (or even three) incidents that looked very, very similar but refereed differently. It would have been better for Bristol if the consistent decision wasn't to award a penalty try because with less than five minutes to go even if Worcester had scored it would have eaten so much time up and the conversion would have been more difficult. My other problem with the penalty try decision, as with last week when they had the ball over the line and we weren't stopping a try being scored, was that I'm not sure the try was prevented They could have touched down. And that's one of the reasons I hate the play-offs: too much hinges on split second decisions. Anyway, Bristol were still just about clinging on with Worcester pounding away at a reduced defence when, with under 30 seconds on the clock skipper Dwayne Peel was sin-binned. Now down to 13 it was impossible for Bristol's gallant defence to hold out and Pennell went in out left. The crowd erupted. Now, with time up, Lamb had to convert to dash Bristol's hopes. He did.
The players gave it their all. The support was magnificent. Once again the deeply flawed system has let us down.
And Bristol have to spend yet another season stumbling through a set of games until the last four of the season. Why we bother turning up in numbers greater than any other club in the Championship and several in the Premiership I don't know.