SOUTH STAND TEST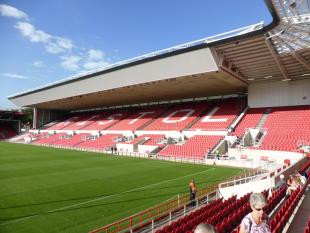 By Ian Todd
August 9 2015
The Friday evening test event was not well attended, but those who turned up were treated to a preview of what the revamped Ashton Gate will have to offer. Food and drink were available from several areas, the weather was lovely, some rugby training took place and the stand provided an excellent view of the mass ascent from the Balloon Fiesta.
A few pictures:
Queuing to get in, only one turnstile was in use, but that entire space you can see had turnstiles installed so you won't see anything like this for a while
The South Stand looking west towards the control room
The concourse looking at the shutter of the Dolman Stand
The concourse looking west
A view of the Dolman Stand, there'll be some fighting over the seats in the new lower tier because they are so much better than the ones up in the top.
Clearly returning to fitness
The first pasty of the season! £3.40.
A flying penguin. When the West Stand is complete this would not have been visible.
The South Stand looking to the Dolman
A couple of players. Does anyone recognise them?