BEDFORD BEAT BRIS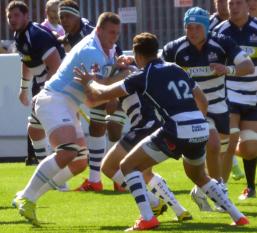 By Ian Todd
September 7 2015
On a lovely day a disappointing crowd left after a disappointing result and a horrible Bristol performance. As i was walking away from the ground a guy suddenly vomited. The match didn't seem quite that bad to me but everyone's perception is different. Bristol lost because they simply couldn't keep hold of the ball and when it ended up in Bedford hands it usually cost us points. When passes finally began to stick it was too late to overcome a big deficit.
In beautiful conditions Bristol kicked off yet another Championship campaign. The initial signs were good, with Bristol all over the opposition. Such was the intensity of the early pressure that Staff was shown yellow with just minutes gone. Adrian Jarvis struck the penalty and Bristol were in front.
The first scrum saw Bristol launch a flowing move only for a knock on to halt proceedings. I cannot be bothered to count the number of times I have written 'knock-on' or 'lost forward' or 'lost in contact' in my notes. It was a lot, and pretty much summed up the game for Bristol. In any event, this first example took the wind out of Bristol's sails and Bedford took advantage with a Sharp-ly taken drop goal that equalised the score. The restart was then out on the full. A setback which was swiftly compounded when the ball was knocked forward, claimed by Perkins who chipped behind the defence, collected the ball again and sprinted over the line for a converted try. Two mistakes from Bristol and a try conceded whilst Bedford were down to 14. Sloppy from the hosts, ruthless from the visitors.
Bristol regathered themselves and were speedily down into the Bedford half after a bullocking run from James Phillips (who took a lot of stopping throughout). With the try-line begging a clumsy knock-on was the result. Can you see what is starting to happen? In fairness you could point out that most of the Bedford side were offside (and that right in front of the referee instead of behind him), but professional players ought to see that an official isn't picking up that offence so they need to play a bit deeper and also commit the same offence themselves (I only saw Bristol so blatantly offside at a ruck late in the game – it still wasn't penalised so at least we had a consistent interpretation of the law).
Bristol were really starting to look anxious at this point, flinging out unnecessary or poorly judged passes. Fortunately these did not prove costly at this stage in the game and eventually a gap opened in the defence, some ground was made and Jarvis slotted the penalty that brought Bristol to 6 – 10. And after all this hard work, what did Bristol do? I may have made reference before to our habit of conceding soft points after putting in a lot of effort to score. Well what do you know? Bristol promptly conceded, from the restart, the softest looking try imaginable! A clean break from Staff, a neat pass to Perkins and in for a try with the defence totally lost.
Bristol attempted to tighten things up and two penalties were sent down into the corner. Two efforts at a catch and drive. Two failures. A rolling maul from that distance ought to be unstoppable by legal means but Bristol managed to make a mess of things. My notes until half time read verbatim as: "knock-on after knock-on from Bris. Beds run away after more sloppy passing another try from Sharp. Terrible handling and passing skills on offer. 6 – 22"
Last season Bristol contrived to be behind at half time in the majority of home games, but never by such a margin. Was a very unlikely comeback even possible? It certainly didn't look like it when Bristol kicked out on the full after the ball was taken back into the 22. It looked even less likely when debutant Tom Varndell lost the ball forward (the habit was contagious) straight into the hands of a grateful Adamson who sprinted over for a converted try. Perhaps I shouldn't single out Varndell like this, but there is a reason. The pass out to him wasn't a good one, he failed to take it cleanly and that error was compounded when the loose ball struck his foot and went straight to an opponent's hands. Bristol didn't just pass badly, they didn't just knock-on. The ball was lost in various ways, in contact, on the ground. At least twice I saw the ball go loose at the ruck and get kicked forward by a stray boot or even simply roll forward under momentum. Bristol just didn't keep possession and Bedford made full use of every opportunity we gave them. To Varndell's credit he did try to track back and the look of anger and chagrin on his face was all too clear.
It was now 6 – 29 and any possible response from Bristol would surely be inadequate. A response was, however, forthcoming and Bristol finally strung together a passing move in which the default option wasn't a knock-on and Will Cliff received a nice offload to go in for a converted try. It appeared as if Nick Koster had crossed soon after but the referee adjudged a forward pass, much to the inevitable disapproval the crowd (a small crowd by the standards of last season). In truth, losing possession by a variety of means continued to frustrate the hosts but once again, when the ball did go to hand, Ben Mosses squirmed over for a try converted by replacement Hopalong Henson. What an amazingly speedy recovery, and very welcome too.
Bristol were at last looking quite lively as Bedford started to wilt in the sun. In an effort to quell the Bristol resurgence Bedford tried a couple of long range penalties but they were both off target. Bristol sensed that at least a losing bonus point was a possibility and handed Henson a 'chance' from halfway that drifted just wide. Bedford were penalised again and, very stupidly, tried to stop Craig Hampson getting hold of the ball for a quick tap and go. They were marched back ten metres by the referee and this was enough to bring the posts within Henson's range and he calmly struck the ball between the uprights. Then a fantastic weaving run from Varndell panicked the Bedford defence. With time almost up Bedford gave away a penalty and the only option was to go for touch. An unlikely, and possibly unjust, win was on the cards. In went the catch and drive. The defence was valiant and with the ball flung wide it was fitting, perhaps, that Bristol's afternoon terminated with a knock-on short of the line. Leaving the final score at a disappointing (or fantastic, depending on your allegiance) 23 -29.