BRIS BOUNCE BACK TO BAG BONUS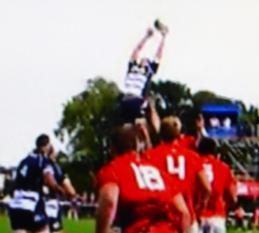 By Di Manning
September 14 2015
Bristol got their season back on track with a bonus point away win against the big spending relegated premiership side. Initial signs were far from promising with the inability to retain possession a hangover from last week's performance. But Bristol knuckled down and tightened up all phases of play, taking all five points on offer with a try at the very end.
Bristol started at great pace and a break by No. 8 Eadie had the defence in such trouble that a penalty resulted. Henson stepped up and Bristol were 0 – 3 within a minute. I wasn't at the game last week but from what SenorJuan says, the big problem was failing to keep possession. It certainly looked as if the problem was going to continue when Welsh struck back quickly following Bristol losing the ball forward. Carlisle kicked downfield, Thomas clutched onto the ball and was in beneath the posts for a converted try.
For much of the first quarter it looked as if Bristol would keep doing much the same with the ball spilled forward or lost in contact on numerous occasions. Despite this it was probably fair to say that Bristol looked the more dangerous side when they managed to retain possession. The problem Welsh had was that their lineout was far from secure and the dynamic Koster capitalised on one poor throw to make headway before Henson managed to pop a ball out to Amesbury who had to almost reach behind to take the pass. Amesbury burst clear and was over. As SJ is fond of pointing out Bristol often look vulnerable after working hard for points, but that wasn't the case here. The restart was taken by Wallace who rounded the clumsy-looking jump from the lone chaser and darted forwards. He made excellent ground before shipping the ball to Varndell in oceans of space. There was no way he was going to be stopped from there and he raced away down the right wing for his first try for the club.
Tovey was penalised for a marginal high tackle and the kick narrowed the gap to 10 -15. Another, more difficult effort, following a scrum penalty went wide. Welsh came closest by way of sharp play from the first-rate Elder who was beaten by the bounce of his own kick ahead but were unable to close the gap before the end of the half when they caught Bristol's handling bug and knocked on just short of the line.
It must have been slightly unfamiliar territory to start the second half in the lead, but the coaches will surely have had plenty to say on the subject of ball retention and securing the ball at the breakdown. Whatever was said certainly worked because Bristol started with something of the pace of the first period combined with a much more controlled and controlling approach.
Bristol kept their hosts pinned back for the opening spell and it looked as if Robinson had scored, only for the referee to rule it had been from a forward pass. But Bristol's pressure told and when a penalty was awarded Bristol sensibly went for the posts. It seemed as if these points would prove significant when, soon after, prop Cooper burrowed over from close range to bring his side right back into it.
Another strike from Henson restored the margin with the game into its final ten minutes. But the nerves were jittering when Tovey, taking a shift at fullback (where he did a good job) after a number of injuries also saw Koster have an outing in the centres, saw yellow as he was deemed to kill the ball when he was the last defender. The extra man told for Welsh despite some gallant defence and Reynolds went in at the corner. Tovey's sacrifice did ensure the try was out wide instead of by the posts and the conversion was missed.
Bristol regrouped and it was the hosts' turn to give away a penalty and replacement Jarvis took his chance coolly to end any real chance of a Welsh recovery. With time almost up Bristol were awarded a couple of penalties that took then into the Welsh 22. Then another penalty and, after some discussion, presumably about the time left, Bristol tapped and went for a bonus point try. A surprising but positive decision. One which proved to absolutely correct when, stymied by the defensive line, Jarvis sweetly struck a Crossfield kick and Tovey, returned from the sin bin latched onto it and swept over to leave the final score at 22 – 36.
View a Printer Friendly version of this Story.
BRIS BOUNCE BACK TO BAG BONUS
bristolrugby.net (IP Logged)
14/09/2015 16:57
What do you think? You can have your say by posting below.
If you do not already have an account
Click here to Register
.
Edited 1 time(s). Last edit at 2015:10:19:07:52:45 by SenorJuan.
Re: BRIS BOUNCE BACK TO BAG BONUS
14/09/2015 17:07
Great report. Thanks Di.
Sorry, only registered users may post in this forum.