KNIGHTMARE FOR BRIS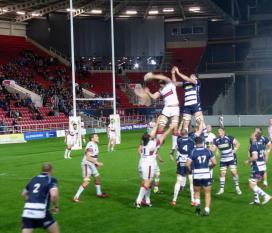 By Ian Todd
November 7 2015
A terrible home defeat had no real positives for Bristol. 27 - 39 meant that the home side claimed no bonus points at all and were out-thought and out-fought in every aspect of the game.
Bristol kicked off the game and Doncaster knocked-on to immediately hand Bristol great field position. A free kick at the scrum, the ball whipped along the line and Jack Tovey was over for a converted try. Clinical stuff and surely the visitors were in for a tough evening. Oh yes, look how that worked out! The signs for what were to come were all there in the next few phases of play. Doncaster went hard at Bristol, a fine kick ahead pinned Bristol back into their 22, the hosts were turned over and then penalised. The visitors went for touch but Bristol initially defended the catch-and-drive well only to give away another penalty. This one too went to touch and there was no mistake from Doncaster as the pack rumbled over to allow Makaafi to dot down and then Flockhart to convert.
Bristol's efforts to hit back were stymied by a catalogue of errors: restart out on the full, penalised following a penalty to touch, visitors clear to touch, Bristol lineout malfunctions (which happened far too often and might cause those that think Steve Borthwick has a magic wand that will transform Bristol's forward play in the space of a few days to think again). Penalised again. And then let the defence become so narrow that two passes saw Tyson Lewis in so much space he was able to jog over untouched. Flockhart converted and Bristol were looking something of a mess. Poor handling in the effort to hit back did nothing to help the Bristol cause. Poor discipline did not help much either and a penalty to touch made it clear that the dreaded catch-and-drive was on the cards. Everyone knew it but Bristol were so unable to defend it that the Doncaster pack almost sprinted over, so feeble were the efforts to halt it. Makaafi claimed the honours, Flockhart converted and the visitors were thoroughly deserved 7 – 21 leaders.
Bristol simply had to do something now or the game was, even at this stage, surely getting beyond them. Doncaster knocked on and they struggled at the following scrum and were penalised. Gavin Henson went for touch and it was now Bristol's turn to score from close range with replacement Nick Koster eventually being awarded the try. Henson converted. Another penalty kick to touch put Bristol in a good position but the lineout was terribly overthrown to give the ball to Doncaster. They kicked ahead and the Bristol receiver was wrongly adjudged to have knocked on. Bristol were penalised at the resulting scrum and Flockhart's penalty edged his side into a 14 – 24 lead at half time. Three errors, two from Bristol, one from the officials and three points conceded.
It must have been an interesting exchange of views in the dressing and Bristol came out in the second period and immediately forced the visitors into a knock-on. Doncaster were penalised at the scrum and Henson punished them by making a great touch. Unfortunately the Bristol lineout malfunctioned again but Doncaster were unable to retain possession. Will Cliff darted into space, looked around for support but realised that the defence was out of position, poured on the gas and raced in by the posts for a converted try. Bristol were right back in it at 21 – 24. Bristol have something of a history in staging second-half fight backs, so it was tempting to assume that this was the beginning of that familiar pattern.
And that looked to be the case. A kick ahead was well chased by Ryan Edwards and he superbly wrest the ball from the Doncaster receiver. Bristol swept forward, only to tamely cough up possession. Still, they were certainly trying to play at pace and their cause could only be helped when a poor 'tackle' from Makaafi saw him instantly yellow carded. It was the right decision, his arm slid high and it would not have if he had used better technique. Bristol attempted to take advantage of the extra man but there was a slightly frantic quality to their play and the execution was poor. Edwards made another good break but was tackled by a player on the ground. It occurred directly in line between the referee and his assistant, both were looking right at it, no action was taken. It halted the momentum just enough to allow the defence to realign. Under pressure Doncaster gave away a penalty but the Bristol pack made a mess of the lineout drive and lost the ball forward. Bristol were desperate to score some points during the sin-binning (not to give anything away , it was something they failed to do) and Tom Varndell went on an electrifying run that sliced through the defence, only to be penalised for holding on with the support very late in arriving.
Bristol continued to try to find a way through but seemed short on invention and accuracy. Eventually Doncaster's concentration slipped and they gave away a soft penalty. Replacement Matthew Morgan stepped up and equalised the score at 24-all with ten minutes to go. In contrast to Bristol's somewhat disorganised attacking play Doncaster came back at the hosts with some patient, controlled play that gradually edged Bristol back before they cut loose out right and Flockhart touched down (there was some disapproval from the crowd but I wasn't at that end so I have no idea if they were right to disapprove). He was unable to convert but 24 – 29 looked good at this stage of the game. It looked even better shortly thereafter when Bristol were penalised at a scrum and Flockhart slotted it over to take away even a losing bonus point for the hosts. The team knew it too and struggled to find a way to get back in range. A shocking clothesline 'tackle' gave Bristol a penalty and Morgan made no mistake. If the first high tackle warranted an instant yellow then this one deserved at least as much. If a player can be cited and banned for accidentally running into the referee then this really ought to be cited as well, but given the inconsistent disciplinary process in the game it surely won't be. In any event Bristol were back in bonus point range and probably lacked the ruthlessness to make much of a hypothetical one man advantage in the last few seconds. In fact they lacked basic rugby awareness when Veikoso picked up a completely unprotected ball and romped over for a humiliating converted try and a final score of 27 – 39.
I've seen performances from Bristol that were way worse than that. We don't have to go that far back for a 'performance' against Nottingham that was simply embarrassing for all concerned. This was nothing like that. However, for a club that seeks promotion and that then seeks to stay promoted it was a performance that was totally unacceptable. It lacked invention, accuracy and commitment. It was lethargic and dull. And take nothing away from Doncaster, they didn't win simply because Bristol were poor. It wasn't like Bedford where we gifted the opposition possession and they never looked like creating anything for themselves. Doncaster were well drilled and effective. But Bristol have such players and resources that they ought to be able to handle a side that is well-drilled and effective. Everyone at this club has high expectations of Bristol. And we were so far short of those expectations that the players and coaches need to take a long hard look at themselves, think about what went wrong, think about what needs to be done and then actually do something about it. That simply wasn't good enough.