Jonah Lomu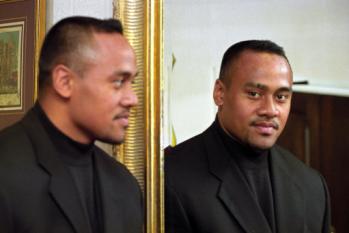 By Ian Todd
November 20 2015
Jonah Tali Lomu 12 May 1975 – 18 November 2015
Jonah Lomu came to wide public consciousness during the 1995 Rugby World Cup in South Africa. Although New Zealand lost the final to the host nation amid iconic images of Nelson Mandela wearing a Springbok shirt and baseball cap, in purely sporting terms the enduring memory for most people was that of Jonah Lomu bouncing off tackles and running over the top of Mike Catt when scoring the first of his four tries against England in the semi-final.
It is hard to believe that was both twenty years ago and that Lomu himself has died at the age of just 40. His aura is such that it is difficult to recall now that he had just two caps before the World Cup or that he was the youngest man to play for his country. His very literal impact in that World Cup was such that many people do not recall his youth or inexperience. He is often now referred to as rugby's first global superstar. One might argue that someone like Eric Liddell achieved wide prominence outside the world of rugby but that was because of his achievements beyond that narrow realm. Lomu was widely known because of his achievements as a phenomenal rugby player. In an important way he represented the beginning of something new in rugby union. At the end of August, after the World Cup, the International Rugby Board suddenly announced that the game was 'open'; a nominally amateur game had at the stroke of a pen become professional. Rugby Union had slowly been edging in that direction for many years by way of so-called 'shamateurism' but the prominent role that rugby union played in portraying a new South Africa to the world and Lomu's celebrity were significant factors in the timing of the IRB's announcement.
Not only did he stand at the beginning of a reinvented rugby union but he was in many ways the prototype modern rugby player – big, fast and powerful. Well known, well paid. In earlier days a man of his stature might have played in the second-row, as it was he started out in the back-row before moving out to the wing and performing in an unprecedented way. Will Carling called him a 'freak' and wished that he would go away. His type of player has not gone away but sadly he has. His legacy as a player lives on.
View a Printer Friendly version of this Story.
Jonah Lomu
bristolrugby.net (IP Logged)
20/11/2015 09:32
What do you think? You can have your say by posting below.
If you do not already have an account
Click here to Register
.
Edited 1 time(s). Last edit at 2015:12:06:10:48:10 by SenorJuan.
Re: Jonah Lomu
20/11/2015 18:26
Still a unique player in my view. I watched "that" match in a pub in Crouch End and remember we just stood open mouthed as he tramped like a giant in seven league boots over what I remember as our realistic hopes of getting to the final. He will be missed but fortunately we can still watch video of him playing.
Sorry, only registered users may post in this forum.