BRISTOL DO PIRATE DOUBLE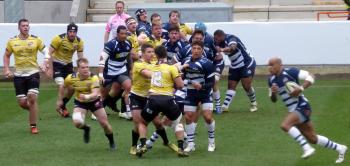 By Ian Todd
March 19 2016
Having secured a play-off place last week and built a commanding lead this week it may be unsurprising if Bristol's focus seemed less than laser-like. A lack of focus and concentration that let the visitors come back from 26 - 5 to a final score of 29 - 24. Yet another consequence of the stupid play-off system is that side can qualify for them with several games to spare and we end up with a set of matches that have no real significance. Our next 'competitive' fixture is a first v second clash that has absolutely nothing riding on it. Ridiculous. It short changes the supporters and distorts an already distorted system. And gives us games like today.
Pirates kicked of the game and the initial action was predominantly in favour of the hosts before a fine touchfinder from Matthew Morgan set up good territorial position. The forwards drove well before the ball was popped into the hands of Tom Varndell who's angle of running bamboozled the visitors' defence and he crossed by the posts. Gavin Henson converted and Bristol were 7-nil up.
A lead that looked destined to be cut virtually from the restart with a soft penalty almost in front of the posts but May's effort was, surprisingly, wide of the mark. With Bristol attempting to get back into the Pirates half the last thing the visiting side need was to give away a needless penalty. Henson made great distance and took his side ten metres from the Pirates' line. This time the pack refused to give up their toy and smashed their way over the line and Jack Lam flopped over for a converted try.
Bristol's defence looked somewhat lacklustre at times during the game (after the sterling effort at Leedshire that ensured a play-off spot) and a lackadaisical approach allowed Pirates to make good ground before giving away a penalty. Sent to touch, Beukeboom was over the whitewash for an unconverted try. Pirates continued to press and a charge down of a Jack Wallace clearance kick set them up nicely, only for the referee to penalise them for holding on. This episode was promptly followed with some fairly dull aerial ping-pong. Morgan brought this 'spectacle' to a close with a slightly fortunate kick into touch. With the half running out a penalty kick to touch gave the hosts an excellent position. The initial drive from the lineout made some ground before the ball went out along the back line. Morgan tried to jink his way through but the defence was far too strong but he just managed to get the ball away to David Lemi. The captain sprinted down the wing and with the defence closing him down he flung a desperate ball back inside. Wallace was up in support and he did well to claim the ball before showing great strength to force his way over. Henson converted to make it 21 – 5 at half time.
I have a really brief set of notes for the second half, which tells a story on its own. The early signs were good when quick, accurate handling whisked the ball out to Lemi who touched down out wide for an unconverted try. The signs were less good when Bristol tamely coughed up possession and Moyle broke clear from well inside his own half and raced in to score a fine try that made the score 26 – 12.
Bristol tried to hit back but poor handling led to a knock-on with the try line at their mercy. Bristol were struggling to find a way though some solid defence and when the visitors were penalised it made sense to take the points and regroup. Henson duly struck and it was 29 – 12. Given how close the visitors finally got it was a decision that might have proved far more significant than it appeared at the time.
From that point on the action was all Pirates. First the defence fell apart in an embarrassing manner and Holland needed no second invitation to waltz through for a converted try and 29 – 19. A restive crowd realised that Pirates had it in them to snatch an unlikely victory but fortunately Bristol managed to tighten things up just enough to frustrate the visitors. At the very death Pirates were hammering hard at the Bristol line with a series of forward drives and lineouts before Duncan crashed over for an unconverted try.