BRIS ENSURE TOP SPOT FOR THIRD TIME IN A ROW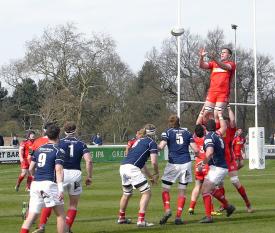 By Ian Todd
April 17 2016
Bristol chalked up another away victory. Bristol claimed top spot in the league with two games to go. And yet no celebrations. Why not? Because we still have two meaningless games to go before the play-offs. Moseley up next, struggling for survival. Ealing might feel agrieved if Mose get anything from that with Bristol having nothing to play for. Bedford up last. They are likely to be our semi-final opponents! So that'll be a cagey game. One of the six we'll probably have against them this season. What a stupid league we are in. And that's before it turns into a knock-out tournament.
Bristol kicked off the match and Scottish returned the kick, long and high, but Luke Arscott claimed it well. The hosts forced a turnover and kick down to the Bristol five metre line. Bristol claimed the lineout and cleared. Scottish were quickly back at their visitors and a fine break through some weak tackling rocked Bristol only for the final pass to be flung into touch. Bristol started to exert themselves after this scare and the first scrum saw a penalty go their way. It went to touch but the drive from the resulting lineout was ineffective and the backs could do little more. Fortunately the referee was playing a very long advantage and play went back for a kick at the posts. Matthew Morgan stepped up and slotted the points,
Neither side seemed able to impose any pattern on the game at this point and it took a Scottish infringement for any more points to go on the board, Morgan again kicking the penalty. Almost immediately Bristol gave away a penalty and Lydon's excellent kick halved the deficit. Morgan tried to dance his way down the wing and chipped into space and seemed to be taken out very late. The officials gave nothing even though the diminutive fly-half needed treatment. Scottish were penalised shortly after and Morgan's kick was a shocker, hardly leaving the ground. It looked reasonably clear that he had sustained a nasty knock. As it transpired, the Scottish clearance from the scuffed penalty effort was claimed by Bristol and Scottish gave away another penalty. It was quickly taken and Jack Wallace outflanked the sluggish defence to romp over for a try that he then converted to take Bristol into a 3 – 13 lead.
Bristol seemed to switch off for a moment and the Scottish attack scythed through the defence. Morgan bravely hauled down an opponent who looked twice his size but the tackling of others was far less robust and the hosts were right up to the Bristol line. A try looked certain but someone (was it Arscott?) got under the man and rolled him onto his back so that he couldn't touch down. Scottish recycled and Rayn Smid was sin-binned. Conservatively Scottish went for the points, perhaps thinking that with time almost up for the half it was the sensible thing to peg Bristol back. Sadly for that option there was still time for Bristol to get back to the opposition five metre line, for Du Plessis to be yellow-carded, and then whip the ball back to Morgan for a drop goal that left it a 6 – 16.
The second period saw an early penalty to Scottish sent to touch only for Bristol to claim the ball. Some to-and-fro kicking followed before Bristol ended up with a lineout virtually where the whole passage of play commenced. The catch-and-drive made little ground but a very sharp bit of play from Martin Roberts took him close to the try line. Unfortunately it also took him close to the touchline. Somehow he managed to flip the ball inside to Jack Lam who, even more incredibly managed to get the ball down. In all honesty I thought that both were in touch at various points but the touch judge and referee were a bit closer. Morgan was off target with the conversion but it was still 6 – 21.
And now I have hardly any notes, which is always quite telling, indicating that the game lacked any structure or pattern. Or possibly that it was raining. Which it wasn't. What we did have was a lot of inconclusive action, lots of industry but little invention or direction. Bristol gave away a penalty that Scottish sent to touch. The catch-and- drive was well marshalled and rolled over the line. Almost inevitably it was Bright, in his last home game for his club, that claimed the score. The conversion attempt was well wide. Just before the end Bright was over for another unconverted try from a rolling maul. It was possible for the hosts to get a draw or even a win but Bristol got hold of the ball from the restart, kept things tight, held onto possession and then booted the ball into touch as soon as time was up for a 16 – 21 win.