IT'S THE MOST WONDERFUL TIME OF THE YEAR!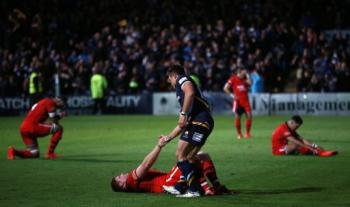 By Ian Todd
May 14 2016
Yes! It's play-off time!
We've topped the league, topped the stats and passed the audit. Now we are all set for promotion. Wait a moment there's something wrong with that scenario …
I'm not going to rehash the manifest injustice of deciding promotion on the basis of a mini knockout tournament at the end of a league season or knock down the spurious reasons put forward to justify them. You've heard it all before and either agree or not. But we are stuck with the stupid system and just have to get on with it. This season has felt like one long hangover from the bruising loss to Worcester. Bristol have rarely hit the heights, rarely played at anything like the team's full potential. And yet, once again, we top the league. Once again we have to face a side with nothing to lose (and doesn't even want to be promoted) with key players out injured. An entire season comes down to two games. If we are unlucky that'll be it. If we are 'lucky' we have to do it again against another side that proved incapable of winning the league but gets another chance by way of a near lottery. At least the two other sides actually have something to play for!
I don't normally write match reports in the play-offs because I feel I just want to watch and support the team. This time around I'm not even going to make the first leg of the semi because of prior commitments. Seriously, we are at the end of April and will be playing until the end of May to claw our way out of the Championship. Even if we manage that we have a few weeks to prepare for the Premiership. I can't approach this business with anything resembling enthusiasm, only dread and anxiety. But we can do it this time. Can't we? Can't we?
C'mon Bris!