BRIS HOLD ON FOR A SINGLE POINT DERBY VICTORY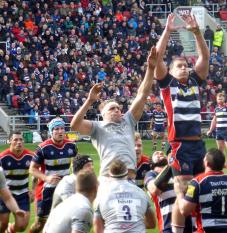 By Ian Todd
April 29 2017
Bristol, bottom of the league, on the back of a bad run, thumped in the last two games - up against B**h. Obviously a 12 – 11 victory was the only possible outcome. Form book out of the window as Bristol's struggle for Premiership survival continues. The players stepped up to the mark in an enthralling, if tense, encounter. Next up - the club we have to overhaul to avoid relegation.
A surprisingly blustery day which cried out for experience and tactical control from the half-backs. And not giving away cheap points in the first three minutes. It looked as if Bristol were going to fail on that last part as so often this season but after several phases of incisive B**h play had opened up Bristol out on the left, Will Hurrell's last ditch tackle forced Davies' foot into touch just before he dotted down.
For much of the first half that was the pattern, B**h held on to possession, Bristol defended valiantly. I don't know how many times Bristol got into the visitors 22 but it was perhaps just twice. B**h went close again but Denton knocked on a pass that wasn't even intended for him. Bristol clung on and Gavin Henson showed just how valuable he still is with a masterclass in fly-half play, kicking, passing, breaks and tackles. A rare bit of possession saw Hurrell makes some ground and the ball was whipped back to Henson who landed a long range drop-goal to put the first points on the board from Bristol's first foray into the visitors half.
Unfortunately his opposite number wiped out the advantage with a penalty kick before Henson went for an even longer range drop-goal effort that he sadly dragged wide. He was spot on with a penalty soon after and then just before half-time slotted over from just inside the opposition half with a swirling wind making it very difficult. Bristol had seen hardly any ball and little territory and yet were 9 – 3 up.
The second period started with Bristol doing their best to give away early points and Davies was again seen to have put a foot in touch. Everyone saw it, the touch judge saw it and told the referee, but still we had to go to the TMO. Bristol looked more threatening in the second half in terms of having the ball and managing to do something with it, but it was B**h who put points on the board when Jason Woodward was penalised for throwing the ball into the crowd to stop a quickly taken lineout. Actually, B**h players had done the same thing a couple of times before but this one was pretty obvious and right in front of the ref. Priestland went for the posts and narrowed the gap,
Bristol were undaunted by the set back and worked their way patiently back into the visitors' half, going through the phases, keeping possession, edging them back. And then throwing a hugely telegraphed pass right into the grateful hands of Rokodoguni who sprinted clear to score. The conversion would have taken B**h in front but fortunately his effort as well off-target and Bristol were one point in front.
Ten minutes left and Bristol went about their task commendably. B**h just couldn't find a way through determined defence and coughed up the ball when they might have fashioned the crucial breakthrough. At the death Bristol had the ball and were attacking down the left flank, the clock counted down and the ball was hoofed into touch to resounding cheers from delighted supporters.