Sale Sharks 16 Bath 9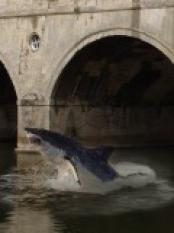 By Whaley Shark
April 14 2012
So that's it then- our last Friday night game at EP is to be against Bath, close rivals for a Heineken place next season. Both sides have lost two in a row and are unsettled. We've sacked our Head Coach, while Bath have announced an end-of-season purge of their coaching staff.
We really didn't start too well, with Bath missing a penalty attempt on two minutes, and almost all of the first ten minutes spent deep in our half. We then got to grips with Bath better, maybe related to the substitution of Cillian Willis for the injured Dwayne Peel, and made our first serious foray into the Bath 22. Bath relieved the pressure with a penalty to touch, but we struck back through turnover ball in midfield, with Rob Miller dodging past three defenders but just being overrun by his support. A Sale error then set up a Bath attack and some lineout naughtiness saw Sherri in the bin and a straightforward penalty kick for Bath.
As the game moved into the second quarter, we had a couple more visits to the Bath 22, one through strong running from Andy Powell, but we lived on the edge and were saved at one point only by the intercepting Matt Banahan falling over his own feet. After a period of evenly balanced play, we won a couple of penalties to sneak into the lead, but then missed an easier kick and had to settle for a 6-3 half time lead.
After half time, the two sides struggled in the rain for the slightest edge. For a moment, it looked like we had it, as an overambitious pass went loose, Mark Cueto kicked it on and the flying Dave Seymour forced a Bath touchdown over their own goal line. But we couldn't make the pressure tell, and Bath won a penalty to relieve the pressure. Fifteen or so minutes in, there was a flurry of penalties, with each side scoring one, then Nick Macleod firing wide, and Bath gradually seemed to become more effective, winning a penalty at a scrum in our 22 to tie the scores on the hour. We made some changes, with a dazed Captain Sam being replaced by Will Addison, and freshening up the forwards too (nice to see Henry Thomas back).
The fierce contest between two evenly-matched teams was finally decided just after 70minutes, when the ball went loose after a Bath bomb and was hacked on. I was sure it was going to go dead, but Rob Miller just beat Nick Abendanon to the touchdown, and we had a try, thanks to the TMO. For the last seven minutes, we played really well to close out the game. Bath pushed hard, putting two successive penalties into touch in our 22, only to see us steal both lineouts. We then went for 'up-yer-jumper' rugby to run the clock down, irritating as Hell when the opposition do it, but just fine last night lads! As the clock counted down to zero, we won a penalty right at the edge of Nick Macleod's range and we went for goal, presumably in an attempt to deprive Bath of the losing bonus. It fell short and we set up our traditional nail-biting last two minutes, as Bath made their way right down the field, before knocking on in our 22, to the delight of players and fans.
So, not really a pretty game of flowing rugby, but a hard-fought and very valuable win. After two losses, a win's a win and, given the way today's results have gone, we are still very much in with a chance of Heineken rugby next season. Our defence seemed better, and I thought the forwards really put in a big shift. I remain a fan of the returning Ostrikov, and have no real problem with the official choice for Man of the Match, Andy Powell, but I really think Cillian Willis deserves at least an honourable mention for a fine performance at scrum half.