Sparkling like a Diamond?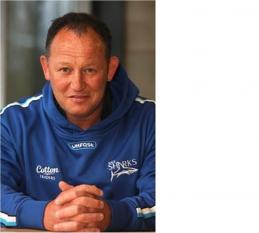 By Whaley Shark
April 28 2012
Sale Sharks seem increasingly to be identified with Steve Diamond so, in the absence of any meaningful rugby, I thought I'd look back at what Dimes has got up to in the last year or so, since his return from Siberia....
The Diamond Revolution has been in full swing for a bit over a year, the squad has been massively changed and started to settle down; Tony Hanks has come and gone; after a good deal of 'Will they, won't they?', the decision has been made to abandon EP for Barton; Dimes has had at least three different jobs, sometimes simultaneously, and has fallen foul of the RFU on a couple of occasions. So I thought I'd keep the board alive with my impressions of Steve Diamond, self-styled 'Main Man at Sale Sharks'. However, the only direct evidence I have is seeing Dimes in action at an SSSC event earlier in the year. The rest is second hand, gossip, and conjecture, so it all comes with a substantial health warning.
Coming back as Executive Director of Sport (never quite worked out what that one was- maybe a sort of Super DOR?), he embarked on 'Year Zero', overseeing a huge changeover of playing personnel, and exploiting his little black contacts book to its limits. When the AP's over and I have the dog days of summer to fill, I'll probably look more closely at the changes he made on the playing side.
In spite of bringing In Tony Hanks as Head Coach, Dimes still seemed to have a very hands-on role in coaching during the first few weeks of the season, and the Revolution seemed to be yielding early success. Along the way, Dimes showed himself to be pretty much as intolerant of under-performance as Mike Brewer was. However, while he kept his thoughts on player performances for the changing room, he wasn't afraid to say exactly what he thought about referee Wayne Barnes, leading to his being excused touchline duties from mid-February until the end of the season, and instructed to undertake media training (you get the feeling the media trainer will be earning their money with this one...).
With Mick Hogan leaving at the end of January, Dimes had an opportunity to step up to the Chief Executive position, which he openly admitted he always wanted, and that change maybe coincided with the start of a period of more inconsistency on the field. Eventually, our deteriorating performances led to Tony Hanks' sacking a few weeks ago and Dimes's return to the training field.
Since then we've seen all the drama around Bryan Redpath's departure from Gloucester. Did we 'tap him up'? Personally, I don't think so. If Dimes wants to stab you, it won't be in the back; it'll be in the front, with him looking you right in the eyes as he does so. So I think that's just rubbish timing, or even a smokescreen allowing Gloucester to get rid of Bryan Redpath after an under-achieving season.
So what do I make of our Chief Exec? Well, he's clearly a man with drive and vision, who seems to cultivate a blunt, Northern, 'I speak as I find' image. From what I saw at an SSSC event, he has a good rapport with the players, with quickfire banter flying, but there's no doubting who's the boss. He seems to bring something special to coaching but I think he's still finding his way as Chief Exec. Hopefully, we will gain more from Chief Exec Dimes than we will lose from no longer having Coach Dimes. In any event, given that previous Sale Chief Execs have gone on to high profile roles, we do seem to be a good proving ground. I guess time will tell........