EP Legends- Lock Forwards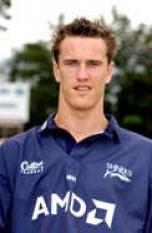 By Tigger
June 24 2012
Editor's note- So Tigger the damp has now dried out enough to write some pen pictures for the second row contenders. Get voting on the front page!
Dean Schofield, AKA "Audenshaw's Finest", was born 19 January 1979 in Clayton, Manchester. He first came to prominence for Aldwinians, when they beat Dudley Kingswinsford in the NPI Cup Final at Twickenham , scoring twice. He joined Sale in 2001, making his debut on 17th November 2001 against Leicester, and went on to play 210 games, 29 from the bench, scoring 18 tries and receiving 8 yellow cards. He represented Egland at senior level and Saxons Deano played his last ever game for Sale at Quins on 8th May 2010, losing his shirt at the end of the game to an ardent supporter, before moving to Toulon. He is now back in the English Premiership, signing for Worcester for the 2012/13 season.
Carlos Ignacio Fernandez Lobbe, affectionately known as Nacho, was born on 20th November 1974 in Buenos Aires. He started his career at the Liceo Naval club before spells at Bordeaux and Castres. He joined Sale in 2005 making his debut against Leicester on 9th April going on to make 65 appearances, 18 from the bench, scoring 5 tries receiving 3 yellow cards and one red. He has represented Los Pumas at Sevens and XV winning 65 caps scoring 6 tries. He moved to Northampton in 2008 playing and came out of retirement as cover for Bath in 2010. Nacho is now back in Argentina coaching Buenos Aires.
Christopher Michael Jones was born 24 June 1980 in Manchester and his rugby union career blossomed at Stockport Grammar School. He went on to take a Business Studies course at Sheffield Hallam University and was two years into it when Sale invited him to join them. He played for Cheshire at U18 and U20 level, then briefly with Fylde before joining Sale. He went on to play 215 games in 10 seasons scoring 21 tries receiving 11 yellow cards. He made a startling rise to the England Sevens squad, and was nominated for the 2003 PRA Young Player of the Year Award. He was part of the England A team that won the 2003 Six Nations and also went on the unbeaten England tour to North America and Japan that year. 2004 marked another leap forward when he was called up to the senior team. Sale Sharks director of rugby Kingsley Jones referred to him as 'the most hard done-by player in England' after he was hardly used during the 2005 autumn test series. Jones was awarded Player of the year for Sale sharks in 2006, the year Sale won the premiership and again in 2008. he left Sale in 2011 and currently plays for Worcester Warriors.
Christian Day was born 24 June 1983 in Blackpool, Lancashire joined Sale in 2001 in preference to studying at Oxford University and became a graduate of James Wade's Jets set-up. He played 84 games, 42 from the bench scoring one try. He captained England Under 21s and also has represented England at schools and under 19 levels. He left Sale in 2008 and, after a 3 month temporary contract at Stade Francais, he joined up with Jim Mallinder at Northampton where he continues to impress and has recently been called into the England Saxons squad.