EP Legends- Blindsdide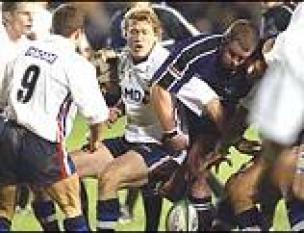 By Tigger
July 3 2012
Editor's note- Tigger's producing these thick and fast now, probably in an effort to assemble his Legends team before Christmas, so we're on to blindside flanker now, with a choice of only two. For me, though, this is the most difficult decision yet.
Jason Phillip Randall White was born 17th April 1978 in Edinburgh. Jason grew up in The Paddock, Peterculter, Aberdeen and was educated at Cults Academy and at George Watson's College in Edinburgh He first started playing rugby union when a friend invited him to join a local team in Aberdeen – Aberdeen Wanderers and he quickly rose through the ranks of the Scotland Under-18 and Under-21 Squads. He joined Sale in 2003 from Glasgow making his debut against Newcastle on 21st September 2003 and went on to play 103 games, 27 from the bench, scoring 3 tries and receiving 3 yellow cards. He was named the new captain of the Scotland national team in 2005 and won a total of 77 caps scoring 4 tries. Jason was out of action from November 2006 until August 2007 after having sustained an injury to his anterior cruciate ligament in the 2006 Autumn test match against Romania, which required reconstructive surgery. He returned to the Scotland squad in their 2007 Rugby World Cup warm-up against Ireland at Murrayfield on 11 August, captaining the side to a 31–21 win. He was again the captain of Scotland at the World Cup finals.
In 2006 Jason won two awards, firstly being named The Famous Grouse Scotland Player of the Season 2005–06. In the tenth year of the awards it was the first time that a serving Scotland captain has been declared winner. Secondly he received the Guinness Premiership Player's Player of the Year. But that was not the end of the accolades in 2006. In recognition of both his skills and sportsmanship his founding influence Aberdeen Wanderers RFC renamed their pavilion in his honour.
Jason left Sale in 2009 to join Clermont Auvergne. He played his last game for them in May 2012 with the stadium swaying to chants of 'Jason, Jason' saying 'If that's my last game, it was a special way to go out'. Jason is returning to Scotland with wife Beverley and two daughters, with another child on the way, after almost a decade on the road, speaking of how he hopes to be able to use his experience in the game to help rugby grow again into a sport more competitive on the world stage. The interview with The Scotsman can be found at http://www.scotsman.com/sport/rugby/top-rugby-stories/white-if-that-s-my-last-game-it-was-a-special-way-to-go-out-1-2292920
Stuart Ian Pinkerton was born March 25th 1973 in Newcastle, Australia. He grew up in inner city Newcastle before a scholarship took him off to Sydney and The Scots College. In his final year, Pinkerton was awarded the Scots Honour Cap for the student bringing the most honour to the school, and named in the Australian Schoolboys rugby squad to tour the UK and Ireland. Attracted by the club's culture of attacking rugby, he went straight from school to Randwick, where he won a Colts premiership. After various adventures (see link below – Field of Dreams) involving surfing and the pub music scene he joined NSW Waratahs and made 65 appearances for them from 1997 to 2001 playing 55 consecutive games. He moved to Sale in 2001 making his, scoring, debut on 2nd September 2001 against Bristol. In the three seasons he was with Sale he played 69 games scoring 6 tries and receiving 2 yellow cards. In the 2002/03 season he played in all 22 Premiership games and in 21 he played the full 80 minutes. I wonder if the only reason he only played 70 minutes in the game against Northampton was due to his yellow card. and relaxed gait of a country boy. Tall as a gum and sunny as January, if you didn't know better you might mistake him for male talent from 'The Farmer Wants A Wife'. Once his playing days were done Stu made a career call that definitely had a bit of "country" about it. Instead of following his rugby mates into the old-school-tie network of stockbrokers, bankers and property investors, he moved to the Southern Highlands to learn woodworking. His plan was a simple one: he wanted to return to Newcastle and make beautiful hand-made objects from timber grown in the Hunter Valley. At 39, the father of two has done just that. From his new workshop in Islington he is currently in demand from a growing list of clients looking to enliven home or business with the wonder of natural wood.
LINKS
http://www.stuartpinkerton.com.au/
Field of dreams- http://www.randwickrugby.com.au/news/archives/872-stuart-pinkerton-field-of-dreams