EP Legends- Openside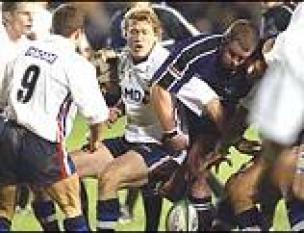 By Tigger
July 14 2012
Editor's note- So there are several contenders for the Openside Legend role. Get voting, and thank you once again to Tigger for keeping this going
David Seymour was born 27th September 1984 in High Wycombe. He formerly played for Chinnor Rugby Club before joining Saracens on a full-time academy contract at the start of the 2004/05 season. But after only a few weeks of pre-season training, he was promoted to the first team squad and made his first full appearance as a replacement for Richard Hill. He signed for Sale in 2009 and made his debut against Newcastle on 13th September and has played 68 games, 8 from the bench, scoring7 tries and receiving 1 yellow card. He has represented England at U21 level in both the Six Nations and World Championships in Argentina. Further international honours followed representing England 7s in the IRB Series in Dubai, Los Angeles and Hong Kong and claiming a silver medal at the 2006 Commonwealth Games in Melbourne. Recently David was called up to the England Saxons squad for the Churchill Cup in Canada.
Juan Martin Fernandez Lobbe, known as Corcho, was born 19 November 1981 in Buenos Aires. He flowed the same path as his brother playing for Liceo Naval and the Pumas before signing for Sale in 2006. He made his debut for Sale on 3rd September 2006 against Leicester and went on to play 71 games, 16 from the bench, scoring 15 tries and receiving 2 yellow cards. He made his debut for Argentina in 2004 in a match against Uruguay and he was a part of the Pumas team that defeated Wales at home in a two Test series, scoring a try in the game. He also featured in the side that defeated England at Twickenham in November 2006 as well as back-to-back victories over Ireland the following year. He was also an integral part of the Los Pumas team in their 2007 Rugby World Cup campaign. He played in every game en route to the semi-final, which they lost to, eventual champions, South Africa. He played his last game for Sale on 25th April 2009 against Northampton before following PSA to Toulon.
Magnus Lund, nicknamed Maggie, was born 25th June 1983 in Manchester. He was educated at the Lancaster Royal Grammar School where he played for the first XV and went onto study Business Enterprise at the Manchester Metropolitan University. He has represented England at both under-16 and under-18. He made his debut for Sale on1st November 2002, even though it was only for 1 minute, against Bristol and went on to play 103 games, 26 from the bench scoring 11 tries and receiving 3 yellow cards. He was part of the 2006 Six Nations Championship Training squad, and was chosen in the 2006/07 Elite squad after a successful tour to Australia in the summer. Maggie was picked for England in the 2007 Six Nations Championship opener against Scotland, in which he scored a try as England won 42–20. He was then called up to the England squad for the 2008 Six Nations Championship. He played his last game for Sale on 14th March 2008 against Gloucester before joining Biarritz Olympique Pays Basque. Maggie's father, Morten, was an international basketball player for Norway, and stayed in England after studying in Manchester. His elder brother, Erik, is the captain of the Norwegian national rugby union team. He currently plays alongside his brother Magnus at French side Biarritz.
Stuart Ian Pinkerton was born March 25th 1973 in Newcastle, Australia. He grew up in inner city Newcastle before a scholarship took him off to Sydney and The Scots College. In his final year, Pinkerton was awarded the Scots Honour Cap for the student bringing the most honour to the school, and named in the Australian Schoolboys rugby squad to tour the UK and Ireland. Attracted by the club's culture of attacking rugby, he went straight from school to Randwick, where he won a Colts premiership. After various adventures involving surfing and the pub music scene he joined NSW Waratahs and made 65 appearances for them from 1997 to 2001 playing 55 consecutive games. He moved to Sale in 2001 making his, scoring, debut on 2nd September 2001 against Bristol. In the three seasons he was with Sale he played 69 games scoring 6 tries and receiving 2 yellow cards. In the 2002/03 season he played in all 22 Premiership games and in 21 he played the full 80 minutes.