Season Preview 2012-2013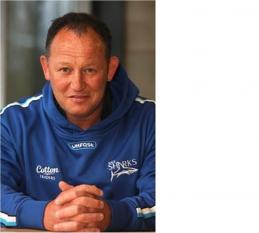 By Whaley Shark
August 18 2012
Well, this is a novel experience. For the first time, I am going to have to work at a season preview, rather than just listing a vast number of changes to our squad, and making a wild guess at how we'll do. Of course, there have been changes, but I get the sense that they are more controlled, more planned, than they have been in previous summers. But maybe the new boys are the place to start anyway?
If Richie Gray is half as good as he's meant to be, then he'll be a signing and a half. Big, tough and pacy, he strengthens what's already a well resourced second row. Perm any two from Gray, Holmes, Ostrikov, McKenzie or Myall to get a serious amount of grunt.
Eifion, of course, we know and love and, in swapping him for Sherri, I feel we may have got the better end of the deal. Much as Sherri was a sale stalwart, England and injury cost him so many club appearances over the last few seasons and, latterly, I felt we could only view his appearances as a bonus. So I am looking forward to the return of 'Y Tarw', and not just because I have one of his match shirts and can wear it again.
Danny Cipriani is an interesting one. Dimes must feel that he can subdue Cips' bad boy tendencies, and certainly he got good value out of Andy Powell last season, with a series of dynamic, commited performances putting him in the frame for Player of the Season. The guy I feel a bit sorry for is Nick Macleod, a very dependable, unfussy player, who did us a good job at 10 last season, and who must now be wondering just what his role will be this year?
Then there are the two late additions, which have caused me to rewrite this article- Cameron Shepherd, a full back/wing from down under, and Corne Uys, an outside centre from South Africa via Falcons. Both apparently have potential problems, fitness and visa respectively, but I know nothing about them, so I'm happy to trust Dimes and wait and see. Their experience and versatility ought to help what was, until they signed, perhaps a slightly thin and inexperienced back division.
We also have a clutch of developing young players including Billy Emerson, Jordan Davies, Mark Jennings, Will Bordill and Nathan Fowles, coming through, either returning from Championship experience with Leeds, or stepping up from the Jets.
Overall then, I think we've a fairly balanced squad. We're very much building on last year's foundations, and hopefully the stability will mean there'll be less bedding in than in previous seasons. If we can just get our intermittently disastrous scrum sorted, I think we'll be in decent shape, with some gnarly forwards complemented in the back division by a mix of real pace from Miller, Addison and Brady, and the experience of Cueto, Tuitupou, Leota and Macleod.
And how will this squad do? Objectively, we don't have the class and depth of Tigers, Saints, Quins or Sarries but we aren't going to lose players wholesale during the international windows either, aiding continuity and hopefully, that'll let us pick up points when the big boys maybe stutter a bit. Improvements in quality and stability ought to let us win some we lost last season against the mid-table pack so, overall, I go for a marginal improvement in AP performance- fifth. I think a Heineken Cup group containing Cardiff, Toulon and Montpellier will be too much for us (but at least there's no Brive this year!), so I'd settle for not being the whipping boys of the group and, maybe, if we put our minds to it, a decent run in the LV Cup. Given where we're coming from, I'd be happy with that, though I very much doubt Dimes's ambitions are so modest.