Sale Sharks 10 Leinster 10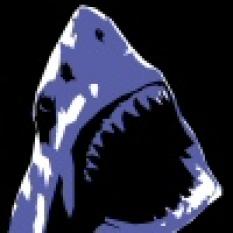 By Whaley Shark
August 25 2012
I have very mixed feelings about the arrival of the season ticket, and the preseason friendly matches. On the one hand, they signal the end of the summer rugby desert but, on the other, they are harbingers of the coming winter and its darker, colder days. Whatever, it's all part of the annual cycle.....
But at least it gives me some rugby to write about and, in my new seat at Salford City Stadium, I dusted off a new notebook and watched the traffic tailing back across Barton Bridge as I awaited Sale v Leinster. I'm not really sure it was that memorable a game, to be honest- maybe I need some of the close season rust knocking off too- or maybe the intermittent heavy rain was always going to make things difficult.
However, we did start brightly, pitching camp in the Leinster half for almost all of the first quarter and winning several penalties. After taking a scrum at the first two, Danny Cipriani slotted a kick to put us ahead but, although we monopolised possession, we didn't score any more and, 21 minutes in, some loose play from one of our lineouts allowed Leinster to set up an attacking scrum, run through a couple of phases in our 22 and, bingo, we gave them a penalty. Three all. Leinster very much had the upper hand for the rest of the half but, in the same way as we had, they didn't really convert possession into points.
It looked as if the deadlock was broken early in the second half. Although we won possession from the kick off, we knocked on and Leinster fired a high kick into our half. The ball went loose, Leinster player nabbed it, they drove into our 22, then spun the ball wide to put their right wing, Conway, over after just four minutes of the half. That didn't really break the rhythm of the game, though. Both sides were trying to play rugby but struggling with the wet ball. Finally, we scored a try which was almost a mirror image of Leinster's, twenty minutes earlier. The ball went loose from a Leinster scrum on our 22, we hoofed it downfield and it finally went into touch on the Leinster 22. They stuffed up the lineout and we worked Rob Miller over on the right. The conversion tied the scores at 10 all, with 15 minutes to go.
Leinster were then penalised at the restart. Nick Macleod, on for Danny Cipriani, tried unsuccessfully to nick the match with a long range kick, and that was really it for scoring chances. The game slithered away to full time like a wet ball on a wet pitch, and the draw was probably fair to both sides.
That may not have been a star-studded Leinster side but they were no mugs. They were organised, street-wise and competitive, and gave us a pretty good workout. Yes, it was only a friendly, and the conditions were grim so it is difficult to know what that really means for the AP proper, but I was encouraged. Eifion's return has done us the world of good, and I remain a bit of a Vadim Cobilas fan- he's not flashy but I think he does a prop's first job pretty well. Andy Powell seems to be carrying on where he left off last season, and Richie Gray is a bit of a beast. I can certainly see him becoming a fans' favourite.
In the backs, I felt Danny Cipriani showed glimpses of class- I recall one lovely moment when he magically conjured a gap in the Leinster defence- and, I thought, made a nice contrast with Nick Macleod's style. We rang the changes a bit in the centre with various blends of bosh and the rapier, although Johnny Leota played the full match and, I thought, showed a bit more of his repertoire than he did last season. It'll be interesting to see what our first choice centre combination actually is. Wings- well it wasn't really a winger's night, while Rob Miller looked assured at full back and took his try well. Exeter's too far for me to go, but bring on Sarries in a fortnight!