Played 7 Lost 7- Gulp!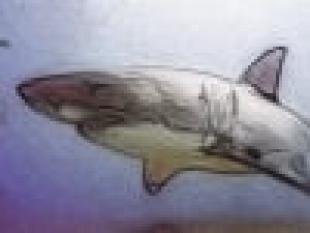 By Whaley Shark
October 27 2012
It's early in the season to start fretting about relegation, but Dimes was quick enough to wield the axe and the Whaley Shark now looks for signs of a turnaround in our fortunes.....
Ever since it became clear, several weeks ago, that this season's Sharks were more toothless minnows than Great Whites, next weekend's game against Irish has loomed larger and larger in my consciousness. It's very early in the season for all these ifs, buts and maybes, but IF Quins do us a big favour this weekend, and IF we can beat Irish next Friday, then we are at least back in touch with the rest of the AP. If we lose to Irish, we are 11 points adrift, and that starts to look like a big gap as we get close to the half way mark. So our next game is, in the clichéd phrase, 'a relegation 8-pointer' if ever I saw one.
In football, managerial change is often followed by a short-lived bounce. I think we have had the bounce, but it's not been enough to get us into winning ways. That Cardiff fightback was brave, and thrilling, but ultimately irrelevant to our Premiership position. Tigers was an improvement over the hapless performances of the early season, Montpellier sounded like a courageous defeat away to a good side and yesterday's perhaps one that got away. But for all that, we are still Played 7 Lost 7, 2 Points. We need points in the AP, and fast.
From the outside looking in, though, I don't even really understand the problem. Picking up the cake theme of a few weeks ago, sometimes you take a whole bunch of good ingredients and the end result is doughy, lifeless and tasteless. When that happens, there's no avoiding the issue- it's the cook's fault- either you've cocked up the basics, or maybe you've just tried to be too clever and it's not worked out. Extending that analogy, do we have one, or two, or three, or more cooks? I can't tell if we have too many cooks, or incompetent cooks, or cooks in whom the players have lost confidence. Our problems certainly lie far more off the pitch than on, with puzzling selections, puzzling tactical choices during games and a whole bunch of long-standing injuries, many of which may say something about the adequacy of preseason training. I don't know who, but someone needs to show themselves to be a Masterchef, and to do so quickly.
I am still slightly bemused by all this, to be honest. We ended sixth last season, avoided the usual wholesale changes over the summer and, I thought, looked a stronger side than last year. While we've had a few relegation scraps over the years, I don't recall us ever being so obviously off the pace and when, in the past, there's been one side, like Rotherham getting on for ten years ago, or some of Leeds' campaigns, or Falcons for a fair bit of last year, which have clearly not been competitive, I've looked at the table with sympathy and wondered what it's like to support them, or play for them. Turning up week in, week out, with diminishing hope of success must be a character-building experience. Well now I know- it ain't fun but, even so, I'll skip Whaley Bridge fireworks next Friday evening, find my way down to SCS and sit in hope, yet again, with a cake.