View from the south stand: Sale 13 Saracens 28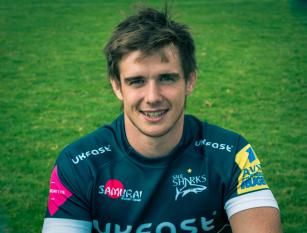 By Cap'n Major Bloodnok
November 22 2016
This is the time of year when we bounce around between competitions. ERC for two weeks, then AP for one, then Anglo-Welsh for two, and now back the AP for a few games before the ERC comes round again. Speaking of which, this game was the first of three between Sale and Saracens over the next month or so.
(Caveat: I haven't had chance to watch highlights or full replay, so this report is entirely from memory and thus will contain more than the usual amount of errors and bias.)
Two (well-taken) opportunistic, length-of-the-field tries (one converted) from unforced errors and a missed sitter of a penalty equals fifteen points — the margin of victory.
OK, that tends to suggest that We Wuz Robbed, which most emphatically was not the case. I do think we were worth a smaller margin of defeat, though.
Sale looked like what they are: a team in transition that hasn't managed a stable starting lineup yet this season. Saracens, also, looked like what they are: an expensively-put-together team of quality internationals who are comfortable with each other and with their game plan.
---
The day started for me unnaturally early, to the extent that I was rushing a bit to get out after walking the dog. This caused me to forget my gloves, which was pretty much the worst thing that happened that day — trying to hold your pint with icy fingers ain't fun. From which, you can probably gather that I'm not over-exercised by this defeat. Yeah, yeah, I've said that a few times so far this season, and it actually remains true. I've shifted my expectations to that of (yet another) interim season in which we try desperately to get a settled team together before the bigger clubs come and swipe all our best players. Maybe the new owners and several well-publicised contract signings will stave off the haemorrhaging of the last few seasons.
This game saw several players return, lending the side a look of something approaching the first team that Dimes may have been envisaging at the start of the season.
AJ, apparently completely recovered from hamstring trouble, started at 10, whilst his brother T sat on the bench alongside Webber, who was looking to make his second AP appearance. Sammy S'gonnagetya made a welcome return at 12, partnering t'other Sam in a reunion gig from last year. Ant (or was it Dec?) was also on the bench, waiting to make his AP debut, after Dec (or Ant)'s against Bristol.
---
The first half was a bit… turgid. Sale seemed to have most of the territory and possession early on, although Saracens scored first from — guess what? — a penalty at the ruck. Gotta stop doing this, guys.
There were a few flashes of excitement to liven up the midfield blustering. A Saracens attack looked to be a nailed-on try until Bryn's beard brought down Wray. Halfway through the half and Sale's liveliest player, Ooooooh Paolo O-doooog-wuuuu, made a break down the left-hand touchline, but Sarries just managed to force him into touch. That move had been started by a break from AJ, who was settling in quite well: efficient without being spectacular.
Sale's try came from a 5-metre lineout. Sarries brought it down illegally, but Josh managed to get the ball down on the try line. AJ nailed the near touchline conversion — this was looking promising.
Alas, for false dawns. Marcello Bosch soon scored under the posts for Saracens and this, with the conversion, made the score 7-10.
It should have gone to 10-all soon after, but the shade of Cipriani drifted across the field and took AJ's (relatively easy) penalty kick just wide of the left-hand post.
Then, just before half time, Will.I.Slip (yes, he will) deliberately knocked the ball on (go for it with two hands, Will, and you'll get away with it) and Lozowski kicked the penalty for a half-time score of 7-13. Not insurmountable, but it's never wise to let Sarries get a foothold on the scoreboard.
---
Second half, and the first of two incidents that the Sale lads will (should) have nightmares about. Briggsy overthrew a lineout deep in the Saracens' 22, but Sale failed to gain control and Schalk Brits — Schalk! Brits! — ran nearly the length of the field before the ball got to the eventual try scorer, Matt Gallagher.
To give up one embarrassing try like that is bad enough, but there was to be a second ten minutes from time, as t'other Sam tried an ill-advised offload. Ben Spenser nabbed it and ran the length of the field to score in the right-hand corner. That Paolo (ooooh, Paolo O-doooog-wuuuuu) nearly caught him, though, tells you all you need to know about Paolo. He'd also made a 50-metre break a bit earlier on from which AJ scored Sale's final points: a penalty for off-feet. He's gonna be good, that one. Paolo and no-socks Josh: looking forward to it.
Sale tried hard at the end, but with two scores needed just to get a losing bonus, it was never on and they had to concede defeat to a much better-organised side.
---
So, where are we now? Seventh, in a very crowded mid-table. AJ came through this game unscathed, so you could say we are now where we should have been in September with respect to fly halves. The season starts here. Webber didn't have quite such a 'mare as he did last time out and Ant (Dec?) showed some real promise. TJ looked like a battering ram that's been out for several weeks with a broken noggin. He'll soon be back to form, I don't doubt. The search for Will Addison's studs continues and Ulrika-ka-ka has taken over the bonehead role from Briggsy.
I never expected a win from this game, just like I don't expect a win next weekend at Wasps, so I'm not downhearted. The difference between the teams was in the clinical punishing of a couple of mistakes, otherwise, I thought we held out reasonably well.
I do expect us to beat Exeter, though. It's at home and, even though Exeter have been in and around the top four for the last couple of seasons, I think we should be able to take them. Lose that game and things will be looking a bit bleaker going toward Christmas.