View from the south stand: Sale 23 Bristol 24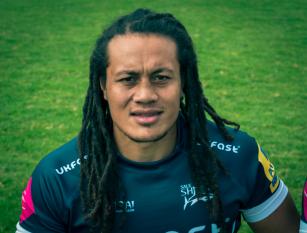 TJ!
By Cap'n Major Bloodnok
January 5 2017
One of Sale's three wins this season had come down at Bristol, but an A-W match there ended in defeat. Best of three? After a string of bad results, this was being touted as a must-win match for Sale.
Every supporter of a sporting team, at some point, experiences that weird emotion that I think of as "hopeful despair" or "sinking optimism". It's that feeling you get when you're pretty sure the team should win — they're capable of it, they're up against a weak team — but you're fully expecting the worst. The Germans probably have a word for it: if they can come up with "shamejoy", they can describe anything.
Whatever the German word — Hoffnungsangst, possibly — I was definitely feeling it waiting for the coach to arrive at The Brook. "We need to win." "We can't lose, surely." To all of which the demon of pessimism replied: "Oh, yeah? Just watch…"
With twenty minutes of the game to go I was mentally composing a report on how there were a few nervous jitters, but they knuckled down for a tight win after playing some encouraging rugby.
But here I am, writing about a narrow defeat after playing some encouraging rugby.
So how did we get here? How is it that we're looking at seven (or is it eight? I've lost count) defeats on the bounce? I know that among those defeats, we've played Sarries three times, and Exeter, but this was Bristol for goodness' sake. And don't give me any guff about how anyone can beat anybody else, or Bristol have started to improve, or whatever.
---
We should have won that game. Bristol were not good, they were distinctly average.
We should have won. Let's not try to sugar the pill with platitudes about the vagaries of sport and all that stuff that DoRs spout to avoid seeming arrogant.
We should have won.
Bristol started the game with three to four minutes of solid possession, during which time they went precisely nowhere. Sale, on the other hand, spent the first half at least attempting to vary the angles and point of attack, keeping ball in hand, using the forwards and the backs to mix things up. And this was working — at least, insofar as they made progress up the field to the point where they forced a five-metre scrum wide left. The first scrum collapsed, the ref spoke to the Bristol forwards, the second scrum collapsed, the ref spoke again, the third scrum collapsed, the ref binned Bevington, the fourth scrum collapsed, the ref went under the posts.
Encouraging stuff, especially as the initial scrum had come from Charnley chasing up on a kick-through and forcing the Bristol defender to carry the ball over his own line.
We should have won: half way into the half, Haley put up a kick to the right, which Solomona, in a reversal of fortune from his first outing here, grabbed hold of and went over for the try. A missed conversion, but a successful penalty 10 minutes later made it 15-0 after half an hour, and the demon of pessimism had wandered off to the bar muttering to himself.
We should have won. Even the penalty to make it 15-3 shouldn't have been any concern. The break by Woodward, three missed tackles by Charnley, a miss by Mitchell and a score by Varndell, though, and suddenly it was 15-10 at the break and much — much — closer than it had any right to be.
---
We should have won. But what happened at half time? Second half, and we played straight, bosh it up the middle, ball. The variations of the first half had gone. Was it panic: they've got close, we need to play it tight? Or did they just forget how to do something that had been working? Or did Baldrick come up with a cunning plan? For forty minutes we had seen a Sale team that looked half decent, now we were watching a team that looked out of sorts, lacking confidence, unsure of itself. The demon of pessimism was wandering back with a half smile on its face.
We should have won. A penalty followed by another binning (Tuohy) and over went Leota from a maul. The conversion went wide (how? I thought Cipriani had left), but 23-10 looked to be a healthy lead.
We should have won, but a daft, aimless, pointless kick upfield gave Bristol the ball and all it needed was a Varndell break, a pass inside to Williams and suddenly it was 23-17, and the demon of pessimism was now firmly perched on my shoulder, sniggering.
And so the inevitable happened. A couple of daft penalties gave Bristol good field position, Webber went to the bin, and Crumpton scored from the resulting maul. The final spark of hope (23-22 at that point) that the kick was from wide out right was firmly extinguished as the ball sailed through the posts.
---
I don't think I've ever felt quite as despondent at the end of a game, not even during the "thank goodness for London Welsh" season. At least then we were just playing badly. This game, though, we showed such promise first half. Ok, maybe not the sort of flowing, confident stuff of last year's home games, but there was something there. We should have won, and we didn't — that's just not acceptable.
So, where do we go from here? Five (?) years ago, Dan Braid arrived and turned the team around. Can we (dare we!) hope for another such? Or does Dimes have to shuffle around with what we've got? Where's Paolo?
For what it's worth, I would send Charnley to the Jets to learn how to tackle — at the moment he's going too high and trying to cuddle them to ground. While he's there — and maybe I'm being a bit controversial here — I'd experiment with moving him to centre. To me, watching the way he plays and where he positions himself, I think he could do well there. Fix the tackling, and I think he could make a go of it. Imagine the three-quarter line of Odogwu, Charnley, James and Solomona. A couple of playmaking halves and that looks half decent to me.
That just leaves the forwards. I love TJ, but he needs to learn to offload. He looks very spectacular, with the flying hair and everything, but he's too predictable. We need a bullocking ball carrier who can offload from the tackle and start making holes in defences.
We should have won. That we didn't is a big blow, make no mistake, but we're not bottom yet. I don't see us getting much at Quins, and certainly not at Toulon. Scarlets may be our next hope of something positive (there's that Hoffnugsangst starting up again). If not, that'll be 10 (?) defeats in a row. Cardiff at home and Quins away in the A-W cup and we could be looking at the dozen. What bets on a win at home to Newcastle, then? No "targeting" of competitions, no "targeting" of home vs away from now on. Defeat begets defeat; if this season is to stay just above the mire, then a win somewhere, somehow is the only priority.
---
One final thing. When Varndell scored to equal Frank's record: everyone who booed — not cool. Shameful, in fact. Go away.