View from the south stand: Sale 25 Scarlets 23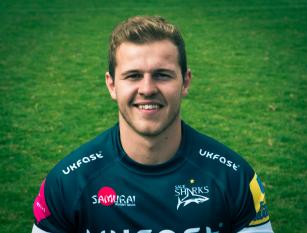 Will.I.Score
By Cap'n Major Bloodnok
January 24 2017
Last game of a so-far fruitless ERCC. No league points and coming on a run of 10 defeats in all competitions. A win had to come soon, surely. Would it be today? Scarlets were feeling confident after their performance against Saracens, but Sale had played well at Toulon. Game on.
---
Finally.
After ten defeats in a row, a win at last. In front of a crowd only marginally bigger than that for Trump's inauguration[*], Sale fought their way to a narrow victory.
The home crowd were ecstatic, of course, but, in truth, by the end, this felt more like a narrow escape than the confident win that the first thirty-five minutes seemed to promise.
---
Owing to a dereliction of duty on the part of the organiser, there was no Brook coach for this game, so I ended up driving. Driving means no beer and, since I can't abide fizzy pop and I'm very fussy about coffee, I ended up nursing two cups of 'tea' through the match, wondering how it was at all possible to make simple PG Tips taste like dusty cardboard. I don't normally drink PG Tips but, when I have done, it does usually at least taste vaguely tea-like. The cups I had presumably came out of a Sirius Cybernetics Corp. NutriMatic Drinks Dispenser™.
But I digress…
Folk who had been to Toulon said that they saw a reinvigorated team that deserved at least a losing bonus point and were denied only by the effects of a — shall we say? — perverse refereeing decision. Would this newfound vim and vigour carry through to this game, or would the perverse decision weigh on the players' minds?
---
From the outset, it was apparent that a new, energised Sale team was out there desperate for the win. Scarlets kicked off, and immediately Sale went on the attack, forcing their way upfield with a combination of slick handling and good running lines. Who was this team and where had they hidden Sale Sharks?
Adge kicked an early penalty and Sale supporters around the ground would have been content for the ref to bring things to a halt right there. So desperate had we become to witness a win that we'd have settled for two minutes of rugby and four league points. Referee Pascal Gauzere had different ideas, though, and insisted that both teams play for the full 80 minutes, so off we went again.
Dan Jones kicked off for the second time and, for the second time, Sale bullied their way upfield. We were then treated to a sustained period of attack from Sale, going through multiple phases (without knocking on – huh?) before a concerted forward effort on the left pulled the Scarlets' defence over, leaving an ♬Oh, Paolo Odogwu♬-sized gap on the right wing. Spin, spin, spin, grab, run, leap, try! I remember many, many years ago the Fijians playing like that: sheer exuberance every time they scored. Paolo has that in abundance and long may he keep it.
And it carried on like that for the next twenty-five minutes. Everyone played their part. Management had discovered who was putting Mogadon in Phillips's tea; Adge was pushing and probing, keeping the defence guessing. Josh of the no socks was getting a bit more involved than of recent games, although it seems he's not yet quite used to the extra two men crowding out the field, and his tackling still needs some work. The forwards were bossing things at the breakdown, with Webber even providing a natty clearance kick from a Scarlets' misthrown lineout.
And then there was captain-for-the-day Addison. Will.I.Slip? Not today. Will.I.Pass? Yes, sometimes. Will.I.Make-an-extraordinary-break-from-half-way-and-score-a-stonker-of-a-try? Oh, yes. Oh, so very yes. If you haven't seen it, go find it online. I'm not going to try to describe it except to somewhat tentatively say: "it was just like watching Jos". Those who are old enough will understand what I mean.
And so it went up to a few minutes before half time. Sale were looking good for a comfortable win at 16-3 ahead, the old demon of doubt was off having a sneaky fag behind the bike sheds, and Hoffnungsangst was just a funny German neologism.
But then we had a bit of a brain fart. A rare Scarlets attack had got to about five metres out when they knocked on. Instead of taking the scrum (which had been quite stable) and seeing the half out, Will.I.Run picked up the ball and tried an attack from deep. There was no support, though, so he kicked on, giving the ball to the opposition, who then began the attack that led to a try for their winger DHL van der Merwe. Another bit of sloppy thinking allowed him to get up (having not grounded the ball), and run towards the posts. Only Nott running at him stopped him from putting the ball down between them. Poor play, there. Someone should have fallen on him way out on the right and forced a more difficult kick.
As it was, we went in only 16-10 head, and the demon of doubt was stubbing out his fag and sauntering back, sniggering.
---
The second half progressed as second halves so frequently do – a bit turgidly. For the first twenty-three minutes of the half, play progressed back and forth and the score progressed to 22-13. Nine points up, but the demon was back, pointing out how easily that lead could be eaten away. So when Maggie pulled down a maul over the line, gave away a penalty try (lead now two points), and got binned for his trouble, everyone was thinking that a penalty would put them one point ahead, and where have we seen that before?
They say that a sin binning is worth seven points if you're trying to estimate how well a team has done during that 10 minutes. Does that include a score that comes as a direct result of the binning offence? If it does, then Sale lost the next ten minutes but if it doesn't, then they won it. As if spurred on by the "oh no, not again" nature of it, Sale pushed forward and mostly held Scarlets for about nine of the ten minutes. As time on the bin ran out, and Maggie prepared to return, Aulika-ka-ka gave away a kickable penalty. And there it was, the one-point lead to them. Was this going to be another Bristol?
Maggie returned, Sale pushed on and — yes! — a penalty awarded twenty-odd metres out, just wide of the right-hand 15-metre line. Adge had missed two conversions from wide right but had kicked two penalties from only slightly more central than this one. Four and a half thousand pairs of eyes looked everywhere except the pitch as Adge lined it up, stepped back, kicked, and sent it neatly between the posts. Two points up and just a couple of minutes to go. Could they hold on? Dare we believe?
One minute to go, Sale have possession but lose it forward for a scrum to Scarlets five metres into their own half. By the time the feed goes in (perfectly straight, of course), time is up on the clock; this will be the last play. The ball goes left, then comes back to the centre. A tackle goes in and, for the third or fourth time, Aulika-ka-ka goes for the ball and wins the turnover penalty. Ref blows the whistle, and the monkey (and demon) is firmly thrown to the floor and stepped on.
---
So what do we take from this match?
A win, of course. A very significant win, since it not only ended the immediate run of ten defeats, but also ended a long run of Champions' Cup defeats going back several years.
We have the attitude of the team as well. They look much more positive, more focussed, sharper — a completely different team to the morose, error-prone team of the last few months.
Player picks: Will.I.Win, of course. Captaincy seems to agree with him; we hope that the leg injury isn't too serious. Aulika-ka-ka made a huge impact (not that Longbottom didn't play well), turning the ball over three or four times with dogged work at the breakdown. Webber is showing a well-rounded CV, adding clearance kicking and scrum half to it during this game. Charnley is improving with each game, but still tackles too high, and is finding the lack of space a bit troublesome. Let's just hope he has the patience and that this doesn't become another monkey for the team — when will Charnley score?
Phillips looked sprightlier, Adge had a good game, I felt, kicking 5 penalties and only missing two tricky conversions. Haley looked secure, Maggie showed some of his old fire, Pearce is starting to justify his transfer. This was a good team performance with many individual moments to be proud of, spoiled only by a few naïve decisions.
So, a win; a good win overall, but it needs now to be built on. The next two games will be important: I hope that they go all out for wins, as another couple of defeats could undo the good work of this game.
---
[*] A million, million and a half…