View from the south stand: Sale 41 Cardiff 3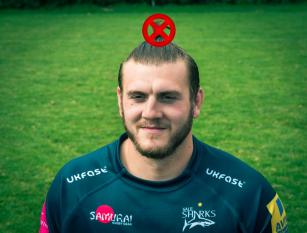 By Cap'n Major Bloodnok
January 31 2017
After two weeks in European, the action returned to the Anglo-Welsh competition for two weeks. Sale were bottom of the group, but only by a single point, with each team having won one of two.
The win against Scarlets was most welcome and certainly relieved a lot of pressure from the players, but it was just as important to get a win in this game.
It's becoming a sort of given that the Anglo-Welsh cup is used to give game time to upcoming and/or fringe players. Cardiff certainly felt that, having made 15 changes from the side that played in their final European match the week before. However, and presumably with the need for another win in mind, Dimes named a strong side with maybe half the team being first-choice players.
The net result was that it was all a bit of a mismatch: a team of battle-hardened old pros against a much less experienced bunch of almost-neophytes.
I don't enjoy one-sided games very much; so this went past in a bit of a haze of indifference, other than the simple fact that it was another win.
A crowd slightly smaller than that for Trump's coronation saw seven tries (Solomona, Millsy, Pearce (2), Briggsy, Flynn and JQ Penalty), an extended period of knock-on practice, a certain amount of aimless kick-tennis and a scoreline that really told us very little about whether a turn in fortune has really come about.
We'll know more about that after the next game at Harlequins. Sale came close to beating them at the Stoop a few weeks back in the Premiership, so there's a possible win on the cards here. Get the win and things are looking good for the return of Premiership action and Newcastle coming to the AJ Bell. Lose at Quins, and it won't be the end of the world, but it puts a bit more pressure on the next game.
Currently, Sale are third in the group, trailing Exeter and Ospreys by a single bonus point. In theory, we could end up with a semi-final place, but I can't really see Exeter losing away to Bristol, and even if we got a bonus point win and they didn't (so we end up with the same number of points), they've scored 20 tries to our 10. The situation's better if Ospreys get a 4-point win against Wasps and we get a 5-pointer since we've scored 10 tries to their 9 and the points differences are the same. Still can't see it, though.
More Sale Sharks headlines
Sale Sharks Poll