View from the south stand: Sale 34 Wasps 28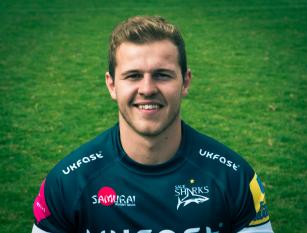 I don't have one of Denny
By Cap'n Major Bloodnok
February 22 2017
Prior to the game, I was pondering this opening paragraph (hey, it's what we writers do, OK?) and thinking how nice it would be to start with something like "I was fully expecting to be writing about a plucky defeat, but in the event…" Well, I was fully expecting to be writing about a plucky defeat, but in the event…
What can I say, really? From the depths of a defeat to the bottom team to the euphoria of a – nearly comfortable, certainly deserved – win against the league leaders. In the space of six weeks or so. It pretty much encapsulates what it means to be a supporter of a sports team.
Pre-match discussion mostly centred on the Wasps' backs; we generally felt that Sale pretty much had parity, if not superiority, up front but if Cipriani (who?) was able to get his backline going, then we could be in trouble. Counter to that was the observation that Addison's been playing out of his skin recently, Haley seems to be coming back into form and Jennings has been showing well.
And then there's Solomona. What sort of impact might he have on the game? Little did we know…
The weather seemed set for encouraging both teams to play running rugby, so most Sale fans resigned themselves to enjoying a good game, hoping for the losing bonus point and consoling themselves with a round of "well, they are the top team, aren't they?" And so the ground slowly began to half-fill.
---
Things started fairly predictably, in that both teams did, indeed, appear to want to run the ball rather than kick. What was slightly surprising is that Sale were definitely having the better of things for the first 10-15 minutes, despite going 6-3 down after an early 3-0 lead.
And then started what would prove to be the most remarkable 20-odd minutes of rugby in recent years. A regulation lineout to Sale on the Wasps 22 went to Phillips, who gave it to TJ, who took it into the tackle—
TJ. TJ, TJ, TJ. Just recently I – and others – have been somewhat critical of TJ's play. He has been taking the ball into the tackle with a spectacular mass of flying hair, but not actually making any ground. His role seems to have been one of setting up the next phase on or just behind the gain line: lots of huff and puff for little gain. A feature of this game, though, was the return of the old TJ Ioane; the one who could break the gain line, take the ball a few metres forward and provide the momentum for a march down the pitch. I think his renaissance had more than a little to do with what followed.
—and, in an obvious training ground move, Maggie and Phillips opened a small gap in the Wasps defence behind the ruck. Enter that man Solomona, picking the ball up, racing through the gap and nonchalantly touching down under the posts.
The crowd went wild. Many noted that he had now scored in each of his first five Premiership games – a new record.
Gopperth pulled back another 3 points a few minutes later and it stayed at 10-9 for the next ten minutes or so, until about five minutes from half time. 10-9 was nice to see, but not nearly enough for any Sale fan to feel anything other than nervous.
And then…
And then Solomona happened again. He got the ball out right and chipped it infield. Aided by Wade having borrowed Will.I.Slip's studs, Denny turned on the afterburners to recover the ball and score his second of the match.
And, as if that wasn't enough, two minutes later he scored again. This time, an exquisite pass from Bryn's beard set him loose down the right touchline. Another notable fact: only the second first-half hat-trick by a Sale player, the first being Tom Beim's back in the Heywood Road era. Addison kicked the tricky conversion to see Sale go in at half time 24-9 to the good. A fifteen-point advantage: three scores; would it be enough? Wise old heads shook slowly, unwilling to commit to an optimism that had so often been dashed by second-half displays.
---
Two minutes into the second half and Sale fans everywhere thought that they'd died and gone to heaven as Mark Jennings barged over after a lineout that involved most of the team as well as everybody in the east and south stands. The bonus point already and, with Addison's conversion quite clearly and with no doubt whatsoever cleanly bisecting the posts, Sale had a 22-point lead. Four scores. Surely that was enough?
It was, barely, as Wasps finally found some of the form that had put them at the top of the league. They pulled back three of the four scores needed with tries from Basset and Johnson and what must be admitted was a beautifully worked and executed try from Kurtley Beale. The first and third of those tries were converted by Gopperth, but they scored the second whilst he was off the field temporarily. That meant that Cipriani was given the job of converting Johnson's try, which gives me the only chance I'll have this year of writing: Cipriani's kick drifted just wide of the posts.
A penalty kicked by Addison amidst all that meant that the lead was now down to six points with about 10 minutes left.
Squeaky bums all round as Wasps went all out for the win, but lost the ball with five minutes to go. Step forward Peter Stringer: the wise old pro guided the forwards in a master class of ball retention at the ruck until the clock hit zero and it was time to hoof the ball into midst of a crowd going ballistic with joy.
---
Reflections three days on? Still on cloud nine, actually. This may have been the most significant win of the season (although arguably that may actually be the win against Scarlets that stopped the rot). Certainly it was a demonstration of just what this team is capable of when they start to click. That they made Wasps look fairly ordinary for 45 minutes — they did not threaten the Sale line once in all the first half — is a major achievement and one they should be proud of and take with them to Allianz Park next Saturday.
I also thought it interesting that this match saw the return of Big Josh, but Addison retained the captaincy. Smart move, and I will assume that Josh is OK with it: Will seems to thrive on the responsibility, whereas Josh always seemed too diffident, a bit like Boris when he was captain.
Talking of Addison, boy has he flowered over the last few weeks. Just stay fit.
James has done well enough at fly half, but nothing spectacular. He will probably retain the 10 jersey, but I'd like to see someone with a bit more sparkle there. AJ was supposed to have that, but he's had a raw time of it so far and hasn't had the chance to show what he can do.
Maggie looked like a new player. Like TJ, he'd been a bit anonymous recently, but this game saw him getting involved in everything.
And then there's Denny. Three tries in this game — could have been four with a kinder bounce — and ten in eight games. Little Josh was supposed to be the big signing and he may well still prove to be a star player. Denny has the advantage over him of having played Union before, so has settled in much more quickly. I think Charnley was brought in too soon and so got a bit rabbit-in-headlights about it, which maybe slowed down his progress a touch. Spend some time with the Jets and I predict that Solomona/Charnley/Odogwu as wing options will frighten any team.
But back to Denny. Presumably at some point he'll go through a lean spell where he's not scoring for fun but, while the other teams haven't quite worked him out, we'll just enjoy watching the player who has become the new talisman and who thoroughly deserves to have his own song (to the tune of That's Amore):
If you give him the ball, he is certain to score: Solomona
When he flies down the wing, the south† stand start to sing: Solomona
Suggest other verses in the comments.
---
†Other compass directions are available.