View from the south stand: Sale 36 Worcester 26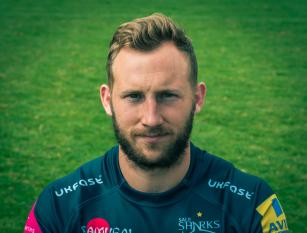 Pick-up artist
By Cap'n Major Bloodnok
April 12 2017
There were some — not many, but some — who saw this game as a bit of a 'gimme', expecting Sale to defeat Worcester with relative ease. The majority, looking meaningfully at the league table, were not so sure. Tenth against eleventh does not make for any sort of mismatch.
Worcester have been a bit of a bogey team for Sale over the years (I seem to remember in Worcester's early days that fixtures between the two often ended up with a 'W' in the 'Away' column), so the possibility of another squeaky bum finish loomed large.
It was a lovely evening as the coach pulled up at the stadium — glowing with that special warm, red-gold light from the setting sun that belies the slight chill in the air. All in all, perfect conditions for an evening of open, running rugby.
Which it proved to be. In the entire 80 minutes, there was only one kick at goal and that for perfectly sound tactical reasons. Beyond that, despite some scrappy interludes, it was overall a good game, with its fair share of decent handling from both sides, and with an adventurous spirit that it would be nice to see more often. Add to that a few moments of sheer brilliance, and you had a good evening's entertainment for the still-too-small crowd.
---
The opening five minutes were somewhat scrappy, with Worcester pushing hard and nearly opening the scoring a couple of minutes in.
Then, completely against the run of play, AJ put up a highish kick from well within his own 22. The ball came down onto a gaggle of players and bounced around a bit before Denny picked it up off his toes and set off down the pitch. Good covering work from Adams meant that he wouldn't be able to go all the way, but there was t'other Sam in perfect position for the inside pass and an unopposed 20 metre sprint for the posts. Ref Carley had a quick look for a knock-on at the initial melee, but was happy with what he saw. AJ got the easy conversion: 7-0.
And that was pretty much the extent of Sale's attacking involvement in the game for the next 20 minutes. They had a couple of decent forays into the Worcester half, with one promising attack fizzling out on a wayward pass, but the first quarter really belonged to Worcester, and they made their ascendency count with two scores — one from Hougaard capitalising on a defensive mistake by Solomona, and a regulation 5 metre line out and maul gave Taufete'e a regulation flop-over try.
20 minutes gone, Sale down 7-14.
Then it went scrappy again until the 27th minute. T'other Sam got the ball on the left near Worcester's 22 and tried a speculative grubber kick to the wing. The ball bounced off of a Worcester leg back into Sam's path and he gathered it up and ran in for an easy score. The conversion brought everything level again at 14-all.
Thirty minutes in and Sale are attacking again, but Worcester steal the ball. Haley gets it from a kick and counter attacks, but there's a penalty for holding on. Worcester throw a forward pass and then give away a penalty at the scrum. AJ kicks for touch and Sale have a line out 30 metres from the Worcester line.
The line out goes cleanly (as it did all match) and the ball comes to Haley, who spots a route through the Worcester defence. Some twinkling feet and some iffy tackling, and there's Haley under the posts for Sale's third try and a half time score of 21-14.
In terms of possession, that was probably Worcester's half, so going in at the break ahead was — in my opinion — a bonus.
Still, it wasn't enough to calm the nerves and the result of this match was still open.
---
And so, the second half went as second halves tend to do following an eventful first half: tediously.
Well, for the first 20 minutes, anyway. Both teams were trying hard but it turned into a mostly midfield battle. Humphries managed to get over the Sale try line, but a combination of AJ and t'other Sam held him up.
On the hour, Worcester had a line out on their own 22, but ended up knocking on. From the scrum, the ball ended up with big Bill's little lad, who gave a deft offload to 'Lord' Byron. With one defender between him and the line, McGuigan kicked forward, made a magnificent ground-level pick up and stumbled forward to score wide left. AJ pushed the conversion wide — 26-14 and a bit of daylight.
Which darkened to twilight five minutes later as ref Carley remembered the premiership directive about at least one yellow card for Sale at home. This time it was Aulika-ka-ka who got his marching orders (hands up anyone who's surprised). Longbottom came on, Solomona went off and Worcester mad the most of the hole on the right wing to send Penny over for the try. 26-21 and the gap's now five points with most of the sin bin left.
The squeaking of bums could probably be heard on the motorway as we counted down the minutes. Half way through the binning, Sale were awarded a penalty in an eminently kickable position. Big Bill's little lad pointed at the posts and AJ did the honours to open an eight-point gap.
A minute later Ben — or maybe Tom — Curry (who had earlier replaced Tom — or was it Ben?) put in a lovely kick forward that rolled into touch about 8 metres from the Worcester line.
Worcester gathered the line out, but Ben — or Tom — ripped the ball in the tackle and trundled forward to score to the left of the posts. With the conversion, Sale now had a 15-point lead (36-21) with just a couple of minutes to go, and had won the sin-bin 10-7.
Solomona returned to restore Sale to a full complement and then, with time up, they went back to 14 men when Carley told Phillips to go have a rest.
From the scrum, Worcester moved it right and Alo burrowed over to give them a consolation bonus point.
Final score 36-26.
---
Post-match thoughts: pleased with the win and the try bonus — especially as results elsewhere left Sale safe from relegation.
The scrum was solid, no less so when Littlebottom replaced Aulika-ka-ka, and even managed to score a couple of penalties from Worcester's lack of a hooking hooker.
The line out (best in the league?) worked well and stole a couple of Worcester's into the bargain.
The backs looked lively without ever being spectacular. A couple of moments of individual brilliance and a bit of luck combined with some good passing and a refreshing lack of basic errors.
On the down side, still too many penalties, with Aulika-ka-ka being the principle culprit. Halani has been a great addition to the forwards, with his strength in the scrum and his undoubted ability at the breakdown. But against that, he is a penalty machine (the wrong way) and you do have to be concerned at how the two aspects of his play balance, and is that balance tipping the wrong way?
Still, Premiership rugby guaranteed for next season, so we can draw a line under this one (even with three games to go) and look forward to some exciting new signings — Strauss, Ross, Țăruș… — the flowering of Charnley into as good a union player as he was league and the bedding in a more settled, consistent team.
There are three games to go, and I don't see us getting much out of them. Tenth we are and tenth I expect us to remain. A poor season overall and not the one that seemed to be on offer given the optimism of the summer. Little to do now but sit back, hope for an unexpected result over the next four weeks, and look forward to next season – again.