On Tour with the Lions - Part four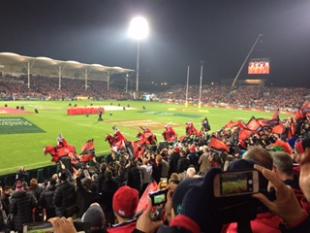 By Gym Haka
June 20 2017
Well the lions have started to show thier teeth. And Gym is enjoying the cultural side of New Zealand including endless coach journeys, rain, Indian pizza,the stench of sulpur, a giant Haka, beer and why you shouldn't visit Hamilton ....oh and pondering the possibilities of the Sharkettes in grass skirts accompanied by a brass band.
Lake Taupo and on to Rotorua.
It's Wednesday morning and after a late breakfast it's off to the airport for a delayed flight back to Auckland and then on to coach 6 to Lake Taupo. 4 hours of driving and one break for complimentary dinner at a hotel where the Chiefs were involved in "Strippergate", a scandal following end of season celebrations. It's a chance for all our party to dine together and more introductions to add to those whose names I've already forgotten. It's 10.45 pm when we alight at the Hilton Hotel which is a testing 6k from Taupo. The views of New Zealand's largest lake with a background of snow covered volcanoes are idyllic. Formed 1900 years ago by a massive volcanic explosion, Lake Taupo supplies NZ's longest river the Waikato with its 8 hydroelectric power stations. NZ is of course nuclear free not just on the power front but refusing to accept either the US or UK warships in their waters as they refuse to confirm or deny that they carry nuclear weapons. Their increasing reliance on clean energy adds to the impression of a country at peace with itself. The hour long stroll to town along the waters edge is interrupted by watching "Hole in One". Twenty dollars buys you a bucket of 25 balls and you drive off the prom towards the hole which is on a floating pontoon. In the hole and you are $10,000 dollars richer. It's a sand wedge for Rory Mcilroy but a 5 iron for me so I settle for being 20 dollars richer. The news on Faz is a downer for our group but he could still make the tests.
After a second night at the Hilton, in a room I could comfortably have held a Haka in, it's back on the coach to Rotorua via a couple of stop offs. The first at impressive falls when the Waikato river narrows to pass through a narrow gorge. People are paying to be soaked in a boat which circles around the pool. The second stop is for our first glimpse of hot mud pools bubbling away with Jets of steam accompanied by a sulphur rich stench. I'd always fancied seeing these in Iceland but I guess I don't need to now. On arriving in Rotorua there is steam coming up everywhere and this is clearly the Maori capital. The hotel reception stinks, the corridor stinks and my room stinks. Even in the best of company, passing wind here will never be noticed. There are welcome drinks and snacks and the coach driver does a quick circuit so we can orientate. The roads are wide and clean and litterless. Unlike Manchester, the road markings are complete and clear. There are lots of small shops all celebrating the Lions visit and some selling mud cosmetics which no doubt claim to achieve eternal youth. There are many, many more Lions supporters here than on previous locations and our hotel has umpteen tour parties. The hotel bar
Is selling mulled wine but the local beer is the main refuge for the eternally thirsty. The Wales v Tonga game is on TV and is watched but is only the entree for the AB v Samoa. No Johnny or TJ but the Samoans start well. NZ are absolutely hopeless but will improve with water boy Kieran Reid fit. They scraped home 78-0. Nah worries mate.
The Giant Haka
Waking in Rotorua is greeted with one sensation. The stench of sulphur. I guess if you've lived here for ever and a day, you don't really notice it but at the moment temporary anosmia would be pleasant. The AJSmell stadium suddenly seems fragrant. The hotel is absolutely heaving with red everything and everywhere. A brief walk takes me to a public park with several areas fenced off. From each of these emanates a plume of steam. Boiling hot water or sometimes just simmering exists alongside slimy grey bubbling mud. Half an hour of meandering around prehistoric looking but recently formed landscapes is enough and it's off towards the sea for the attempt on the World Record Haka. Distracted by the view out to sea through mist and steam, I arrive as rehearsals are in full swing. There is live music, chips and pizza and some traditionally dressed Maori. The contrast with Australia is marked. Having spent 6 months working there in my youth I remember the difficult relationship with the indigenous population, probably better now but still one feels grudgingly. Those of European extraction in New Zealand however embrace and enjoy the Maori culture and tradition. Indeed they are very proud of it. No true full blooded Maori exist these days due to the common relationship with their British invaders. Blondes are rare in New Zealand and true blondes rarer still. Red hair seems very unusual. Most of Rotorua seem to have strong evidence of Maori blood so this seems the natural place for the Maori All Blacks to take on the Lions and for the Giant Haka. The participants of which are mainly Maori with a liberal sprinkling of Lions. The leader whips up enthusiasm but it's going to be a nightmare counting everyone despite the field being laid out in grids. There is a grim determination to beat the present world record held by the French. Sacre bleu et zut alors!!! Soon it's noon and 7400 people do a 5 minute Haka with me closely copying the man in front who takes it very seriously. My breasts and thighs are beaten to a pulp and I'm knackered. The hoardes exit down Eat Street a covered mini mall of restaurants. It's packed with Lions including the pizzaless Italian that has a table. Beer is being consumed in industrial quantities and there are still several hours to pass before the game. Our coach leaves early as there is a warm up from the ladies. New Zealand v England is a good advert for the ladies game and an England win is a bonus and a chance to warm up the vocal cords. The stadium is a reminder of the Bay of Islands opener with a single stand which is covered. The rest of the arena is steep open terracing and grass made unpleasant by driving squall then heavy rain. More Maori warriors and dancers and then a reasonable Maori band entertain. Much more interesting than the tannoy and Sharkettes but not as good as a decent brass band. (Stretford Band still a good bet; hint if you are reading Mr Swanton). Still the Sharkettes running round with spears in just grass skirts would be quite appealing thinking about it. Lots of banter with the locals seated roundabout and a beer and the usual fish and chips in my seat went down well- apart from the centre of the fish resembling the cooking achieved in Sushi. The tension amongst the fans is palpable, the Maori because this is war, the Lions because this is the Test dry run. The Lions don't let us down but still have a problem in finishing visits to the 22. North looks hesitant in contact, Halfpenny improving and Peter O'M is a potential test captain. The set piece looks good and the defence is resolute. By the time the hooter goes (not a good league import), many of the locals have drifted off to dry out. There are lines and lines of coaches outside reflecting the expanding pride. A slow crawl back to the hotel and then to bed. I feel I'm not fully engaging in the late night beer swilling and discussion and hope I'm not thought to be antisocial. The tales of 2 and 3 am recounted at breakfast the following morning quickly reassured me that I'd made the correct decision.
Hamilton is next to be in Pole Position but starts in the Pits Lane
Sunday morning and it's laundry time. Not just for me but for lots of our party who soon realise that 2 washers and 2 dryers in the hotel laundry are a recipe for a queue. One lady seems a little perturbed that a gentleman took out her washing when she was not there and has therefore touched her smalls. Took my book to read but as usual a discussion on team and tactics starts after lessons on how to use the tumble dryer, so not a page has turned. The Full Tour travellers consider themselves as the elite supporters and we have our own 3 coaches which are for our use alone. We have been granted an audience with the team at their training session but this is in Hamilton. Dilemma. Plenty to see in Rotorua versus 4 hours of coach travel in total to see the midweek players jogging around and then back to Hamilton again tomorrow. The rain decides for me so it's on the coach at 1pm and most of the elite have decided the same. I sleep most of the way which is through interesting country and towns. The training ground is near the stadium. The cricket stadium is also nearby and it dawns on me that this is the first evidence of New Zealand's summer sport that I've seen. The 2 coaches pull up and we wait until John Spencer, ex England, the tour manager, gives us a lecture on what we can and cannot do. The pitch is surrounded by advertising hoardings for the Lions sponsors and there are Lions Corner flags and post protectors. For 15 minutes the press photographers are allowed and we also are allowed to photograph our heroes. Then the press have to leave and we are allowed to watch in silence as moves are practised and calls decided. It's fascinating to watch and see the roles of the coaching staff. Borthwick and Farrell have both been along the line and shaken our hands which was appreciated. What do all those yells at scrum time mean? We are constantly monitored by security to make sure we are not spying for the All Blacks. Is that seagull overhead a drone? One or two locals peer through the fence including one old woman bizarrely dressed as a fairy with wand wings and pink tutu. Could this be Steve I never smile Hansen in cunning disguise?? Darkness falls and the players change in their tent before emerging and I add to my selfies collection which now includes Warren G, Rob H and Graham R. Are Rowntrees ears worse than Dan Coles? My picture with Joe Marler makes me look very normal for once. Liam W has legs that look like a picture of rickets in Victorian times. Credit to all of them for taking the time to make our days and feel part of the Lions on tour.
It's back to the pong of Rotorua and a wander out to find pizza. Hang on! Am I in the right place because the sea of humanity in town on Saturday night is now replaced by a ghost town deserted by one and all on Sunday. Pizza goes well with Pinot Noir and a nice chat with the Indian owner about why he is making pizza rather than papadum. He introduces his wife who studied at Salford University but not sure whether her degree was in Calzone or Margherita.
Back to the hotel and fall asleep dreaming of meeting heroes today, like a 10 year old would.
It's Monday morning and we retrace our steps back to Hamilton, New Zealand's 4th largest city. The excellent commentary from the coach driver adds to the journey and we stop for a discomfort break in Cambridge having passed through what was Oxford. No spires and punts but a very pleasant English influenced town with cafes and antique shops and as ever a well kept war memorial. Like every place so far visited it is spotless and litter free. There are no discarded fag ends or chewing gum adorning the pavements here. Indeed smoking seems rare and the intention is for New Zealand to be totally smoke free by 2025. Note to myself to write to my MP on return. The health service here is 50% private 50% public and everyone seems very happy with it. No NHS holy grail crumbling away here then. I digress. The area around Cambridge is famous for its stud but it's not some lothario but only of the horse breeding type. 19 winners of the Melbourne Cup have been bred locally. Their images are in tiles set in the pavements around town in Hollywood style.
The hotel is a 10 minute drive from town. There are no restaurants within walking distance. Many of us are in rooms that date from the 1980s. The travellers are unhappy and the tour reps are getting an earful. It's made worse by a few having recently upgraded rooms. A meeting is called for 9.30 am tomorrow. Trip Advisor confirms previous dissatisfaction both for the hotel and its restaurant. But actually Trip Advisor slates every hotel in Hamilton so that's a worry. My guide book lists only the museum as a site of interest. We seem to be in the Slough of the Southern Hemisphere. No attractions, no tourists, no competition -poo hotel. This will be my one and only visit to Hamilton. Still it's the game tomorrow. Onwards and upwards.