View from the south stand: Sale 18 Saints 15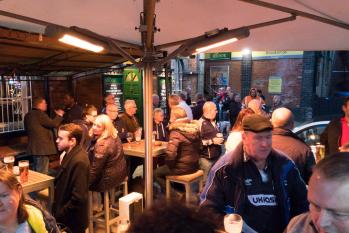 By Cap'n Major Bloodnok
November 29 2017
By snatching defeat from the jaws of victory at Leicester the previous week, Sale had left themselves in something of a bind: nearly half the season gone and only two victories to show for it. If it wasn't for the 7 bonus points (joint top), things would be looking much bleaker than even 10th position might suggest.
Up until now, the majority view amongst the supporters seems to be pretty phlegmatic: only two wins, but there were several games that could have gone the other way, 5 try bonus points says something good is happening and so on. Looking on the bright side, in other words.
Throwing away a healthy lead at Welford Road to the extent of not even getting a losing bonus point had changed that, though. Now, this game against Saints and the next two against Worcester and Bath became must-wins. No excuses, no mistakes. No pressure.
This game would also be a test for stadium access: 5:30 on a Saturday, two lanes on the slip road and the roadworks gone from the A57. Time taken from Brook to ground: about 20 minutes. Result! We were hoping that that would be an omen for the game.
What was not a good omen, though, was the weather. Already cold, the rain started lashing down shortly before kick-off and never really let up until the end of the match. Not conducive to the running, attractive rugby that Dimes has said he wantst he team to become known for. You would hope that there was sufficient pragmatism among the coaching staff for them to look outside and say to the team, "forget the sexy stuff, lads; stick it up the jumper and keep hold".
Alas, much of the course of the game suggested a pragmatism failure somewhere along the line.
---
Things started badly when Northampton charged down three clearance kicks in the Sale 22 within the first 15 minutes. The first two, from Box kicks by Faf, went to touch for tricky lineouts, but the third, off of JOC, resulted in a Saints try that put them 5-3 ahead.
Halfway into the half and Northampton were 12-3 up after a grounding on the post following a series of rucks.
And so it remained until just before half time when, following some concerted attacking play, Faf picked up the ball and sneaked through a defensive gap for the try. The conversion made it 10-12 at half time: a score that had looked unlikely just a few minutes before.
Three minutes into the second half and Sale regained their early 3-point lead with a try down the right from that well-known winger Antordec.
Ten minutes later, it was all square again (15-15) as Harry Mallinder kicked a penalty.
At about the 60-minute mark, the well-known scrum half Ben Foden was binned for a deliberate knock-on, Wilf kicked a penalty and Sale were back in front – just.
We then had over 20 minutes of squeaky bum time as Northampton pushed for the score of their own and Sale tried desperately to keep them out.
Finally, after several minutes past the 80, the ball went dead, several thousand bums unclenched and several thousand breaths unbated.
---
So, does this win lift the gloom somewhat? To an extent, yes, in that it's a win. It may have been a not exactly ugly, more a bit dour and uninspiring, win, but it's four points. And four very welcome points given that Worcester did to Leicester what Sale failed to do the week before.
But still the team seems to be slightly less than the sum of its parts. Yarde showed flashes of why Dimes thought it necessary to snap him up, and yet he butchered a certain try near the end by failing to gather the ball cleanly.
Indeed, I counted about four possible tries that went begging, including the one the Yarde 'scored' before it was pulled back for an infringement. Van Rensberg came on for half an hour and looked handy the couple of times he got the ball. Denny seemed relatively subdued and the pack matched up well to Saints' without ever being really dominant.
The best I can say is that I was thankful and relieved for the win, but came away from the game somewhat underwhelmed.
---
And so to something I'd like to throw out for discussion, arising from a conversation on the coach on the way to the match. Should we avoid playing Faf and JOC at the same time? We were discussing 'maverick' players — Jason Robinson, Cips, Jos, and so on — and how a team needs one or two of them; players who can change a game with a moment of outrageousness. But is it counter-productive to have both half-backs as 'mavericks'? Do they just break down the structure of the play too much? Should we play Faf + AJ or Wilf + JOC so that we have one half-back who will stay on script, whilst the other ad libs some wild improvisation?