View from the south stand: Sale 24 Cardiff 0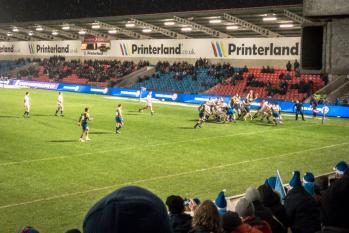 A rare bit of excitement
By Cap'n Major Bloodnok
December 12 2017
November/December is the time when it seems that we are playing in a different competition every other week. AP, ECC, A/W… This week Cardiff Blues came to Salford so it's either the Anglo/Welsh or European Challenge Cup. Who knows? As long as it's rugby.
---
So near and yet so far…
A draw against Toulouse at home and that heart-breaking last gasp defeat away to Lyon had left Sale at the bottom of their group. Not too far out of touch, though: four wins could easily see us go through.
Four wins. Yeah, right.
But… Things have been looking more hopeful recently. Good defence against Worcester saw Sale's first away win in the league for over a year. Given that the Cardiff team showed a dearth of 'name' stars, this match was looking eminently winnable.
This was also due to be the first test of 3 o'clock Saturday stadium access, although it was likely to be unrealistic, since the weather and the traditionally low turnout for ECC (or A/W or whatever…) would mean that traffic would probably be fairly light.
And light it was; twenty-five minutes from Brook to getting my next pint in the tent ("Sharquee"... No. Just… No).
The weather started to deteriorate as I took up my position in the stand — I swear they have refrigeration pipes under the concrete: you can feel the heat being sucked out through the soles of your boots — with the snow starting to fall just in time for the teams to appear, and continuing for pretty much the whole game. It was like watching a video on a tasteless website at Christmas†.
---
We were then treated to forty minutes of what can only be described as "forty minutes", at the end of which Sale were 9-0 ahead.
Fifteen minutes later, the match trundled into 'action' again, enlivened this time by Wilf charging down an attempted clearance, hacking on and scoring the try and by Jonesy peeling off the blind side of a maul in the dying minutes to go over in the corner.
24-0. Says it all, really. One side simply did not turn up: as the saying goes, they were lucky to get nil.
---
Did we learn anything from this game? Well, yes: you can always learn something. We learned that we can play in the snow and that, for the second match running, the defence is looking much more robust than earlier in the season. Wilf and AJ are not second-string half-backs, they are complementary half-backs. In fact, I'd say that AJ has the greatest claim to the 10 shirt at the moment, and not just for his far superior kicking.
As I said previously, from initially being excited at what Faf and JOC might do as a pairing, I now think that having two mavericks together is not the best ploy. Two steady Eddies doesn't make for exciting rugby but Wilf has a more predictable pass than Faf (in the sense that it goes to the intended target in a catchable position more often), whilst lacking some of Faf's ability to do the unexpected. Similarly with AJ: steadier than JOC but less likely to make a game-changing decision.
Right now, I think I'd play Faf and AJ at half-back with JOC at full-back. Wilf and Haley on the bench to give us Wilf and JOC at half back and Haley at full back to close out the game.
Finally, let's spare a thought for Josh Charnley. The poor guy only ever seems to get a game when the likelihood of him actually being given the ball is minimal or less. He must be wondering what is the point of being out there freezing various bits off for eighty minutes. Quite honestly, I wouldn't blame him one iota if he did decide to go back to League where he will at least have a chance of getting his hands on the ball.
---
It's the return match in Cardiff next week. I don't suppose they'll be as supine as they were this game and will want to prove a point at home. Sale's only chance of progressing is to win; I don't hold out much hope but, with the way things have been going recently, I still think there's a chance.
Next home game is Bath. The signs are that we'll get a big crowd. Add in the last-minute Christmas shoppers and this will be a real test of stadium access. Maybe — just maybe — the bridge will finally be open…
Yeah, right.
---
† Wordpress recently offered to activate 'falling snow' on my website for me. There were three responses available: "yes please", "no thanks" and "withering glare"‡
‡ Not really, but there should have been.