View from the south stand: Sale 32 Bath 9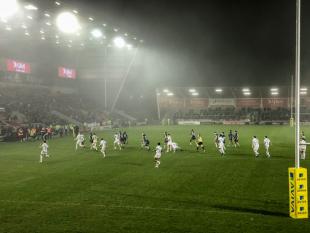 By Cap'n Major Bloodnok
December 28 2017
'Twas the day before (the day before) Christmas/ and all through the ground/ the supporters were buzzing/ as the ball flew around…
---
Sale had been going through something of a renaissance until the somewhat dreadful showing against Cardiff down at the Arms Park. Could they pick themselves up from that and give the fans a bit of a treat against a Bath team that were feeling pretty confident themselves after victory against Toulon?
Two full coaches suggested a decent crowd: coupled with Christmas at the Trafford Centre, how would this translate to traffic and would the new bridge do anything to alleviate it? Our driver took us the usual route off of junction 11; it was slow going, but still only took 30 minutes from Brook to marquee. Interestingly, we had a quick look as we passed and there was no-one on the new road.
The marquee (with an 'm', because that's a real word) was nicely buzzing and there seemed to be plenty of movement everywhere else, so it looked like the promised big crowd would appear. Come kick-off, it looked as if there were maybe 8,000 or so in the ground, which made the official figure of 14 and a dog seem a bit off.
---
The phrase "game of two halves" is an overworked, hoary old cliché but it really can't be avoided in any discussion of this match. We had a first half that seemed to be a continuation of much of the previous two games: a bit dour, error-strewn, low on entertainment value. The second half, in direct contrast, was magnificent (from a Sale point of view; Bath supporters may disagree).
---
So, that first half: what's to say? Five minutes in, AJ made his, if not only, then certainly biggest error of the game. The ball had gone out on the full after being taken back in the Bath 22. AJ, instead of leaving it for the attacking lineout, took a quick throw to himself and got bundled into touch. We then got a wee bit of handbags, which the Bear joined a bit too energetically and gave away a penalty which Priestland converted fairly easily.
The only excitement we got for the rest of the half came near the break when Bath managed a period of pressure during which they mauled the ball into the end zone twice, being held up on both occasions. A couple of penalties each at scattered points left the half-time score 9-6 to Bath.
---
And so we greeted the second half with some trepidation, expecting more of the same: a tight contest with Bath probably running out narrow victors. What we got was a Sale team unrecognisable from the first half. From the kick-off, Sale held the ball through phase after phase, moving steadily forward until, from a ruck near the base of the right-hand post, Faf popped the ball up to The Beard That Passeth All Understanding, who powered over for the first try three minutes into the half.
It wasn't long before Sale were on the attack again. The ball came left to AJ, who sold the most sublimely subtle dummy to wrong-foot the defence (possibly the moment of the match for me. Watch it – it is a thing of beauty) and passed to JOC, who sent it out to Horse for the score. Perhaps if JOC had taken it himself (it certainly seemed as if he could have), AJ might not have missed the conversion and ended the game with a 100% kicking record.
JOC it was who scored number three, following some slick handling (not something that we've really associated with Sale for a while).
Number four came from a delightful kick ahead from AJ. Horse followed it up and completely missed it, then the Bath defender missed it as it sat up in time for Wilf to grab hold and touch down just before rolling over the dead ball line.
Bath finally mustered a bit of an attack in the dying seconds, getting a couple of penalties and 5-metre lineouts before attempting a speculative Crossfield kick which Haley caught for the mark. He kicked the ball dead and that was it. Sale had won the second half 26-0. Bath simply were not in it for the entire 40 minutes. I think that was as about as complete a performance as I have ever seen from a Sale team. Apparently, the half time rocket was delivered to the players by themselves — they talked about the first half, what they were doing wrong, how to get back on track and then went out and did it. That, in itself, gives me more hope for the rest of the season.
---
OK, reflections. Let's reflect on the first half for a moment: same old, same old. Inaccurate passing, butterfingers, apparent low confidence. Things that we've seen time and time again. How often have we, as supporters, groaned as we greet yet another knock-on after a period of promising attack? The pass that causes the attacker to hesitate a bit: maybe it's a touch too high, or slightly behind – whatever, it just breaks the flow of the run, the defence rallies a bit, the attack fizzles out.
Faf was out of sorts in that first half. Passes were going ankle- and head-high, the ball was slow, there was no real penetration. The packs really pretty much cancelled each other out; neither really getting the upper hand at any point.
One of the key differences that I saw in the second half (do watch the replay if you haven't already, it's magic) is that we still fumbled the odd ball but went on to recover it. A juggle, quickly regained; a drop that went backwards to another Sale player. Watch the whole match and you will see a prime example of the importance of continuity in the performance of a team. First half, moves fizzle out fairly quickly, second half, moves continue as someone picks up the ball to keep things going. Offloads work. And the more things work, the more the team's confidence grows and the more things continue to work. You make your own luck, and starts with believing in yourself, and that's the difference between the two halves in my opinion.
---
The main thing that I took away from this victory is that AJ's position in the team should now be secure. I mentioned before that my early anticipation of the Faf/JOC combination had given way to a realisation that you can't have two mavericks at 9 and 10. If Faf is going to be principal 9 (and he should) then we need AJ at 10, with JOC roaming from 15 (or somewhere). And there's also the not-so-small matter of AJ's kicking. Never underestimate the value of a good kicker. That value showed in this game: he kept us in touch for the first half, and 3 of 4 conversions just made Bath's task ever harder and demoralising. Add to that the improve range on touch kicks and a bit more nous from hand (although could improve a bit there), and you've got, for me, the first name on the team sheet right there.
I should also mention van Rensburg: I thought he had his best game for us so far and I now really want to see him signed up full time ASAP. It would be nice to have the option at inside centre of someone a bit light(er) and manoeuvrable like Jennings or a big bruiser like RJVR. The big bonus with RJVR, of course, is that he's also surprisingly manoeuvrable.
There's a lot more to talk about, but I'd like to end with the defence. Absolutely superb. Even in that sub-par first half, Sale's defence kept Bath at bay, frustrated them and helped set the platform for the win. Everyone played their part, but I'd like to single (double?) out Faf and AJ for special mention. Faf utterly belied his size in the intensity and efficacy of his tackling. There's a choice moment in the second half where he launches himself at a Bath attacker, wrapping him up and hauling him down, then immediately gets up and brings down the next guy. He was everywhere. And AJ: blimey. Watching him pull down Banahan like it was nothing tells you all you need to know. We ain't got a lightweight in the 10 channel.
---
So, to Gloucester. They'll be smarting from that defeat earlier in the season and hungry for revenge. We really need to deny them that. Even if we lose, if the margin is narrow, then that will be a moral victory of sorts. But let's not underestimate what a win would mean at this stage. A second league away win on the bounce, against a top-four team this time. A win against a team desperate to get their own back. Beating Bath was important, but a win on Saturday could be a defining moment.