View from the south stand: Sale 30 Quins 29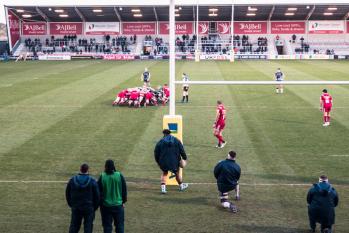 By Cap'n Major Bloodnok
January 9 2018
Halfway through the season and the middle of the Premiership table is looking a bit crowded, with only a few points separating 5th from 9th. Prior to this game, Harlequins were one point ahead of Sale, so a victory could see us move up one or two places.
---
I don't think anyone could call this game as we waited for the coach to arrive. All possibilities seemed likely: a tight game, one or the other team dominating and running away with it, almost anything. Except, given the nature of the two teams, a bore-fest.
It looked a good day for rugby: cold, dry, not too much cloud cover. We were expecting both teams to try running the ball at every opportunity — in short, an entertaining game, even if we had no idea who would be feeling elated and who flat at the end.
The trip to the ground was the best yet (despite the season's biggest crowd so far): twenty-five minutes pint to pint. I really think that Sale fans enjoy being miserable; we came over the new bridge in glorious isolation, only maybe two other vehicles around, yet the high-level bridge and the old A57 still had their old queues as if this nice shiny new road didn't exist. Here's the thing: if you are still approaching from north of the stadium and not using the new road, you do not have the right to complain about access problems.
---
For the first ten minutes, it looked as if Sale were going to run away with it. Two tries from Horse and RJVR meant that things were looking hopeful and we were all anticipating another try bonus point.
But then Quins woke up and started to play. For the rest of the half they gradually started to control the game. Three tries and a half time lead of 22-17 to Quins was probably a fair reflection of the half. Some controversy surrounded Quins' second try as it followed what looked like an illegal rip. I must say, though, listening on RefLink, the ref was adamant that the ball was ripped before the tackle was complete. Given that the referee is the sole arbiter of fact, we must accept that that was the case.
---
For 18 minutes of the second half, nothing much happened. Players ran around, some with the ball, some without. Tackles were made and speculative kicks were kicked.
Then came The Incident. Joe Marler had, for the last couple of minutes, been bending the ref's ear about some injury done to his (Marler's) ear. The ref seemed unimpressed. Then, at a nothing ruck in midfield, TJ was trying to extricate himself from under a couple of bodies when Marler launched himself shoulder-first at TJ's head. [Credit to TJ at this point — he looked initially a bit shocked, but then just walked away. I suppose the fact that the ref had already blown up helped.] Off to consult with the video ref, then, and Marler's perfidy was made plain to all on the big screen. Not even the most one-eyed supporter could argue with the red card that followed.
Red cards seem to affect teams differently to yellow cards. I think that the players see a yellow card as ten minutes to be survived and so go into a defensive mode until they are back to 15. A red card, though, is final. They're a man short for the rest of the game and psychologically, I think they react differently: they go into a more attacking mode where each man gives the proverbial 107.14% to the cause. Thus a team that has suffered a red card can often be more difficult to face than a team that's just had someone sent to the sin-bin.
And so it proved as Quins scored their bonus-point try five minutes later, taking the score to 29-20 (AJ having put over the penalty from The Incident).
This try also marked AJ's departure from the game, almost certainly for the rest of the season and potentially for much longer. The try came from a charge-down from an attempted clearance kick. AJ got involved in the resulting ruck and seemed to fall badly when two Quins forwards cleared him out. He was down for several minutes as the stretcher was brought on. I heard referee Carley say something about a possible broken leg, although subsequent reports seem to indicate an ACL injury. In some ways, a broken leg might have been the "preferable" injury, since a break is likely to heal more quickly and securely than a snapped tendon. The guy has had no luck at all since he joined us and I feel really sorry for him after this latest setback.
[Update: apparently it may not be as bad as thought and he may only be out for three months. Only! Hah!]
Things were not looking good, especially as we seemed to go into a "kick-it" mode. Instead of battering at their defence, waiting for the inevitable hole to open up, we would hoick up a kick and give away possession. Which wouldn't be so bad if it involved significant territory, but it usually didn't and we ended up giving Quins moderately good field position for no apparent reason. That, though, came after RJVR's second try five minutes after Quins'. He made the most of his momentum hitting a short pass from a few metres out. There were a couple of defenders in there, but they were of no consequence as he went through them like a bowling ball through skittles. In fact, I suspect the groundsman has had his work cut out filling in a Marcus Smith-shaped dent on the North Stand try line.
And so, two points behind, fifteen minutes to go against fourteen men. Surely they could pull this off?
It took ten minutes. Carley signalled for a penalty 22 metres out and 15 in from the left touchline. Up comes Faf. Now, as you know, I'm a big fan of Faf, but his kicking reminds me too much of Cipriani — he will slot a nearly impossible one and then fluff a sitter five minutes later.
This kick signalled the start of five minutes of Sale Sharks Patented Squeaky Bum Time®. The kick went over — a one-point lead — and 7,000+ pairs of glutes clenched firmly as Quins went on the attack looking for the score that would hand them the five points.
And it looked as though they'd got it a couple of minutes later as Roberts dived over near the left touchline. 7,000+ hearts sank until they realised that Carney had not yet awarded the try: he was going back to look at a possible touch in the lead-up. Replay followed replay. Sale supporters were convinced that Robshaw's amble backside had touched the line. Eventually, Carney agreed, the try was nullified, and Sale managed to run out the clock for the narrowest and squeakiest of wins.
---
So, take-aways.
This definitely classes as a bittersweet victory. From one league point behind Quins, to one point ahead, up to 7th (would have been 6th, but Exeter didn't do us any favours at Newcastle). But… But, but, but. We've lost AJ, just as he was becoming a key player, working well with Faf and, importantly, kicking at a very useful percentage. I think that that 63rd-minute ruck will prove to be one of the most significant events of this season. It has the potential to completely derail the rest of the season or it could just as easily fire the team up to new heights.
I assume that JOC will take over at 10 again, which has its problems, as I've noted before. Faf will kick, recalling the joys of waiting see what happened off of Cips's boot.
As for the rest, Addison marked his return with a mostly creditable performance, Harrison put in his usual 80-minute all-action shift, RJVR showed yet again that signing him full-time must be a priority. In fact, nobody really played at all badly. If I have a complaint, it's that, yet again, kicking from hand was ineffective and purposeless. We need to address this. Kicks should be more than just a way of making the opposition spend an extra few seconds making up the ground. Until we can turn teams around and pin them back with effective, tactical kicking, we're going to struggle to achieve our full potential.