View from the south stand: ERCC roundup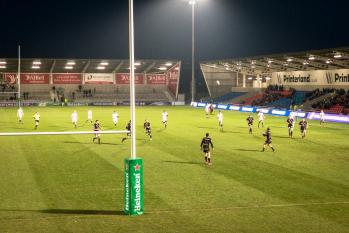 Sale v Lyon
By Cap'n Major Bloodnok
January 23 2018
OK, this is not a match report. I realised, when I first came to write it, that I actually couldn't remember any details of the game, so riveting had it been. So, I decided to wait for the outcome of the final game and do a sort of round-up of Sale's European adventure for this season.
I think we all knew, deep down, that this was not going to the year Sale added a third second-tier cup to their collection. When the pools were announced and we saw that we had drawn three powerful teams, it was immediately apparent that this would a very difficult pool to get out of. I suspect, if most of us are honest, we were expecting to be in fourth place come the end of January.
Sale had had a less than stellar start to the season (played 6, won 2) when Toulouse came to the AJB as first opponents. This was a fairly typical Sale game: up and down, frustrating and exhilarating in equal parts. Ultimately, the draw was a disappointment, although there had been periods where we would have grabbed at the offer. Still, a draw against one of the top teams in France was not to be sniffed at, and it meant that we went into round 2 joint second in the pool.
Then on to Lyon and my first Euro trip in several years. If the Toulouse result had been disappointing, this was heartbreaking. 24-10 up with a quarter of an hour to go, and losing 27-24 to a couple of dubious (at best) refereeing decisions. Toulouse also lost at home to Cardiff Blues, but by only two points, so they took third place to Sale's fourth.
---
Fast forward to December, and Sale going through a bit of resurgence in form ahead of the visit of Cardiff Blues. The Blues topped the table, having beaten Lyon at home and Toulouse away, so hopes were not high for a good result. That Sale won 24-0 in a — quite frankly — tedious game was notable more for the fact that Cardiff played not only as if they were still on the bus, but as if they were still back in Cardiff. That win opened the pool right up, so it was more than a bit disappointing to see Sale give away the return fixture a week later. OK, Cardiff actually turned up for that one and were the better team, but Sale were not the team that they could have been. That was really an opportunity missed.
---
And so, to the last two rounds. Mathematically, Sale could still come out on top of the group. But, as we know, "mathematically" is cold comfort. First up, the return visit of Lyon. Could we at least get revenge for that last-gasp defeat back in October? With the loss of AJ the week before and with Faf and JOC back in SA and Aus, the Sale team had a distinctly unfamiliar look to it. Wilf teamed up with Sam James and Addison returned at outside centre. Sale managed to win a, frankly quite tedious, game 15-13. This game also saw the final appearance of Van Cannonball†. We all hope that that's "final appearance for now".
The final weekend came with Sale lying second in the table, ahead of both Toulouse and Lyon. It was still mathematically possible for Sale to win the pool, but it would require several unlikely things to happen; which they didn't, although we came so, so close to forcing another draw with Toulouse, only to be denied in the last minute. Again.
---
In the end we got third place. Two wins and a draw, but it could have been so different. The first draw could — should — have been a win. Some, shall we say… controversial… decisions in the game at Lyon. If we'd played as we could at Cardiff. Ifs and buts butter no parsnips as someone might once have said, but I think it illustrates how close Sale are to really challenging for honours. Just cut out the silly mistakes; we've seen several times how devastating they can be when ball goes to hand and the forwards get on the front foot.
---
Oh, well. Back to the league and seeing which tier we'll be in next season…
†Thanks, clutch