View from the south stand: Sale 58 Worcester 25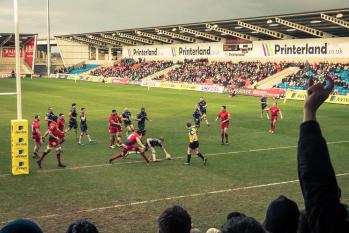 By Cap'n Major Bloodnok
March 29 2018
Back to AJ Bell activity after a 5-week mini off-season. Worcester were the visitors and, quite frankly, anything less than a 5-pointer would be seen as a failure by the fans and (contra protestations of "no easy games") by the coaching staff and players.
There was a definite air of expectation among the supporters ahead of this game: AJ back, JOC back, Josh B back… Coupled with a seriously good win at Northampton as well as looking forward to a tricky last four games, the general agreement was that a 5-point win was absolutely necessary from this game. Exeter had done us a favour the previous evening, restricting Bath to a losing bonus point, so we were in a position to move up at least one place in the table – two, if Wasps could do a job on Leicester the day after.
The journey to the ground was — again — a breeze. Right now "the traffic" is not an excuse for not attending. We'll maybe see how well the new system copes with a near sell-out another day but right now, at around half capacity, getting in is a doddle.
Then it was into the shark tank… And straight back out again, due to a lengthy queue for beer and (more urgently) someone on stage committing GBH on a couple of inoffensive songs.
---
Ninety seconds into the game and YourSale† had made their intentions quite clear.
From a Worcester lineout on halfway (stolen), YourSale run and kick forward to near the 22. Worcester try to run it, but the ball comes loose. Faf, from a prone position, passes out the back of his hand to AJ, who takes it forward and gives it to Webber, who "gives" it (via the grass) to Haley, who gives a backhand pass to Bryn's beard, who passes it on to Curry, B, who races up the left wing for the opening score. AJ then demonstrates one of the reasons why we need him fit by nailing the conversion from about 6 metres in from the touchline.
Six minutes on the clock and Worcester were attacking in the Sale 22, when the ball spilled forward. Haley picked it up on the 5-metre line, span a ridiculous pass across the posts to James, who shipped it on to Marland. Now, I don't know what problems there were between Yarde and Quins, and I'm not particularly interested in finding out, but they've done us a favour in getting him into the Sale lineup. Give Marland a sniff of space and he doesn't need asking twice: from standing start to light speed in a nanosecond and suddenly Worcester are under the cosh as Haley, following up from the other side of the pitch gratefully takes the offload and drifts toward the touchline before passing back infield to Faf. With the Worcester defence somewhere in Ancoats, it was a fairly simple run in, although he did have to hold off an attempt by Shillcock (who'd caught the fast bus back to Salford) to bundle him into touch. They make them solid in South Africa, though, and Faf completed the touch down with no problem.
Shockingly, AJ missed the touchline conversion. The score after 7 minutes stood at 12-0.
We then had lots of back-and-forth for the next 25 minutes, including three penalties (15-6), a binning for Worcester's Darren Berry for an off-the-ball tackle on Curry, B and the loss of Addison with yet another injury.
Thirty minutes gone and Sale were on the attack, with The Beard That Passeth All Understanding bouncing off of Worcester defenders like a demented pinball. Faf picked the ball up from a ruck, started to run right, turned and fed the ball left. It made its way to Yarde who powered over in the corner.
This time, AJ had his magic boots back on and the conversion took the score to 22-6.
Five minutes later, it was Denny's turn to score from a lovely pass from the Bear and, in so doing, give YourSale their eighth try bonus point for the season.
Half-time score: 29-6
---
There was a nice symmetry about this game: Sale scored four tries, three conversions and a penalty goal in each half. Also, as in the first half, we had a try within 2 minutes of kick-off. This time, though, it was Worcester who scored.
OK, here's the thing with Faf De Klerk: he plays very close to that fine line between outrageously brilliant and defiantly boneheaded. And it's not something that's going to change; you can't have one without the other because the long pass that Josh Adams intercepted would, on another day, have reached Sam James and resulted in a stunning try. And that's the quandary: cut out the blunders and you cut out the brilliance because they're the same thing. Fortunately, the brilliance outweighs the blithering by quite a margin.
And it was no matter because, a few minutes later, a piece of individual brilliance from Mike Haley restored the lead.
He fielded a box kick from Arr about 5 metres inside the Worcester half and ran through pretty much the entire team like a neutrino through… well, just about anything, really. You have to watch it to truly appreciate its beauty.
Seven minutes later, The Beard That Passeth All Understanding flopped almost apologetically over the line (conversion missed), then, seven minutes after that, Horse — on for Denny — ran on to a delightful kick through from AJ, which sat up perfectly for the score under the posts.
And still the game wasn't finished; three minutes later, Adams scored his second for Worcester and went ahead of Solomona in the season try scoring ranks.
Things then settled down a bit, with a DeKlerk penalty the only score before JOC became the eighth try scorer for Sale with five minutes left on the clock.
With the lead now up to 38 points, even hardened Sale supporters were feeling confident that the team couldn't blow this one.
Mind you, a third try for Warriors soon after did knock that resolve a bit, especially when they tried (and missed) a drop-kick conversion in an attempt to make time for another attack and a possible bonus point of their own. Quite frankly, I wouldn't have begrudged them it if they had scored because, although Worcester were poor, they kept going, kept fighting, kept trying. I like to see that, and much credit to them for it.
It was not to be, though, and the final whistle came soon after to cap one of the best Sale performances of recent years.
---
So, what have we learned? AJ is rapidly turning into the fly half we need rather than the fly half we think we'd like. That is, he's dependable and steady with a good boot. Let Faf take the mercurial role: as I noted earlier in the season when JOC took over the 10 shirt, we can't have two maverick half backs at the same time. Faf brings an incredible amount to the team and AJ provides the right amount of balance. With the talent in the rest of the back line, AJ provides that calm centre, the fulcrum around which the rest revolve.
Signing Yarde is looking more and more to have been a really smart move. Is the Dimes effect doing with him what it did with Cipriani?
Flynny got 30 minutes – probably more than he's had all season – and looked pretty good for it: anyone else see that balletic spin out of the tackle during a Sale attack?
Fewer errors, fewer silly penalties: it's amazing the difference that doing the basics right makes.
Were Worcester really poor, making Sale look a lot better, or were Sale really good, making Worcester look worse than they really were? Personally, I think Sale clicked on the day in a way that took no prisoners and left a mediocre team looking awful. I think that team could potentially beat anyone but that it would (obviously) be a much harder task against a better team. We can beat Wasps next up, but only as long as the team haven't beaten themselves by contemplating the quality of the opposition. A win against Wasps could be the absolute making of this team: do that, and I'd believe that they could win in Newcastle and at home against Tigers. Exeter away may be a game too far but, right now, I'm not sure I'd bet against an upset.
---
†Going by the tannoy announcements, the team's official name is now "YourSale Sharks".