View from the south stand: Sale 28 Wasps 27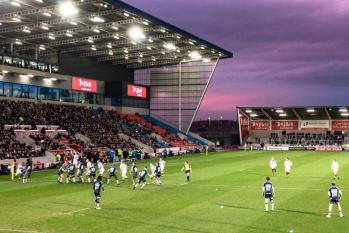 By Cap'n Major Bloodnok
April 11 2018
Apparently, prior to this match, Wasps had not yet won at the AJ Bell stadium. Sale could do with keeping that record going: with only four games left — all of them against teams above them — Sale needed to win here to keep any hopes of top six alive.
Opinion was divided before this game. On the one hand, it could well be a tight, nip-and-tuck sort of contest but, on the other, there was the possibility that one team or the other could get their noses in front and start to run away with it.
That both predictions would be correct was not something anybody foresaw.
---
The trip to the ground was, as is usual these days, swift and trouble-free. The tent was occupied once more by someone committing aggravated canticide, so I got a pint ASAP and headed into the ground, where the agonised cries of poor, suffering songs was thankfully muted.
---
For about ten minutes, the game was fairly even with just a monster penalty from Daly to trouble the scoreboard. But then Wasps struck from a 5-metre lineout on the right. A bit of forward muscle, then the ball whipped left to Bassett, who found himself with an embarrassment of space to score to the left of the posts. Gopperth converted to make it 10-0 to Wasps. Concerned looks started to be exchanged among the Sale faithful.
Ten minutes later, Bassett scored an almost identical try. 17-0 after 20 minutes and it looked like one team had got its nose in front and was threatening to run away with it. The sages in the crowd were muttering dark thoughts about the likelihood of Sale coming back from such a deficit against a team as experienced as Wasps.
And so, apart from a MacGinty penalty, it stayed for the next quarter of an hour. Then came five minutes either side of half-time that had Sale and Wasps fans alike staring slack-jawed at the scoreboard, wondering what on earth had just happened.
First, Webber span balletically out of a tackle and flopped, beached whale-like, across the line. An easy conversion and the score was now 10-17 and looking a bit less depressing. Then, a couple of minutes later, AJ produced a moment of sublime skill to kick a beautifully judged little dink to the wing for Horse to gather and score in one fluid movement. AJ missed the tricky conversion and we were left at 15-17 at half time.
---
If the half-time conversation was a combination of slightly bewildered and cautiously hopeful, the events of the first minute after the restart turned it to heart-racing excitement.
Kick-off, ruck, box kick. So far, so standard. But Bryn's beard got in the way of the box kick, charged it down and followed up to score out to the left. For once, AJ seemed to have left his kicking boots at home and missed the conversion. A penalty shortly after meant that Sale had gone from 17-0 down after 20 minutes to 23-17 ahead after 45.
A few minutes later, a was he/wasn't he incident led to Wade feeding Daly for an easy score and the lead once more, by a single point. Was Wade held in the tackle or not? It looked like it to me, but the ref said no, and he's the one who counts.
Another penalty from Gopperth and Wasps had a four-point lead after 65 minutes, 27-23.
---
And there we stayed, to 79 minutes and a last desperate attack under the posts. In a (possibly) final scuffle, Faf dived at the post, the ref blew up and we all wondered if we'd snatched a win. Referee Doyle's first action was to send Haskell to the bin for some nefarious activity at the ruck and then to review the possible try, which Faf was adamant he'd scored. The replay proved inconclusive, though, and we restarted the game with a scrum and time almost up. From the base, Faf scooted toward the line and straight into Cipriani, where there was a coming together of heads. A ruck started to form, but Doyle spotted that Cips was out cold and stopped proceedings immediately. The clock by now read zero.
We now had a 10-minute break as medics treated Cips and manoeuvred him onto a stretcher to be taken away for a check-up (he later tweeted that he was fine, thankfully).
Wasps players were trying, ineffectively, to convince the ref that the game was over, but he, accurately, pointed out that you can't end the game on an injury like that and that we'd be restarting with a scrum to Sale.
From the scrum, we had few phases of the forwards battering the line, and then it happened: from the base of a ruck, Faf passed to Haley, who gave it on to AJ, who pitched up a long, looping pass over the defender to Luke James, who moved it out to Marland, who…
Well, you know what happened then, don't you? The crowd erupted into a euphoric frenzy, the players went bananas, Dimes actually broke into a grin and all from Wasps felt their hearts plummet through their feet – a feeling that Sale fans are only too familiar with.
Sale had snatched the game in the 11th minute of added time. From that early gloom of going so far behind, to the hope of actually going into the lead to the inevitable resignation of going behind again to that, final, incredible feeling of disbelief that they had finally managed to snatch a win from the jaws of defeat rather than the other way around.
An incredible match that will, I suspect, live in the memories of those who were there for many years to come.
---
So, thoughts. I'm going to go out on a bit of a limb here and say that I think we will, next season, point to this game and say "that's where it started". Yes, we've had the trouncing of Worcester, the win at Saints and the oh-so-nearly one-point defeat at Bath, but this was special. This game showed a degree of resilience in the team that I haven't seen in a long, long while.
It wasn't especially about "gelling", either. It was almost a sheer bloody-minded refusal to be beaten, of getting up every time they were knocked back and giving back as good as they got. And that, I believe, is the missing factor that has kept Sale as a low mid-table team for so long.
So, where has that elusive bit of dog come from? I'm going to slide a bit further out along this limb and point to one man: Jono Ross. As big a fan as I am of Faf De Klerk, this season's most significant signing has been Jono. I think the team looks and performs better when he's captain, rather than Will. He leads, he inspires, he brings out the best in those around him and, most of all, he sets the example that others have to live up to.
Add to that, of course, that we now have the players who actually can live up to Jono's example. In the forwards, Harrison, Webber, John, Strauss, the Curries: that's some serious talent right there. In the backs we have Faf and AJ, Denny, Marland, Horse. Sam James is starting to look more like the player we first saw a couple of years back, and Luke isn't shaping up too shabbily, either. It's a pity we're losing Haley, who is also starting to rediscover some of that old form. Addison is a wonderful player when he's not injured and therein lies his problem: he's always injured. It's sad to be losing him too but, let's face it, if he's only going to make the odd appearance between times recuperating, then all he'll do is interfere with a settled side. Move on, the future is currently looking very good.
Prior to this game, I didn't see us getting much joy out of the last few games. Afterwards, and after seeing that determination and fight, I now believe that they are capable of winning at Newcastle and that they can beat Leicester at home. Exeter away may still be a game too far, but I think they could give them a fright.
I don't think we can get top four, but top six and Champions' Cup next season should be possible.