Carnegie sunk by Albion at the battle of Brickfields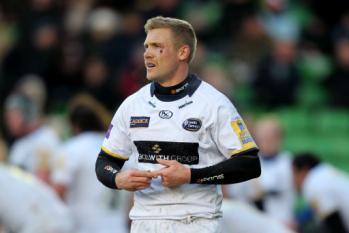 Try disallowed
By Zandra Lapoi
January 16 2012
When the alarm went off at 0445 hrs on Saturday morning, it didn't bother me, nor was I bothered as I chipped the ice off my windscreen as the car temperature gauge registered – 3 oC. The prospect of a six hour train journey did not dampen my optimism, I was going to see Leeds Carnegie capitalise on their recent try-fest at Moseley and beat a sadly struggling Plymouth Albion team.
Now, when my friend, an Albion fan, picked me up, his first words to me were, 'This'll be a good win for your lot, we're shocking at the moment!'. It was at this point that a nagging doubt entered my head, the fact that Leeds can sometimes make the worst teams look good. 'I reckon Albion might win today', I replied. Never a truer word said.
After a guided tour around Plymouth and two lovely pints of Guinness, we got to Brickfield. I found the other Lemonheads, there were nine of us near the clubhouse, all resplendent in our beautiful headgear. Plymouth are doing their best to keep their club running. There are buckets on the bar asking for donations. What a lovely little ground it is too. I really hope they can keep going.
Anyway, at three o' clock the game kicked off. Full of enthusiasm, I, armed with my trusty notebook and pen (I remembered them this time), started my task. And what a start it was. Leeds were straight into them, cracking, quick tackling stole the ball off Albion. A great run by Lucock got us to within yards of the Albion line, when the ball was played back across to the left hand side it was Scotty Freer who got over the line for a try. I love it when forwards score! Tommy was bang on the money with the conversion and there we were, after 8 minutes, 7 – 0 up! Come on Leeds! One thing that looked good at this point was our scrum who seemed to be on top. We were also winning lineouts, with young Wakker doing well.
After 12 minutes, our backs put together another good move, however instead of using the man over we had on the right, we played it inside and lost it. We were still looking good though and I celebrated with another pint of Directors.
Plymouth were awarded a penalty on 14 minutes and went for the lineputting them well into our territory. Then it happened, again, on 16 minutes, we had yet another moment of Carnegie deja vu! A Plymouth flanker, Wayne Sprangle, was allowed to trot up the middle of the pitch and pop over the line, without so much as a by-your-leave. Wayne is sponsored by Pilgrim Pasties and boy, they are lovely pasties! Plymouth scored the conversion and there we were 7 – 7.
I quote IanB58 at this point who screamed, 'Buck your b****y ideas up!!', and I think they must have heard him as straight from the restart, after good work by Tommy, Stevo scored a try, and it was a good looking try, the sort other teams score, however, apparently there was a forward pass in there so it was disallowed.
Here is a stat for you, after 24 mins, Plymouth has been awarded four penalties to our big fat zero! Yet again, our discipline was leaving alot to be desired.
At this point I needed a tinkle and handed over the reins of 'Reporter' to my friend Corrin. Whilst I was away Thorno scored a try on 27 mins and I have only just read what Corrin wrote. She wrote 'Man with massive thighs threw ball to man with massive biceps.' There is also a drawing of something I won't describe in detail here but to give you a clue, boys have them and girls don't! Thanks Corrin! So sorry, Tykesters, I can't describe the try, you'll have to watch it on the highlights! Tommy missed the conversion though so we were 12 – 7 up. I still felt we had the edge at this point.
Then on 33 minutes Ryan Burrows was sin-binned. While we were a man down Plymouth scored a try, Paul Roberts. Thankfully, Love missed the conversion so at half time, it was 12 – 12. I will be honest and say at this point, although I was worried, I thought our fitness would tell in second half and we would grind out yet anothernail-chewing result.
So, the second half came and yet again poor discipline led to a Plymouth penalty, 15 – 12. Plymouth now sensed they could win this, their tails were up and their crowd was getting behind them. After 49 minutes, they got another try, scored by Gaz Evans, thank fully Love missed the conversion, so it was now 20 – 12 and it seemed Plymouth were pulling away.
I make no apology for the lack of detail here from here on in. Being completely fed up and having to put up with Plymouth fans getting excited around me, I turned to drink. Anything I wrote from here on in mayas wellhave been written in Arabic as it makes no sense now whatsoever.
Diccon then started to make substitutions, Dicky Beck and Oli Dents came on. Then after 54 minutes, Thorno got another try, unfortunately Tommy's kicking boots were back in Leeds and we still trailed by three points. 20 – 17 to the Albion.
There weremore errors by us and some good play by Plymouth, including a cracking kick into the corner near the try line. Thankfully we won the resulting line out. More Leeds replacements, Beast and Plug were on, along with Hampo for Robbie. Then something weird happened, Hampo ended up being sin binned in a decision that not only confused me, (not difficult) but also confused the sober Plymouth fans stood near me. So with us chasing the game and 15 minutes left we were down to 14 men. Plymouth made that advantage count and on 70 minutes scored their BP winning try! Again, the conversion was missed. 25 – 17 with 10 minutes to go and Leeds still with 14 men.
With minutes to go, Joe scored a penalty, giving us the losing BP.
So what can we take from that?
1.There were a lot of unhappy members of the #LeedsCarnegieTwitterArmy ranting about the referee. This was not the refs fault, we were garbage. We started off well and should have finished them off in the first half, end of.
2.Plymouth missed alot of penalties and conversions today. I think the score flattered us. We were lucky to get that losing BP, Plymouth should have been way out of reach by that point.
3.Discipline is costing us dear now.It's ok at the moment, we have made the top eight, but come the play-offs, especially the sudden death games, it is imperative we sort it out.
4.Plymouth Albion are a great rugby club and I really hope they are able to sort themselves out. Thanks for the hospitality, Plymouth, and the pasties and the beer!
5.Plymouth is a b****y long way on the train, especially when you lose!
Finally, I trust Diccon to sort out the problems. He knows more about this than I do. We just need to keep backing the boys. Let's remember some of them are only boys. So let's all stay, Marching on Together! See you all at Bedford.
More Leeds Carnegie headlines
Leeds Carnegie Poll